An eight-year-old punches a fist in the air, yelling, "Let's get this party started!" They're riding a tandem bike with their father, sitting atop a speaker about their size and sporting a high-visibility vest with the words "Critical Mass" scrawled across the back.
The crowd of 150-odd bikers whoops around them, ringing out a chorus of hundreds of bells, horns and portable speakers.
It's a moving scene at Critical Mass, a monthly protest advocating for more bike lanes and safe cycling infrastructure in Vancouver. Every last Friday of the month at 6 p.m. they meet at the Vancouver Art Gallery and review how to stay safe while biking in a mobile protest on the road. Then they take to the streets.
It's an amorphous gathering with no set route. There's no lead biker. About 10 people are at the front at any given time. They choose a direction and go. The others follow.
If the group bikes up to a red light they'll wait, but they'll continue biking through a light as it changes to ensure everyone stays together. Volunteers, known as "corkers," step off their bikes to block traffic until the entire group is through. On this sunny Friday at the end of April the protest has a festive atmosphere. People chat and generally seem to enjoy themselves as the protest rolls through downtown Vancouver, across the Cambie Street Bridge to Broadway, back downtown via the Granville Street Bridge and then again to Kitsilano, taking the Burrard Street Bridge.
Onlookers pull out their phones to film and wave as the mass of cyclists roll past. Some yell "what's this for?" and then cheer when they hear "we want more bike lanes!"
This cheerful movement has a serious message at its centre: road safety. Biking protests like this one have been popping up all over the city over the past couple months. Many are in response to Vancouver city council's decisions to remove the Stanley Park bike lane and to not build a separated bike lane on Broadway as part of the street's redesign.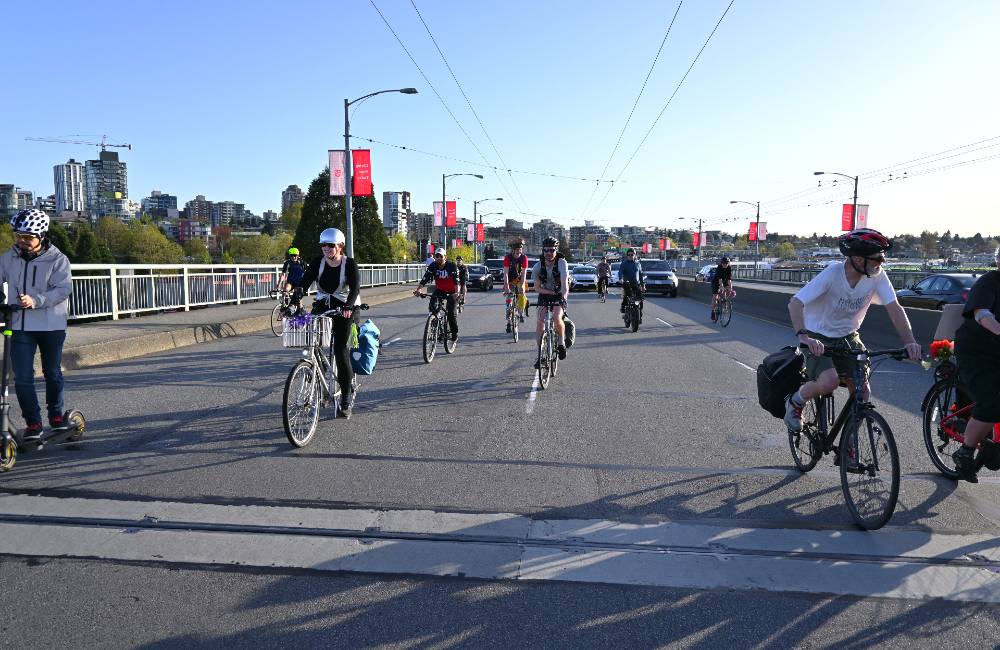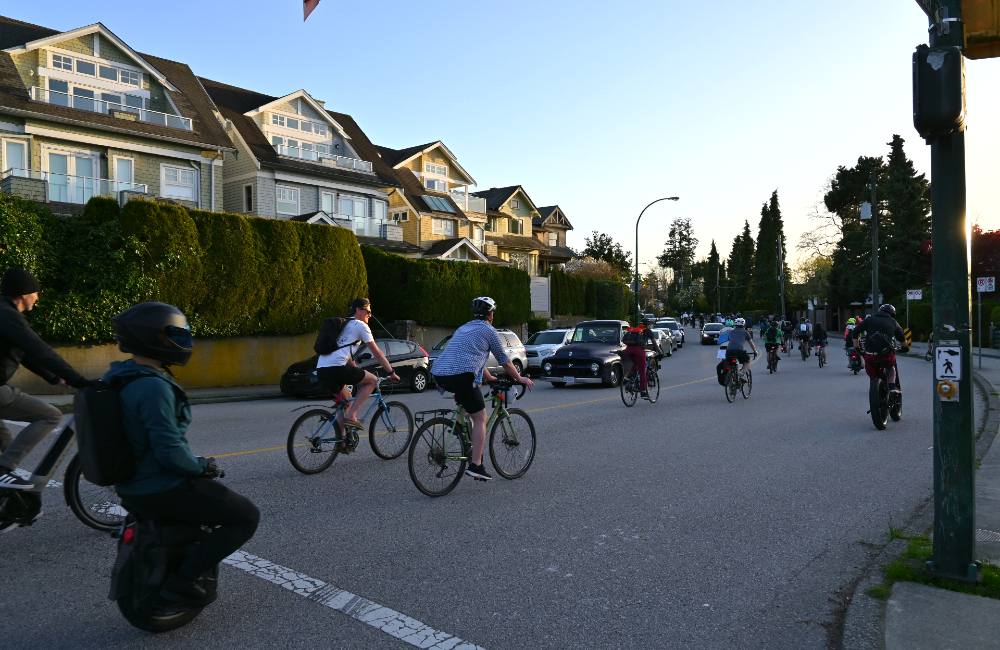 Critical Mass started in the '80s, at a time when bikers wore gas masks on their rides to raise awareness about vehicle pollution. Back then the movement called themselves the Bicycle People.
According to Vanbikes: Vancouver's Bicycle People & the Fight for Transportation Change, 1986-2011, published in 2022 by Colin Stein, the cycling movement advocated in the '90s for the right to bring bikes on the skytrain, Seabus and for bike racks on buses. They also had their hand in implementing the helmet law, advocating for the Burrard Street Bridge bike lane and numerous other bike lanes in the city.
A group called Dinosaurs Against Fossil Fuels even produced a zany video about dinosaurs choosing to bike rather than drive.
As the city built bike lanes under Vancouver mayor Gregor Robertson and Vision Vancouver, bike advocacy faded, advocates told The Tyee. But protests are once again growing under the ABC-led Vancouver city council.
Mary Sherlock, a 73-year-old self-described elder activist leads a Critical Mass-adjacent protest ride through Stanley Park every Sunday and Ron Goodine, a 65-year-old advocate, leads a protest that meets the first three Fridays of the month at City Hall, biking up and down Broadway.
Several advocates, and the folks who turn up to the Critical Mass rides, say the city, led since November by an ABC Vancouver majority, hasn't been building enough new bike infrastructure. Sherlock makes the running joke that ABC Vancouver means "All 'Bout Cars."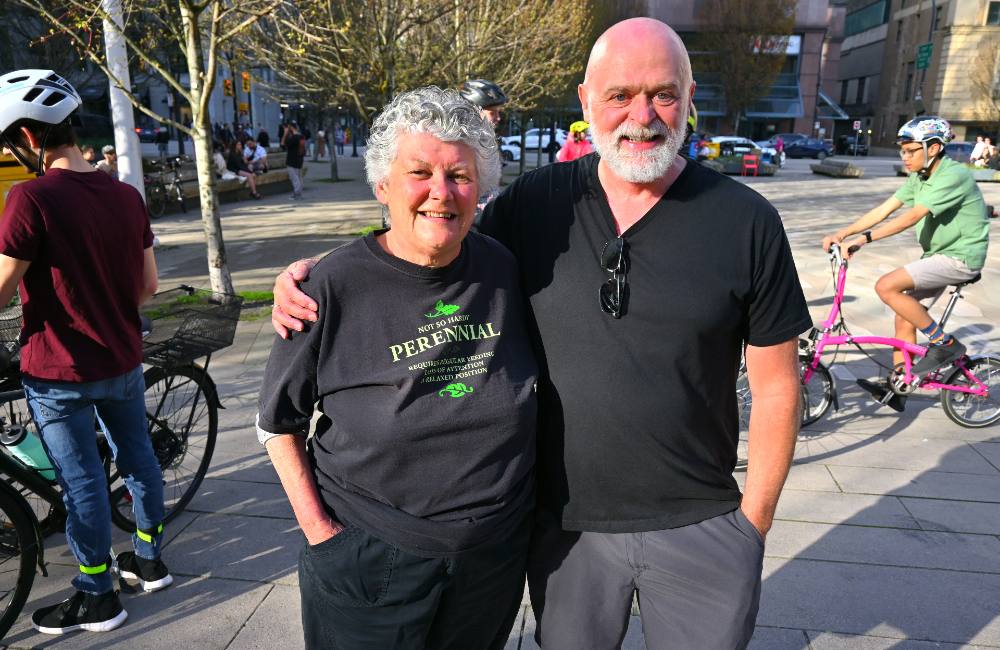 In the Lower Mainland cyclists are hit by cars an average of 1,300 times per year, according to data from ICBC that tracks crash data from 2016-20. Looking at that same five-year average, 1,000 of those cyclists will be injured. At least three cyclists will be killed per year in the Lower Mainland according to the five-year average from 2017-21.
Many crashes aren't reported to ICBC, and near-misses aren't either.
The best way to improve road safety for all is to build separated bike lanes, said Jade Buchanan, who volunteers with Vision Zero Vancouver, an advocacy group working to eliminate all traffic crashes leading to serious injury and death in the Lower Mainland.
"Good fences make good neighbours," he said, pointing to a 2019 study that shows protected bike infrastructure improves road safety for cyclists, pedestrians and even drivers.
It's a case of if-you-build-it-they-will-come, Buchanan said. Building more cycling infrastructure means more people can use it. This gets drivers off the road and onto bikes. Fewer cars means fewer crashes. Fewer crashes mean hospitals and public insurers like ICBC save taxpayer money. And when more people use active transportation public health improves, he adds.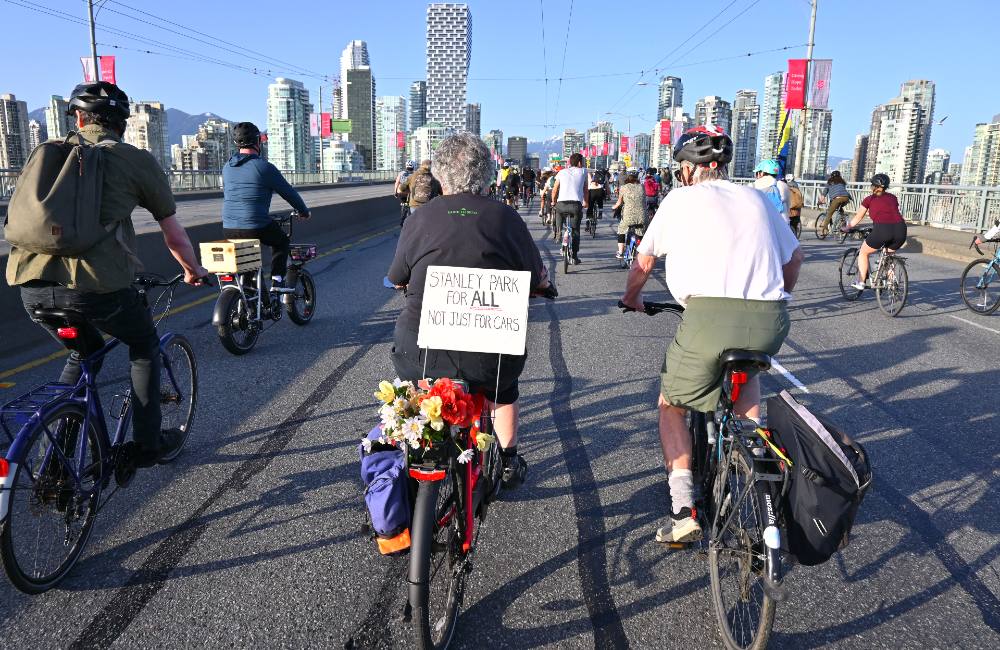 Each ride brings between 75 to 300 people out to protest, but ABC Coun. Mike Klassen told The Tyee he didn't know about them.
"I hope they had a good ride but it won't make a lot of difference with policy," he said. "We're already moving ahead to improve bike lanes."
Klassen pointed to the Portside Greenway and the Kent Avenue projects as examples of how there's "an ongoing and active effort to improve active infrastructure for Vancouver."
"We're known as a city that put a lot of effort into that and it'll continue," he added.
Not all city councillors agree that the city is improving on bike lanes. OneCity Coun. Christine Boyle in particular disagrees with the Stanley Park and Broadway decisions.
"We heard [ABC] say they supported active transportation but that hasn't been reflected in park board spending hundreds of thousands of dollars removing the popular bike route in Stanley Park, or when they voted against adding a bike lane at Broadway," she said.
"That's two pretty clear moves they didn't need to make that will make cycling less safe in Vancouver," Boyle said. "It's surprising because ABC's rhetoric on road safety has taken up a lot of air time but on these key decisions they haven't lived up to their lofty goals."
When asked about the Broadway decision Klassen told The Tyee city staff told councillors not to build the bike route.
"We're putting in a subway lines and opening four stations in the next couple years which takes enormous amounts of planning. It's been in the works for years," Klassen said. "We have on our city engineering team and our planning team arguably some of the strongest active transportation advocates in all of North America. They came to us and asked us not to move forward with a bike lane before then."
Boyle disagreed. "This was the best time to build. It only gets more expensive and complicated down the road," she said.
Erin O'Melinn, executive director of HUB Cycling, a 20-year-old non-profit charity that promotes cycling in Vancouver and Stein, who wrote Vanbikes, are deeply critical of ABC's choices when it comes to active transportation.
"I'm not sure if elected officials are looking at the data or listening to people coming to council," O'Melinn said, speaking about the Broadway decision. "When I look at the letters and data, I see that it supports biking infrastructure. I don't understand why they're making the decisions they're making." 
"Anytime the politics of this city comes up in personal or social media conversations I hear exclusively anti-ABC sentiment," Stein said.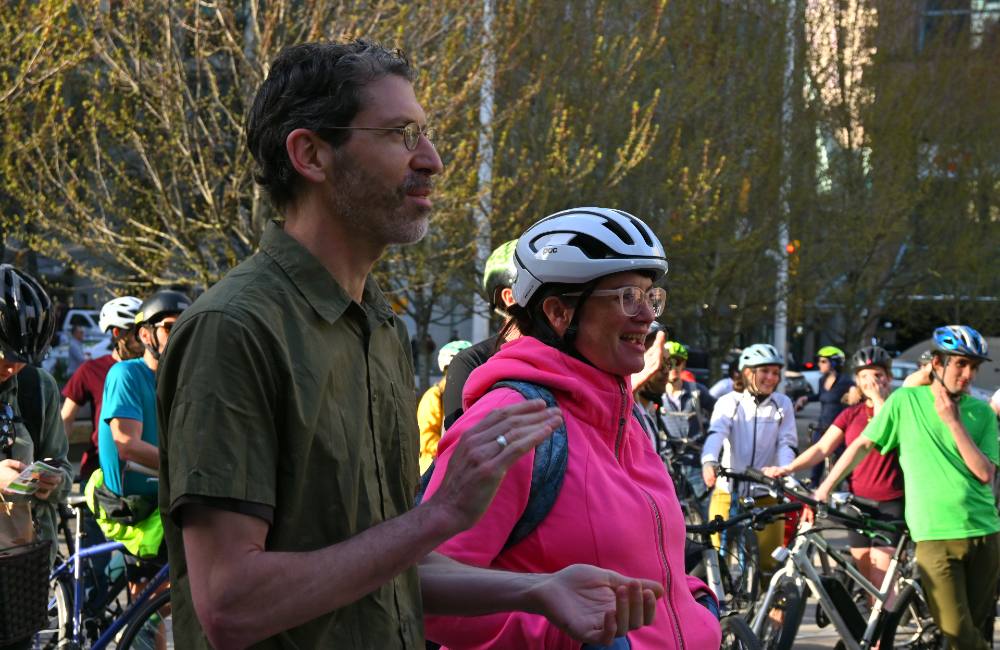 Stein rides regularly with Critical Mass and occasionally with Sherlock's Sunday rides in Stanley Park. He said that the drivers he encounters in Stanley Park are sometimes surprised to hear the city is taking the bike lane out, and that they are generally supportive of the advocacy to protect it.
"We need to see the mayor and council demonstrate the courage to embrace and invest in the policies that have been in place since 1995 with the original CityPlan, 1997's Vancouver Transportation Plan and the 1999 Bicycle Plan," Stein said.
This means building more protected bike lanes, further connecting the cycling networks so bikers can stick to bike paths for their entire commute and freeing up road space for public transit, he said.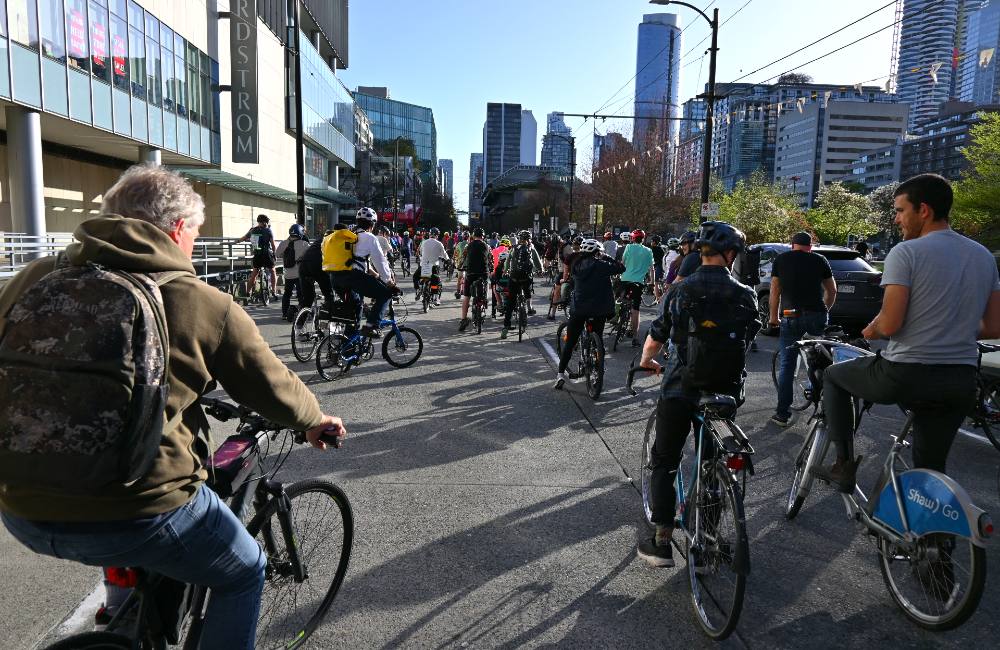 Bike paths make for healthier and more socially connected, equitable and affordable cities, O'Melinn said.
"We want transportation systems to serve people not moving vehicles. And it's happening. In general, we're moving in the right direction," O'Melinn said. "Hopefully this current trend is a blip." 
The rest of the Lower Mainland seems to be on the right path, she added, pointing to Surrey's cycling quick-build projects, the City of North Vancouver's mobility network project, New Westminster's uptown active transportation improvements, Langley's Master Transportation Plan and Burnaby's Still Creek Avenue bike lane.
Other good news includes ICBC's efforts to educate all drivers about biking hand signals, O'Melinn said. And in April, B.C. passed amendments to its Motor Vehicle Act that require cars, by law, to give cyclists at least one metre of space when they pass them.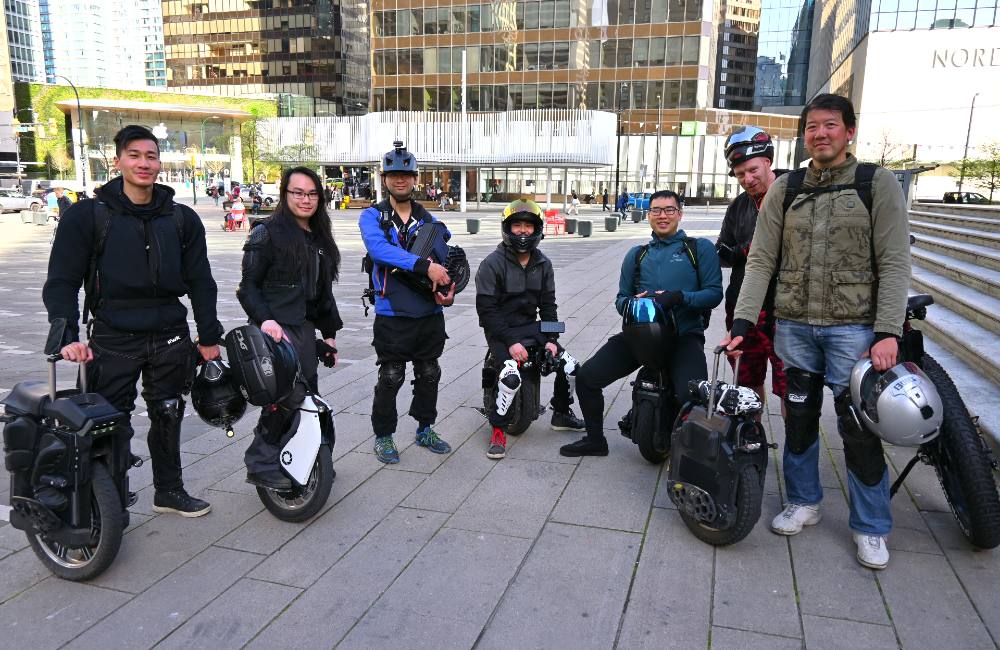 Back at Critical Mass, riders cheer as the group turns towards the bridge. There are push bikes, electric bikes, electric scooters and electric unicycles. There are seniors and kids and everyone in between. Yes, there is the occasional spandex-clad man with powerful thighs, but most people are in jeans or casual business clothes, pausing their ride home to join the protest.
Vision Zero Vancouver's Buchanan said these faces should motivate politicians to do more about road safety. It's everyday people, of all ages and all walks of life, who are injured and killed when cars crash into bikes.
"We want that to sink in so people realize this is the crisis that it is," he said. "We want large-scale action, not to have to do fight after little fight. We are gaining ground but could really use politicians stepping up and helping us win some significant gains."