Cate Judas remembers the feeling of exiting the grocery store pushing a cart piled high with food. Eight years ago, this was her regular ritual when stocking up on meals for herself and her partner — and she recalls the total cost would typically come to $200.
When she heads to the store these days to get essentials for herself and her seven-year-old son, who lives with her in Coquitlam on the weekends, she brings a calculator and crunches every penny as she shops. On an average day, $150 gets her just three bags of groceries, lasting only a few days.
Caught between inflation and a high cost of living, families in the Lower Mainland and on Vancouver Island are increasingly feeling the pressures of rising food prices. Many have had to cut back on their food budgets and rely more on a free food program, or even a few concurrent programs, to get by.
Food support services such as food banks, hamper programs and community pantries have seen a rise in demand, particularly from families — but some programs are struggling to feed everyone in need as pandemic-era funding ends and groceries grow more expensive.
Grocery prices in Metro Vancouver rose 16.9 per cent between 2021 and 2022, and demand at B.C. food banks increased 31 per cent from pre-pandemic levels, according to Food Banks Canada's 2022 Hunger Report.
The report also notes — in a detail also highlighted by other news outlets at the time — that this increase in food bank usage, to historically high rates, comes during a period when the unemployment rate is "'the lowest on record' since 1976."
"What we're hearing in all of the programs we offer is that there's growing waitlists, and they're at capacity," said Ian Marcuse, co-ordinator of the Vancouver Neighbourhood Food Networks.
Marcuse is stunned by how his own grocery bill has grown in recent years. He worries about how anyone on a low income — particularly those on income assistance or disability payments — can afford to eat after paying their bills.
'I can't justify the cost of food anymore'
The rising costs of groceries has changed how Cate Judas moves through her days. She feels tired "all the time," and recently lost 40 pounds, which has spurred comments from people in her life. Although she's recently started working out, her new exercise routine is not the only reason for her weight loss.
"I can't justify the cost of food anymore, something no one should have to think about," she said.
Judas makes almost $50,000 a year, and pays just under $2,000 each month in rent for her Coquitlam basement suite — slightly less than the average one-bedroom rental in her area. According to the 2020 census, Judas makes just a few thousand dollars more than the median income for people living in Coquitlam, although her salary is about $47,000 less than the median household income. She's also in the process of paying off $40,000 in student loans.
To get by, she tries to limit her grocery purchases to $400 each month.
Meat isn't in her budget anymore, and her health is paying the price. She was a vegetarian by choice for 10 years until her early 20s, when her vision started to deteriorate and she began getting migraines. Judas's doctors told her that her body's slow absorption of the vitamin B12 was causing her to have a serious nutrient deficiency. They recommended eating red meat, a source of B12, to get more of it, as her body wasn't properly absorbing vitamin supplements. She did into her early 30s, until meat prices began to rise during the pandemic.
Judas's options narrowed to buying bulk meat and losing money to spoilage, as her rental apartment's freezer is too small to store the meat in, or to go without and live with the consequences.
"I haven't had symptoms yet, but I'm scared," she said. "It's like a muscle memory, remembering what it was like when I went through the constant migraines, the vomiting and being laid up in bed for days."
No budget for essentials
Judas is far from the only one making tough choices for the sake of her family. In Greater Victoria, Tanya Dawson has seen the grocery bill for her family of six double in the past year, from $300 to $600 each week.
"We hardly ever have a meal with actual meat unless we have extra money in a paycheck," she said.
Dawson said that when money is tight, she makes sure that her kids have enough to eat and then either she or her husband will eat with them. She has teenagers, and suspects they're aware the family is struggling — especially on days when there is no food in the house.
Her family supplements some of their costs with free food from the Mustard Seed Food Bank, which they've been using for the past 12 years. Dawson says lately other people she knows who never used to use the food bank have started going as well. She's grateful that the food bank has recently increased her pickup days from once to twice a month.
Colleen Sparks, the Mustard Seed's director of development, says demand for the food bank increased by 20 per cent between last September and December. In 2017, a report found that 51,740 residents of Greater Victoria are food insecure — a figure that local food support workers estimate has only grown.
The Mustard Seed hands out 1,200 food hampers each month, many to families, serving about 4,000 to 5,000 people. They also provide hot meals, drinks and clothing to those in need.
In spite of the high demand, Sparks knows there are more people who these services aren't reaching.
"There's still a lot of stigma around it. People don't necessarily feel like they should access food resources that are available, even though they're struggling to make ends meet," she said.
The hike in prices came as an unexpected hurdle to parenthood for ChingYun Chien and her partner, who are raising their nearly two-year-old in Vancouver. Each month, diapers cost them between $70 and $80, and when the baby drank formula, that would set them back between $80 and $100.
Chien, who was unable to work for a while due to the requirements on her visa as a newcomer to Canada, has recently begun a part-time job. She heard about CityReach Care Society's food hamper program from a mother's group on Facebook, and has been using that to help offset the cost of their necessities.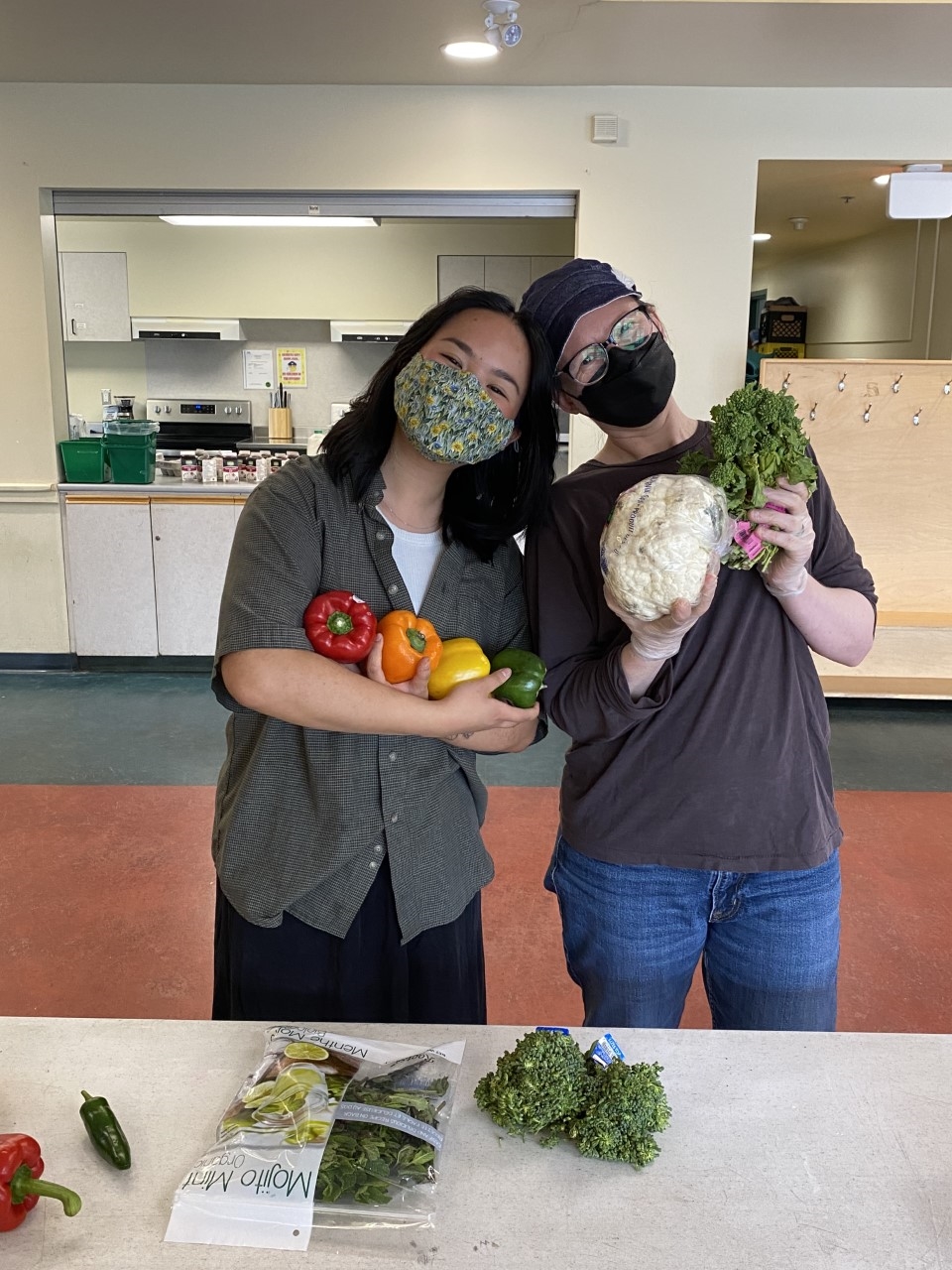 Amidst scarcity, cutbacks
Some community services have had to cut back their food programs, including the Victoria-based community food pantry run by the Oaklands Community Association. The pantry has switched their weekly pickup dates to monthly since the beginning of 2023. Community services and development manager Ashley Chun says this comes as a result of the high cost of food and a drop in grant funding offered earlier in the pandemic.
It was a difficult decision, particularly as some of their patrons are experiencing homelessness or struggling to feed large families. She hopes to allow the 40 families the pantry serves weekly to take more food with them each time they come — but is also aware that some families are attending multiple food banks to keep food on their table.
"A family that used to live within our neighbourhood recently moved out to Langford, but will still come to our programs and I know that they're also attending other food security programs with food access within Victoria," said Chun. "So people are going out of their way all the way from Langford to access extra help and support."
Marcuse, the Vancouver Neighbourhood Food Networks co-ordinator, sees how many food support programs exist in communities across B.C. — and how it still isn't enough. To him, food banks are not a real solution to this issue, and the issue of food security needs to be addressed at the source for families to be able to live with stability.
"For the most part, it's an income solution. So one thing we're really advocating for is the guaranteed basic income or universal programs like this," he said.
Back in Coquitlam, Judas feels frustrated as she contemplates how much corporations are profiting off of her skyrocketing grocery bills as she's working hard to hide any signs from her son that she's struggling. This is hard for her, as she grew up watching her own parents struggle in their low-income household.
"He still sees the world as a good and just place," said Judas. "It's a constant battle that I want him to understand the reality of the world, but I don't want to take that away from him."