It is remarkable when you think about it. Annamie Paul's entire tenure as the leader of the Green Party of Canada has taken place under the shadow of COVID-19 and the helter-skelter attempt to control it.
The fundamental task of any new national political leader is to introduce oneself to the country. Paul has had to do that without the usual tools available to politicians. No travelling, no public meetings, no all-party debates in front of an audience. In other words, no traditional opportunity to look people in the eye, tell them who you are and what you stand for.
Fortunately for Paul, she got a lot of experience in the use of remote communications technologies during the Green party's last leadership race. Several places in Canada had varied degrees of restrictions back then, so virtual connection was the only way to reach potential supporters. With the country back to where it was a year ago, firmly in the clutches of a deadly third wave of the pandemic, she faces the same problem now.
"It's a challenge," she admits. "There is no substitute for meeting people face-to-face."
That is especially true given that Paul has a formidable task in front of her. The polls show that the Greens would win about the same number of seats they have now in the next election. For now, the GPC remains eight seats shy of official party status. As a political metric, that is light-years.
That was former leader Elizabeth May's greatest problem over the years. To rephrase the playwright Tennessee Williams, the party depended not on the kindness of strangers, but of media. Within the parliamentary system, the Greens were deprived of a consistent, daily platform, either in the House of Commons, or on committees. Bottom line? They were effectively silenced, just as they have been on the debate on the current Bill C-12. The Greens were environmental giants, but parliamentary pipsqueaks.
What she told the PM
Paul confronts the same Gordian Knot: how to take the party to the next level? Her foundational explanation of how she plans to do that is novel.
The Greens will stay true to their policies, but offer a new way of doing politics. The new leader wants to draw the partisan venom out of the current system, and replace it with a spirit of co-operation and collegiality. She believes people are tired of politicians fighting with each other, rather than solving problems for their constituents.
Paul wants people to imagine a politics of "shared credit," instead of relentless trashing. The last thing this Princeton-educated politician wants is for Canada to replicate American institutional dysfunction based on hyper-partisanship.
"Our plan is to be ourselves. What we offer is a style of politics very much matched to this moment. We are stronger when we work together, if we co-operate and collaborate, we can accomplish more."
Paul points out that the politics of winner-takes-all and loser either attacks 24-7, or shuts up, is as unnecessary as it is unproductive. She says that the policy statements coming out of the recent NDP and Liberal conventions were "almost verbatim" the same. That is proof that there is common ground, if only the government were prepared to use it.
Another "really big commitment" of the new leader of the GPC is to recruit a more diverse slate of candidates for the next election. Paul has created a Time to Run campaign, a "clarion call" to get more involvement from minorities who are doing extraordinary things in their communities, but have not looked at the option of running in national politics.
"I want more diverse voices in Parliament. We've had hundreds and hundreds of nominations or expressions of interest. This is my message. Even if it's not our party, let me help connect you to other parties."
In her private, pre-budget meeting with Prime Minister Justin Trudeau, Paul laid out her hopes for what would be included in the document. She told the PM that it was "an exceptional opportunity" for Canada to adopt a co-ordinated green recovery plan, a renewable energy grid and a carbon border tariff structure shared with the U.S. to penalize countries with laxer climate crisis policies.
But her pitch also included a plea for a more team-driven approach to governing the country, particularly when it comes to fighting the pandemic. She left the meeting with the feeling that the PM wasn't very enthusiastic about her plea for finding "common ground" in the nation's politics, and governing in a new way.
And she left with one more thing: the impression that a fall election, rather than the extension of the current parliamentary session, was in the cards. Despite that, she still thinks Parliament can do a lot of good work between now and a potential fall trip to the polls.
"I'm a pretty open-eyed kind of person, whether that's from my legal training or policy training. So I don't think this session of Parliament is going to last long enough to address all that is in the budget. I do think there is enough time to get urgent help to people in Canada who still don't have it."
High on her list are seniors, students facing a jobless summer and victims of opioids.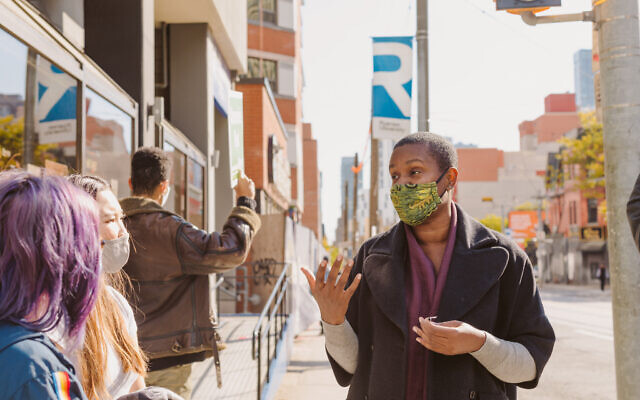 Despite the PM's lukewarm response to her vision of politics, Paul has genuine and generous praise for Chrystia Freeland's first budget. She was "very supportive" and "absolutely supportive" of the people-helping measures in the document — as far as they went.
"There are things in the budget that any government should have, now and in the future," she says.
Two concerns temper her praise.
First, Paul's aforementioned sense is that Parliament won't actually get to work on a lot of the good things the government is offering, because an election will intervene. And second, she is mindful that pharmacare has been promised by the Liberals since 2015, and it wasn't included in Budget 2021. Will all the promises in the new budget, including $100 billion in new spending, go up in smoke if the government falls?
"If you renege on your commitments," she says, "it calls into question the solidity of any other promises you are making."
Pandemic-driven policy ideas
If Paul were ever to be brought in to work in collaboration with the government and other parties, as the Green Party of Norway is trying to do, she would bring no shortage of ideas. Some examples.
On the most immediately dangerous issue of the day, the COVID-19 pandemic that has already killed more than three million people worldwide, 24,000 of them in Canada, Paul thinks the government has taken the wrong route.
She says that the Greens understood immediately and intuitively that "this was a national emergency." As such, the battle against COVID-19 and its variants required the kind of "national co-ordination" that doctors and nurses have been calling for, and that only Ottawa can provide.
"The pandemic has lasted longer than it should have, we've had more dead and more sacrifices as a result. We need national co-ordination. We are a federation. If we emerge from the pandemic without being able to work together, it will be very troubling for our federation."
The COVID-19 tragedy has given the new leader of the GPC a mission of sorts. Paul is passionate about pushing for the end of for-profit, long-term care facilities. Her father died in a long-term care facility during the first wave of the pandemic, though not of COVID. Paul believes that his death from an infection was due to the poor conditions at the St. George Care Community facility in the Annex district of Toronto.
St. George had one of the worst outbreaks of COVID-19 of any for-profit, long-term care facility in Ontario. As of last December, 156 residents had tested positive for COVID-19 and 14 had died. The situation was so desperate that the University Health Network temporarily took over management from the facility's owners, Sienna Living. Paul's bottom line?
"What the empirical evidence proves to us, is that when you include profit in health care, corners are cut. And when corners are cut, people die."
Her solution?
Fold universal long-term health care into the Canada Health Act, or come up with new legislation modelled on the Canada Health Act. As she sees it, the current system often comes down to "senocide" — the flagrant "abandonment of the elderly."
And that in turn leads to tragic outcomes for both residents and workers in these facilities. "We should reimagine what aging in this country looks like," Paul says, pointing out that Canada spends half of the OECD average on elder care.
Paul also has a lot to say about another health-care crisis that didn't show up in the federal budget, despite a record spike in opioid-related deaths across Canada, aggravated by the pandemic. It is time, she says, to treat this "overdose epidemic" as a public health matter rather than a criminal matter. By decriminalizing possession of opioids and other drugs, and creating a national safe supply chain, drug users would get the care they need, rather than a criminal record.
Climate crisis: 'We have lost precious time'
Paul is also keenly aware that although the pandemic has eclipsed every other file of the federal government, the deadliest global threat of them all, global warming, remains. I asked her why it took the Trudeau government five years to finally change the slack emission targets set by former prime minister Stephen Harper.
"I cannot speak to that. I was not at the cabinet table. I'm not sure why. But I know we have been asked to improve our target for a very long time, the science is clear, and the UN and our global partners have been asking for higher targets. We have lost precious time."
Although the Trudeau government raised Canada's emission targets from a 30-per-cent cut in carbon pollution to one of 40 to 45 per cent by 2030, that fell short of President Joe Biden's aggressive new targets, and well behind the 60-per-cent cut the Greens were looking for.
"They have not delivered.... The government was not following the science. Canada needs to just do its fair share in the world."
Although neither the Paris targets nor Canada's new proposed carbon emission cuts are legally binding, Paul says they are both "morally" and "ethically" binding. She says that there is a "social contract" with future generations of Canadians to hand them "a livable planet."
The GPC's political future depends on how well its cornucopia of bold social policies plays with Canadians. Is the country ready for a guaranteed livable income?
Is the country ready to embrace universal post-secondary education?
Is the country prepared for universal long-term health care and pharmacare?
Is the country ready to get serious about the battle against climate change, and accept the sacrifices scientists insist governments must make?
But it doesn't all come down to political style, or the party platform. A large part of what lies in store for the GPC depends on the new leader, a Canadian of Caribbean heritage, of Jewish faith and a woman. What would she like Canadians to know about Paul that is not on the GPC website, but in her heart?
"I want Canadians to know that the commitment I have had throughout my life, being a responsible member of the community, a person of integrity, I intend to keep those things. I'm still a mother, a daughter, a sister and very active in the community. When I talk about any public policy, it's not as someone apart from the community, but someone in it. More than anything, I'm determined to remain true to who I am."