Is there anything quite as reassuring in these uncertain times as turning your shopping cart down the paper products aisle and finding stacks and stacks of toilet paper?
Most of us remember early March, when COVID-19 cases first began to rise and consumers feared extended lockdowns. Many of us began buying toilet paper. As stocks depleted, panic buying set in. The panic led to hoarding.
Soon, grocery store shelves were devoid of toilet paper and its close relatives, paper towels, napkins and tissue. Black market toilet paper began appearing on Craigslist for $100 a roll.
More than eight months later, toilet paper security appears to have stabilized. But shelves are monochrome, their pre-pandemic diversity replaced primarily with brightly coloured pink and purple packages of white toilet paper.
Notably missing are the greens — toilet paper options that are made with recycled materials. With more people buying at-home products, which contain less recycled fibre, some worry about impacts on virgin forests.
Let's begin with some background. The bulk of toilet paper makes it expensive to store, so manufacturers use a "just-in-time" approach to production, making enough to keep grocery store shelves full without any extra they would have to store. The unexpected surge this spring tipped that system out of balance.
In an effort to keep up with demand companies began focusing on their most popular items. That way they didn't lose production time as they shifted from one product to another in their factories. According to Safeway customer service, producers "prioritized production on higher selling products" to meet demand.
How much is that to blame for the vanished enviro-friendly toilet paper options? That's a tricky question to answer.
Safeway parent company Sobeys, maker of Compliments Green Care paper products, didn't respond to a request for details about how the crisis had affected the recycled toilet paper options in stores.
Francois Paroyan is general counsel for Ontario-based Kruger Products, which produces Purex EnviroCare toilet paper at its New Westminster plant. He cited company confidentiality when asked whether a reduction in the variety of products Kruger manufactures has resulted in fewer recycled options.
Paroyan did confirm that Kruger had reduced the number of its "stock keeping units" — or distinct products — this spring to focus only on its top sellers.
"We have streamlined a higher level of production in our eight plants on our most popular products. We also have a new plant coming on stream next year which will increase our overall production capacity," Paroyan says. "We continue to produce a range of tissue and paper products that contain recycled fibre."
It's unknown how much of the total toilet paper market is made up of recycled products. Jennifer Skene, an attorney with U.S.-based Natural Resources Defense Council's Canada Project, estimates recycled products account for less than 10 per cent of toilet paper products bought by consumers.
The percentage is especially low in the U.S., where the top three producers — Procter & Gamble, Georgia-Pacific and Kimberly-Clark — don't offer a recycled consumer option. "Charmin, Angel Soft, Cottonelle, those are all made from 100-per-cent virgin forest fibre," Skene says.
The Forest Products Association of Canada says that toilet paper accounts for less than one per cent of harvested word fibre. About 60 per cent of the 700,000 tonnes of toilet paper produced in Canada each year is made from recycled materials, the association says.
That number likely includes industrial products, which have a higher recycled content. The away-from-home products are commonly used in office buildings, airports and restaurants — places most of us no longer frequent — further reducing the use of recycled materials.
"If people are not going out as much and are staying at home, that would logically indicate that people are buying more toilet paper for use at home, which tends to be made more from virgin fibre than the away-from-home brands," Skene says. That adds to the urgency in ensuring companies offer a recycled at-home toilet paper option.
"Studies have shown that a substantial portion of what's going into making toilet paper is actually coming from old trees," she says.
On Aug. 26, National Toilet Paper Day, a campaign aimed at drawing awareness to the impacts of toilet paper on forests attempted to award Procter & Gamble senior executives with the "golden chainsaw" award for its role in deforestation.
The demonstration came two months after the Natural Resources Defense Council released its second "The Issue with Tissue" report, which highlighted "the link between major manufacturers of tissue products and the destruction of one of the most ecologically important forests in the world, Canada's boreal forest."
In a written response, the Forest Products Association of Canada said the report misrepresents the industry. "It states, for example, that toilet paper production is putting the boreal forests at risk," it said. "In reality, forest products from Canada's boreal region can be counted among the most responsibly made in the world."
The association says that nearly 80 per cent of materials supplied to the pulp and paper industry are byproducts from lumber production, such as bark, chips and sawdust. "With recycled content representing an additional 11 per cent of inputs, the pulp and paper industry now operates primarily on inputs that were previously considered waste material," it said in an email.
The association did not respond to a request for clarification about the remaining 10 per cent of pulp content. It did, however, describe the toilet paper shortage earlier this year as a "perfect storm" with a surge in consumer demand coinciding with the closure of sawmills, resulting in a reduction in fibre supply.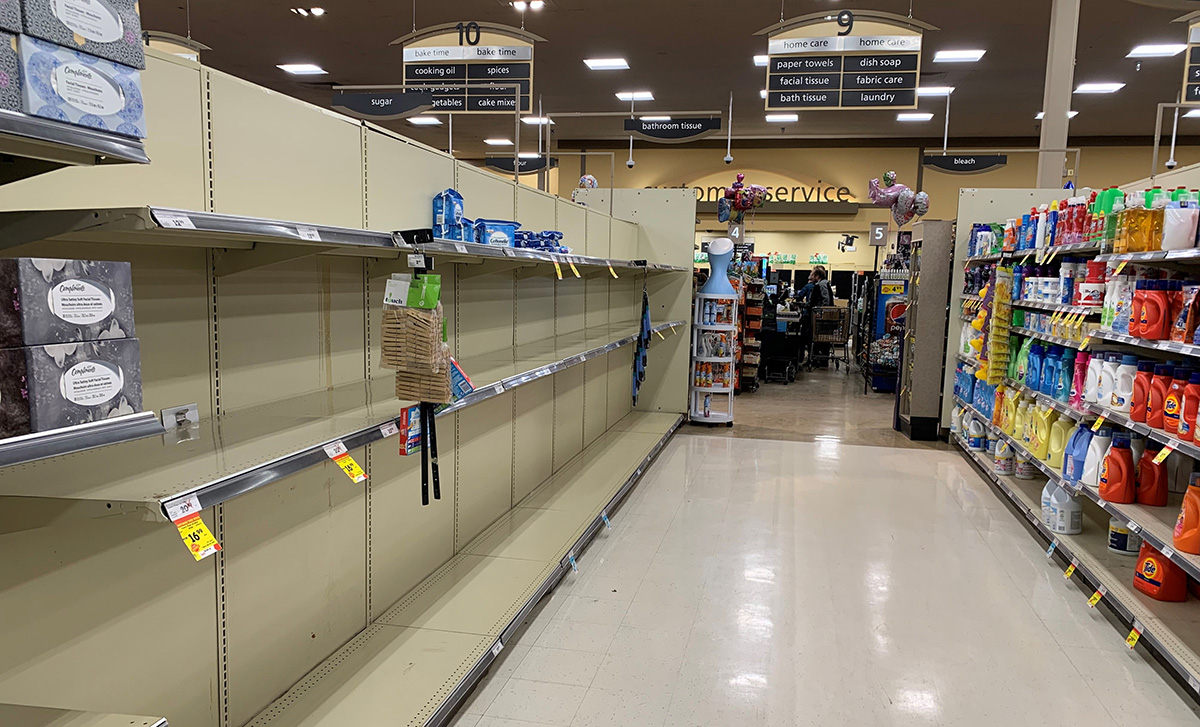 Skene says it's wrong to downplay the impact of the pulp and paper sector on logging.
"The pulp industry is a growing sector and it is tremendously important as an economic driver of expanded logging operations," she says. "It's definitely not the case that you can just say, oh, this is a waste product that doesn't meaningfully impact what's happening in the forest."
Renée Yardley, senior vice-president of sales and marketing with Montreal-based Sustana Fiber, which recycles paper products for use in toilet paper, says the company did see a dip in sales earlier this year, but that the market started to rebound in late summer.
"There's not increased demand out there right now in the tissue market, because a lot of the recycled fibre goes into the away-from-home market," she says. "That's what you in find hotels, restaurants, and things like that. With people not travelling, that market is very quiet right now."
She adds that the at-home market for recycled toilet paper is already so small that any reduction likely didn't have a big impact on business.
The company has also been struggling with sourcing materials. With many offices closed, paper recycling slowed down and Sustana was forced to look for alternate fibre sources. It has put a call out for cartons that hold milk and other beverages, which people often don't realize can be recycled, she added.
"We're taking everything we can get from the recycling," she says.
While she describes an "uphill battle" trying to get U.S. companies to use recycled paper products, Yardley believes the COVID-19 pandemic has created a renewed interest in recycled products.
"Since the pandemic started, I think people are looking for businesses to lead and they're concerned about the environment, they're concerned about their health," she says. "I've seen a greater interest, actually, in our recycled paper."
Victoria-based True Earth Paper Corp. is uniquely positioned in the industry, producing the first toilet paper made from bamboo. The True Earth brand is neither recycled nor made from forests.
It experienced a boom in customers seeking a sustainable option earlier this year.
Founding partner Brad Kornelson says when toilet paper panic hit, the company sold more than two months' inventory in two days. Production has more than doubled since, going from four shipping containers a month to 10.
Because the product — which was launched in 2012 with help from an appearance on Dragons' Den — is made in China, the company had multiple factories to draw from, allowing it to quickly ramp up production.
"In one day, we sold $68,000 worth of toilet paper and it would have been higher, but that was it. We ran out of stock," Kornelson says. "This whole North American short supply of toilet paper has been a benefit to us, because we are getting more listings. We were recently listed in Loblaws, which is a first, because they're having trouble keeping their shelves full."
The product is made from moso bamboo, which grows up to three feet a day, regenerates when cut, consumes three times the carbon dioxide of standard trees, requires very little water and grows without herbicides or pesticides, Kornelson says.
Perhaps most importantly, it's not the type of bamboo panda bears eat: No wildlife has to go hungry for our toilet paper habit.
"It's by far the world's best renewable and sustainable resource," Kornelson says.
But the pandemic is also impacting True Earth. When manufacturing slowed earlier in the year many ocean freighters were taken out of service. As production resumed, shipping costs spiked. The company is now absorbing the additional expense in the hope costs will level off.
Large toilet paper producers blame customer demand for a lack of recycled options. Yardley said the process used to process recycled pulp doesn't allow for the softness and bulk that consumers prefer.
But without sustainable products on the shelves, consumers don't have the opportunity to vote with their dollars.
Skene believes that may be changing.
"There definitely are more and more brands coming on the shelves that are made from either recycled materials or alternative fibres," she says, pointing to Target's Everspring, Unilever's Seventh Generation and Australia-based Who Gives a Crap.
Kornelson says that given the opportunity many consumers will opt for toilet paper products made from sustainable materials like bamboo.
"As long as you have the option to buy an eco-friendly product or sustainable product, the consumer can control that," he says. "The grocery retail industry is complex, the supply chain is complex and COVID has everybody upside down and everybody's scrambling and still trying to figure it out. Fortunately, just about everybody is being patient and understanding."
Just as recycled options were beginning to return to supermarket shelves, there were reports from the U.S. about toilet paper panic buying.
Hopefully, this time, companies are prepared.