About 30 kilometres southeast of Bella Bella in the Central Coast region of British Columbia, there is a low-lying clay deposit off quiet Kisameet Bay.
The Haiłzaqv people, called the Heiltsuk people in English, have used the fine, pale-green clay from the deposit to treat stomach disease, diabetes, burns and other ailments for many generations since it was deposited in their territory during the last Ice Age.
"The tribal people that used to live there used it as a trade commodity with other Heiltsuk tribes, and tribes outside our territory," said William Housty, a member of the Heiltsuk Nation and board chair of its integrated resource management department. "They used to roll the clay up in tiny little pellets and people would eat them every day. It was used almost like a vitamin."
Now, the Heiltsuk are in negotiations to allow a non-Heiltsuk company to harvest the clay for commercial use. But Housty, who is also an environmental advocate and works with a local non-profit supporting youth, culture and the environment, said they are open to sharing the unique resource so long as the people and the land are treated with respect.
Both business and science have come calling. Lawry Lund, a Smithers-based businessman who founded Kisameet Glacial Clay Inc. with a refinery in Squamish, B.C., is in negotiations with the Heiltsuk to sustainably harvest the clay and share economic benefits when Lund begins to sell the clay for cosmetic use.
Lund said he could not comment on plans while in negotiations and did not respond to several emails and phone calls. But he did say there was a positive relationship between the Heiltsuk Nation and the company.
The world of medicine also has an interest in Kisameet clay. A University of British Columbia study, led by Professor Emeritus Julian Davies, revealed the clay can potentially kill antibiotic-resistant pathogens in hospitals.
'Resource decisions in our own territory'
Heiltsuk people used to live very close to the deposit in the ancestral village called K̓sṃiíƛ, which became known as Kisameet by settlers, said Housty. He said the land was seized by the Crown many years ago and sold without Heiltsuk consent.
Land Title and Survey Authority of B.C. records show land around the bay being bought and sold beginning in the 1930s. The Tyee was not able to confirm whether Lund purchased or inherited title to the land.
The deposit is an example of navigating conflicting understandings of ownership between settler and Indigenous society. Housty said the land is still part of Heiltsuk territory, even if Lund owns the land according to provincial law.
"As far we we're concerned, we own the land, and they're a privileged licence holder who's in our territory," said Housty. "We never sold it. So, we need to be a part of anything that happens."
Housty described this as a major hurdle the nation had to overcome with Lund, and part of the reason negotiations have been ongoing since before Lund founded his company in 2011. Housty said they have had many discussions about the cultural value of the land. As part of this process, Lund funded a Heiltsuk student to research the historical use of the clay.
Housty said Heiltsuk people left the village near the bay shortly after a bad round of smallpox at the end of the 18th century and joined the community in present-day Bella Bella. The most recent nearby community was at the former cannery Namu. The cannery shut down in the 1970s. The decaying remains have caused water pollution and become another environmental concern for the Heiltsuk.
But community members still regularly visit the island for trap lines and harvesting clay and other resources. Housty said it's important to realize that while the village is gone, people still use the land.
"Whether you purchased contentious property or whether it was handed down to you, you need to realize that just because it's a part of a territory that nobody lives [in], it doesn't mean there's nobody from there, and nobody occupying those places," he said. "If Lawry had come at it from any other angle than what he has things wouldn't end well, because it's a contentious thing. We need to find a way to include First Nations in resource decisions in our territory."
Benefits 'coming back to our community'
The Heiltsuk Nation has also prioritized sustainability in the negotiations.
So far, harvesters have only taken small amounts by hand with pails, rather than heavy machinery.
"When this clay's gone, it's gone. It's not going to grow back," said Housty. "It needs to be harvested sustainably so that it's done long-term, and the benefits of that are coming back to our community when we're long gone. From other operations in our territory, clay deposits were harvested in 10 years and not a penny back to the nation."
The Heiltsuk Nation has often been in the media for environmental activism. Housty addressed the National Energy Board in 2012 responding to the now-abandoned Northern Gateway Pipeline and the threat of an oil spill. At the time, Housty also discussed the need to include Indigenous peoples in resource decisions.
According to the UBC study, the basin contains 400-million kilograms of clay, and was deposited about 10,000 years ago. The deposit lies inland, surrounded by trees and overlain with a thin layer of plants.
Only a small amount of the clay is required for treatments.
"A five-gallon bucket will last you a lifetime if you're eating a pellet a day," Housty said.
Davies and his team at UBC developed an extract which requires only a small amount of the clay, and a few drops of the extract are enough to kill harmful bacteria in lab experiments. Other environmental processes still have the potential to affect the clay.
Loretta Li, a civil engineer at UBC, and her team are trying to identify the clay's complex composition. She found environmental processes can affect the clay. For example, exposure to oxygen changed the clay's pH level, and perhaps changed the clay's microbial activity.
Li also emphasized the importance of sustainability in extracting rare resources.
"You can find a lot of marvelous things in nature," she said, pointing to clay, herbs, and goji berries as examples of highly complex chemical compounds that are good for humans. "We need to protect our environment, otherwise all the good things will disappear from us. One may want to think about how we can regenerate some of those [resources]. You don't want to kill the goose who can lay golden eggs."
Killing antibiotic-resistant diseases
The 2016 UBC study of Kisameet clay led by Davies, Li and a team of researchers got a lot attention at the time from local and international media. They had found that Kisameet clay is very effective at killing ESKAPE pathogens, an acronym for the six most common diseases in hospitals that have become resistant to antibiotics.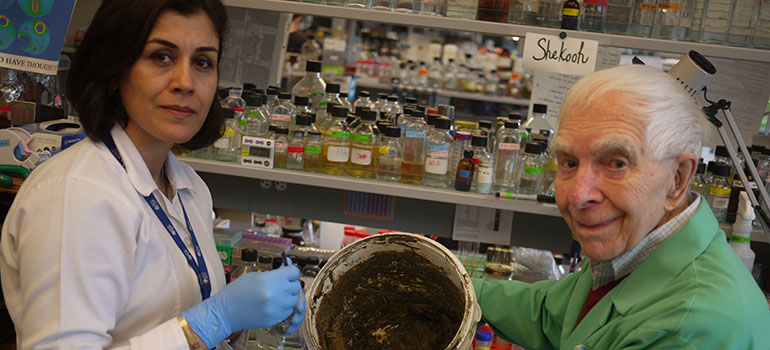 Davies also said it has demonstrated the ability to combat mycobacterium ulcerans, an infection that destroys skin tissue and causes enormous scabs. The disease is common in South Africa, and Australia is currently experiencing an outbreak primarily in the state of Victoria.
Mycobacterium ulcerans has become increasingly resistant to antibiotics. When left untreated, which can happen in less developed countries, it can result in amputations and even fatalities. While the clay could not completely kill the infection, it could help treat the surface ulcer, said Davies.
Kisameet clay is just one example of scientists around the world searching nature for answers to antibiotic resistance, from fungi, to sloths, to other clay deposits in France or as close as caves in Chilliwack.
Kisameet Glacial Clay commissioned and funded UBC's research. However, Davies said that shortly after the studies were released that revealed the clay's medical potential, the company stopped funding the university's research and asked that UBC return all their samples along with the extract they had created. Davies refused, and said no one from the company will talk to him anymore.
The lab is still doing research on the clay with the funds it has.
"We need the clay samples that we have in order to continue with the work," Davies said. "It's important work, it could be a cure."
Davies said he is hopeful the clay extract can be developed to treat simple skin infections and potentially more diseases in the future. However, his team lacks funding to do more tests, including animal testing, which are necessary before the extract can be used on humans.
Davies said the ideal solution would be to synthesize the clay, but its composition is complex with over 2,000 types of bacteria in a single sample.
"We don't know everything that's in there, there's a variety of compounds," he said. "It would be hard to create synthetically. It seems like some magic stuff in there."
Lund did not respond to questions about ending funding for UBC's research.
Housty said he is not involved with Lund's specific plans for how to develop the clay. He is part of the negotiations to ensure that extraction is sustainable and beneficial to the community.
Davies and his team are continuing to work with the samples that they have, but Li said they need more clay samples to identify its composition.
"It's highly variable. From spot to spot, from depth to depth, [samples] are different," Li said. "It' still inconclusive… we need a substantial amount of samples to be studied in order to conclude something. And each of these studies could be very expensive and time-consuming."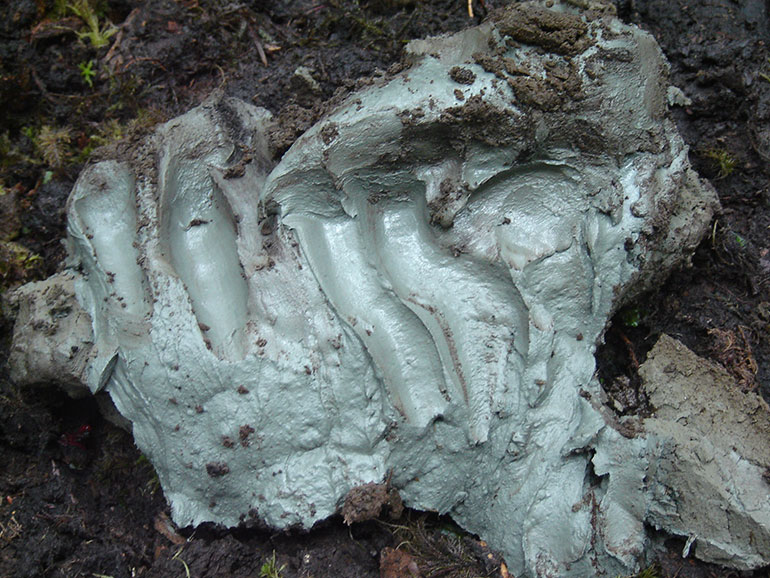 Western science 'affirming' Indigenous knowledge
The clay seems to be an example of contrasting notions of both land rights and scientific and historical knowledge.
Housty compared UBC's study of Kisameet clay to the unearthing of 13,000-year-old footprints on Calvert Island in March 2018 and of an ancient village on Triquet Island in 2017. These two archeological digs contradicted prevailing scientific theories but were in line with Indigenous histories, and Indigenous peoples had helped direct scientists to the sites.
"It's just something that we've had to deal with," Housty said about instances when settlers "discover" Indigenous knowledge.
Li said the clay is unique from a scientific perspective, being so complex and active before any chemical processing.
"It seems like... magic," she said. "But if you think about Indigenous peoples, and Chinese medicine, and other medicine, they base it on experience… According to those traditional medicines, everything is tried on humans. If it doesn't work, it was already abandoned thousands of years ago," she said. In contrast, western medicine still requires years of lab testing to verify the science.
Davies and Li both said more testing was necessary before the clay could be used in hospitals.
Meanwhile, Heiltsuk people continue to use the clay as they have always done.
Housty said he understood why Lund needed to do tests to make the clay available for sale and to assert its financial value. At the same time, "it's an old tale for us," he said.
"Everyone's like, 'yeah, we need to reaffirm it with science'… if you honour the oral history, you know, it would save you some time and money," he laughed.
To Housty, the story of Kisameet clay comes back to trusting and respecting Indigenous knowledge and rights.
"We're not obsolete people up here. We have a voice, we have opinions, we have a direction that we're following," he said.
"People need to realize that we're a real living thing up here and not pretend we're not capable of co-managing and co-developing resources. You need to not only go through the government process, you also need to go through our process as well. When you read about Heiltsuk in the textbook, the language they use is as though we used to be here but we're not here anymore. We're trying to change that, and help people understand that we're a player in the game in our own territory."