NDP leader John Horgan will be the next premier of British Columbia.
Lieutenant-Governor Judith Guichon asked Horgan to form government after meeting with him Thursday evening and receiving his assurance he has enough support in the legislature.
"I look forward to working harder than I've ever worked before to make sure this great province continues to grow, and the prosperity we all want to see for ourselves, we can make sure that we share that prosperity with others," Horgan told reporters after the meeting.
"It's been seven weeks since Election Day, and it's been a roller coaster for all British Columbians of all political persuasions," he said.
He said he was grateful the Green and NDP members of the legislature had been able to demonstrate that their alliance is strong.
In the next couple weeks he will be sworn in as premier and appoint a cabinet, he said. "There's 16 years of challenges that have been created for many people. These challenges won't be fixed overnight."
Guichon had earlier met with Christy Clark, leader of the BC Liberal Party.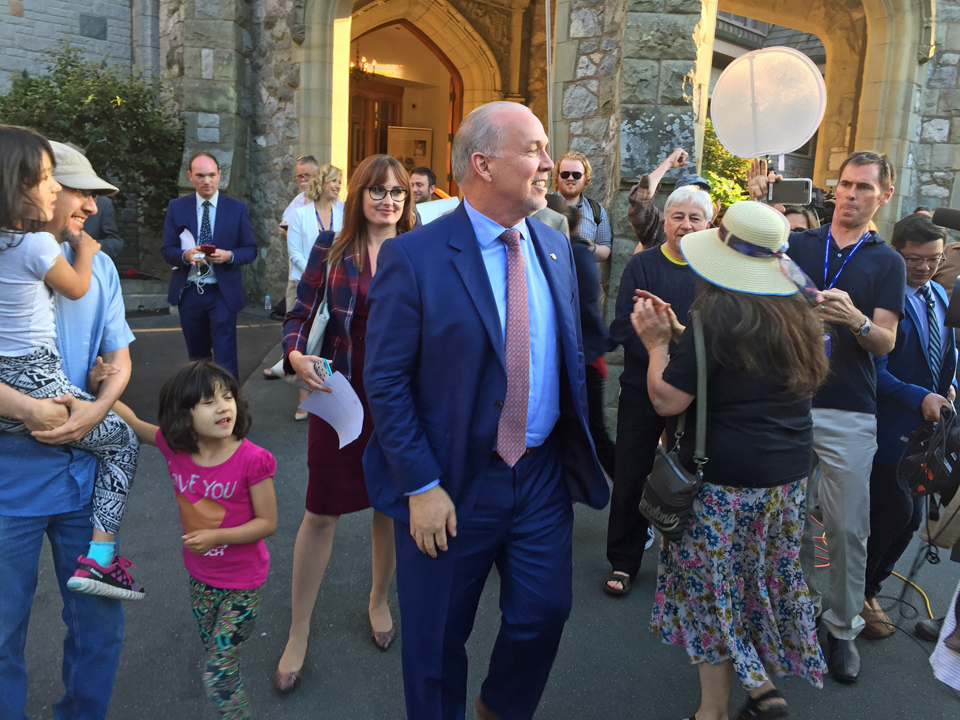 "As Lieutenant Governor of British Columbia, and as the representative of Her Majesty the Queen of Canada, I have met with Premier Clark and will accept her resignation," she said in a prepared statement.
"I have asked Mr. Horgan to form a government, he having assured me that he can form a government which will have the confidence of the Legislative Assembly."
Late Thursday evening, Clark offered her congratulations to Horgan on taking over the premiership and expressed gratitude for the role over the past six years.
"He is inheriting the best balanced books in the country... and I hope he can find a way to make sure that we preserve that," she said.
Clark added that she had asked the lieutenant-governor to dissolve the house and call an election, something Clark had previously said she wouldn't do, but Guichon rejected the request.
"She's chosen another path and I suppose she'll be able to talk to you about why she made that decision.... I certainly accept that result."
The BC NDP won 41 seats in the May election, which combined with the three Green MLAs is enough to defeat the 43 Liberals.
The NDP-Green alliance passed a non-confidence motion Thursday afternoon, triggering Clark's resignation.