Hours before the BC Liberal convention in November, Premier Christy Clark flew by helicopter to a morning press conference in Squamish to hover over an ancestral Aboriginal village site now eyed for a liquefied natural gas export terminal.
Her aerial tour and media event was filmed, and the footage quickly posted to the Office of the Premier's website. Clark had a big campaign style-announcement: the Woodfibre LNG plant was a go, she said.
"This is the first of 20 projects that are in the pipeline somewhere to go forward so far, and we are just delighted to be able to say that LNG in British Columbia is finally becoming a reality," said Clark with a grin.
But odd to the local newspaper and the mayor of Squamish was the absence of the Squamish Nation band council. The project relies on the First Nation's support, since the company has agreed to abide by the band's environmental and economic conditions.
So where was the band? Abstaining on purpose, Chief Ian Campbell recently told The Tyee.
"The Squamish Nation chose not to participate in the announcement that would frame this project as a green light due to the fact that we're simply not there," said the hereditary leader, elected councillor and political spokesperson.
"To be candid, it's misleading, and it's not fully respecting the Squamish Nation's process or our authority to work with the province," Campbell said.
'I was just asked to go'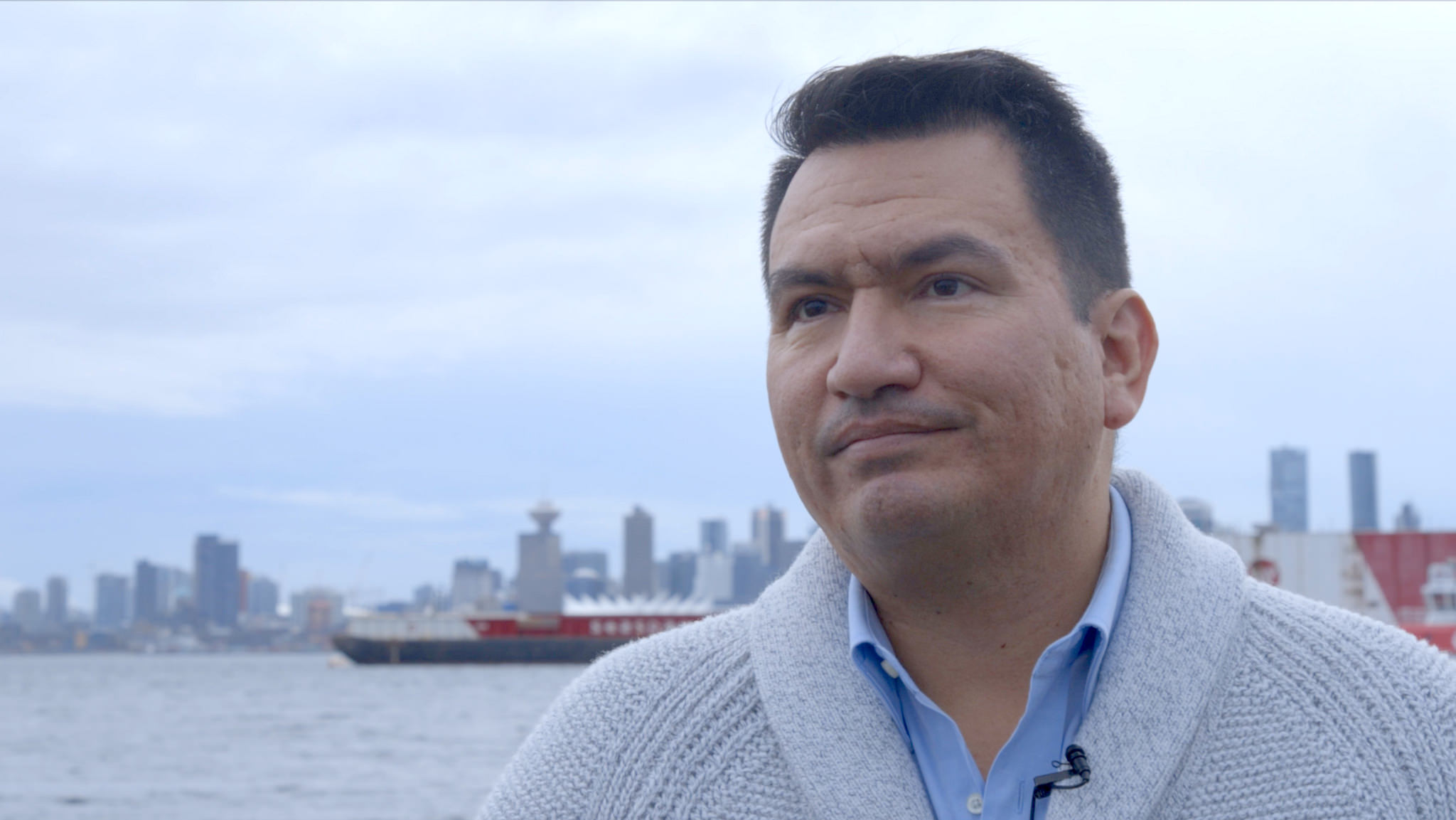 The scant presence of Squamish Nation did not stop the premier from thanking them. "Some of the members of the Squamish First Nation are behind me today working on this site," Clark said.
But Brenda Bain, a member of the Squamish Nation who stood behind the premier, said she didn't see anyone else from her nation at the press conference.
"From what I could see, I couldn't see any [Squamish band members]," Bain said on Saturday.
Bain said she was rushed to the front of the photo op at the last minute. "I was just asked to go. I had no idea, not a clue that the premier was going to be there. Not a clue. Had I known, I would've dressed differently."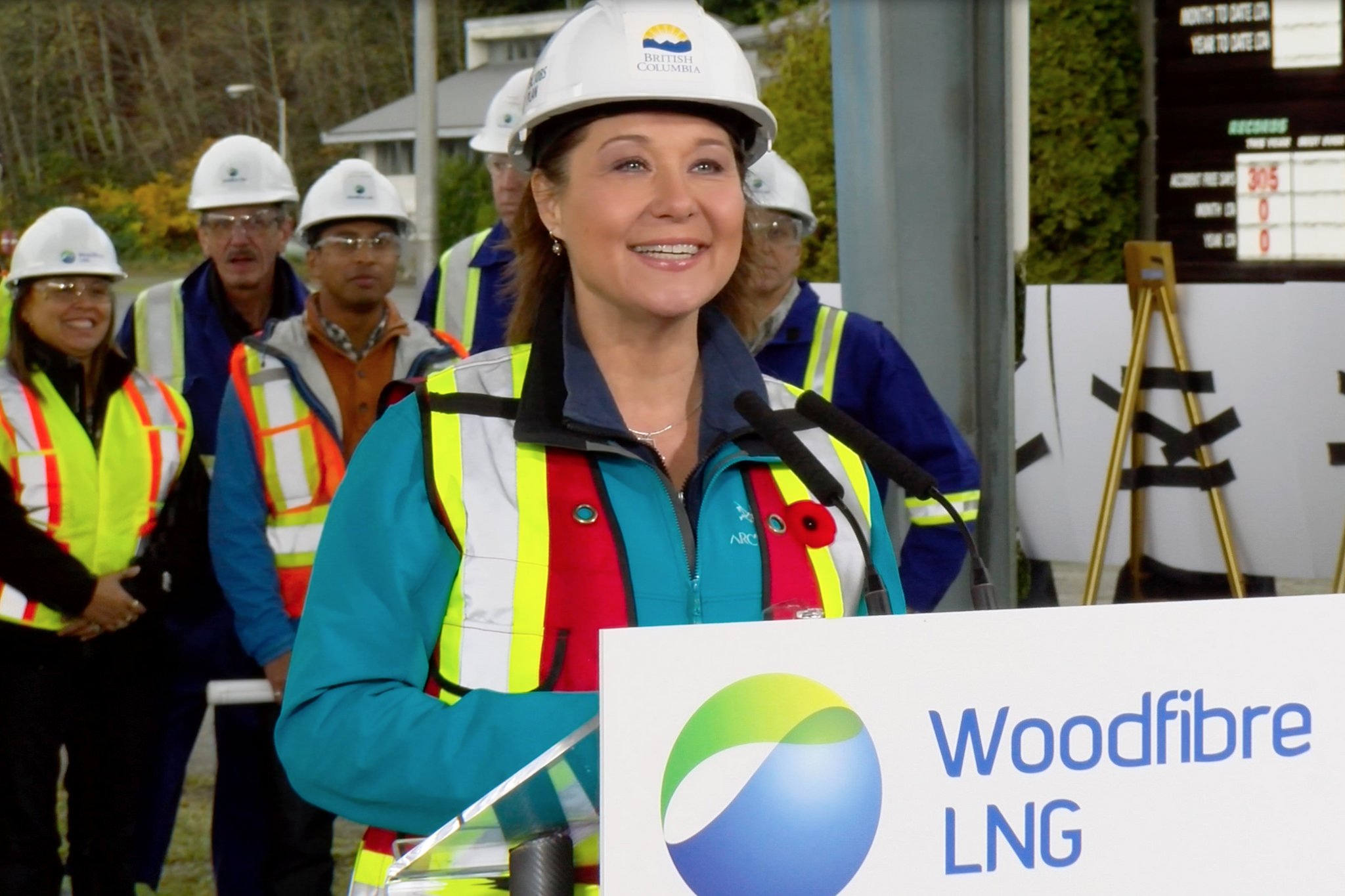 Bain runs Bizzie B, a small cleaning company in Squamish, and has done work for Woodfibre LNG cleaning offices, and removing brush.
She said a Woodfibre LNG staff member asked her to stand behind the premier in front of the two-dozen helmeted people, including cabinet ministers. She would appear just over Clark's shoulder in the provincial government's footage.
"They just asked me to stand with the group because I was working with them. They consider me as part of their team," Bain said.
Bain makes clear that she is not for or against the LNG project, and that she's aware of how divisive the project is in the community. The RCMP had only the day before investigated a suspected arson attack on the Woodfibre LNG office in Squamish.
Local Mayor Patricia Heintzman, who has long opposed the LNG project, was not invited to the press conference. She attended anyway after she learned of it from a CBC reporter that morning, she said.
"Squamish Nation's absence was noticeable," wrote Heintzman in an email. "Had I known that this announcement was not supported by Squamish Nation because it pre-empted their process and decision making I probably would not have attended."
Anti-LNG citizens group My Sea to Sky was also dismissive of the LNG press event.
"I think Christy Clark really likes to put on a hard hat. But that's all it is. This was a total PR set up. It was a dog and pony show that was put on for the media," said the group's Tracey Saxby.
The premier's office was asked to explain why Clark announced that the LNG project was a done deal with no official Squamish Nation representation. The question was referred to the Ministry of Natural Gas Development.
"This is a question best proposed to Woodfibre LNG. They hosted the event and invited the Province to participate. The event highlighted Woodfibre LNG's board authorization to proceed and provided the Province with an avenue to announce the new eDrive [electricity rate]," wrote media relations officer Lindsay Byers.
Woodfibre LNG has so far not responded to requests for comment, including a question about how many Squamish Nation members participated in the Nov. 4 event.
So is Woodfibre LNG a go?
The question about whether the LNG terminal will actually get built is disputed. "The Premier's statements that LNG is a go, simply isn't true, in the perspective of the Squamish Nation," said Chief Campbell.
But the company is adamant: "So this project, if I'm not clear, is a go," Woodfibre LNG's vice-president Byng Giraud told the press on Nov. 4.
Premier Clark has stuck to the same line. Two days after the press event, she boasted in her speech at the BC Liberal convention that her party had delivered on LNG — a key election promise from 2013.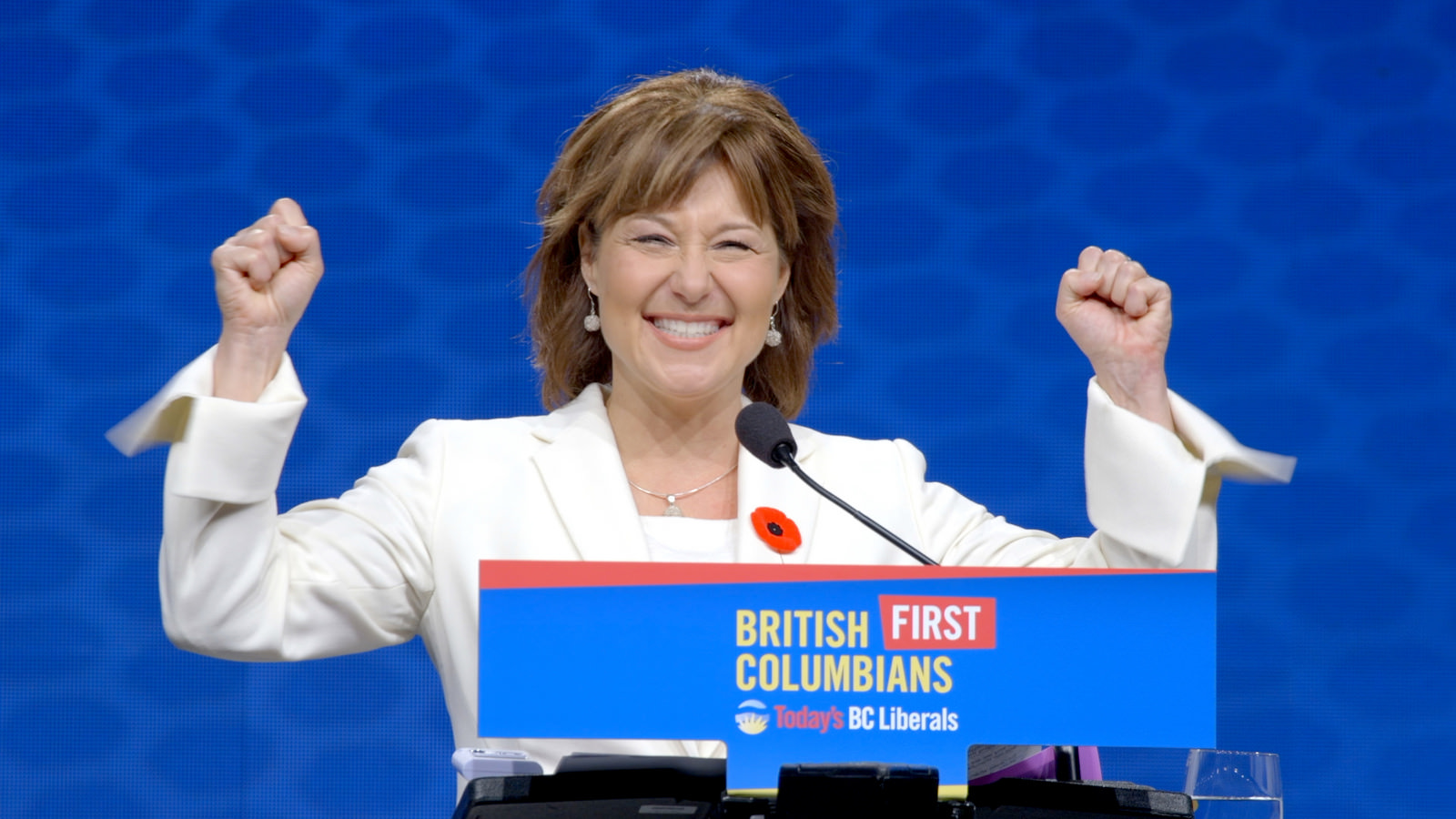 "On Friday, we announced that after five years of hard work and planning, the very first clean LNG project is finally getting underway!" She then fist pumped and uttered "yes!" to a roaring crowd of Liberals.
And the effect was clear: the media overwhelmingly reported the LNG project was a go. Global News, which commands the largest TV audience share by far, published the headline that "Squamish LNG project gets green light."
So far, Woodfibre LNG's ownership firm in Asia — RGE, controlled by Indonesian billionaire Sukanto Tanoto — has authorized the funds for the $1.6-billion plant to move forward and has indicated that construction would start this year "pending permitting."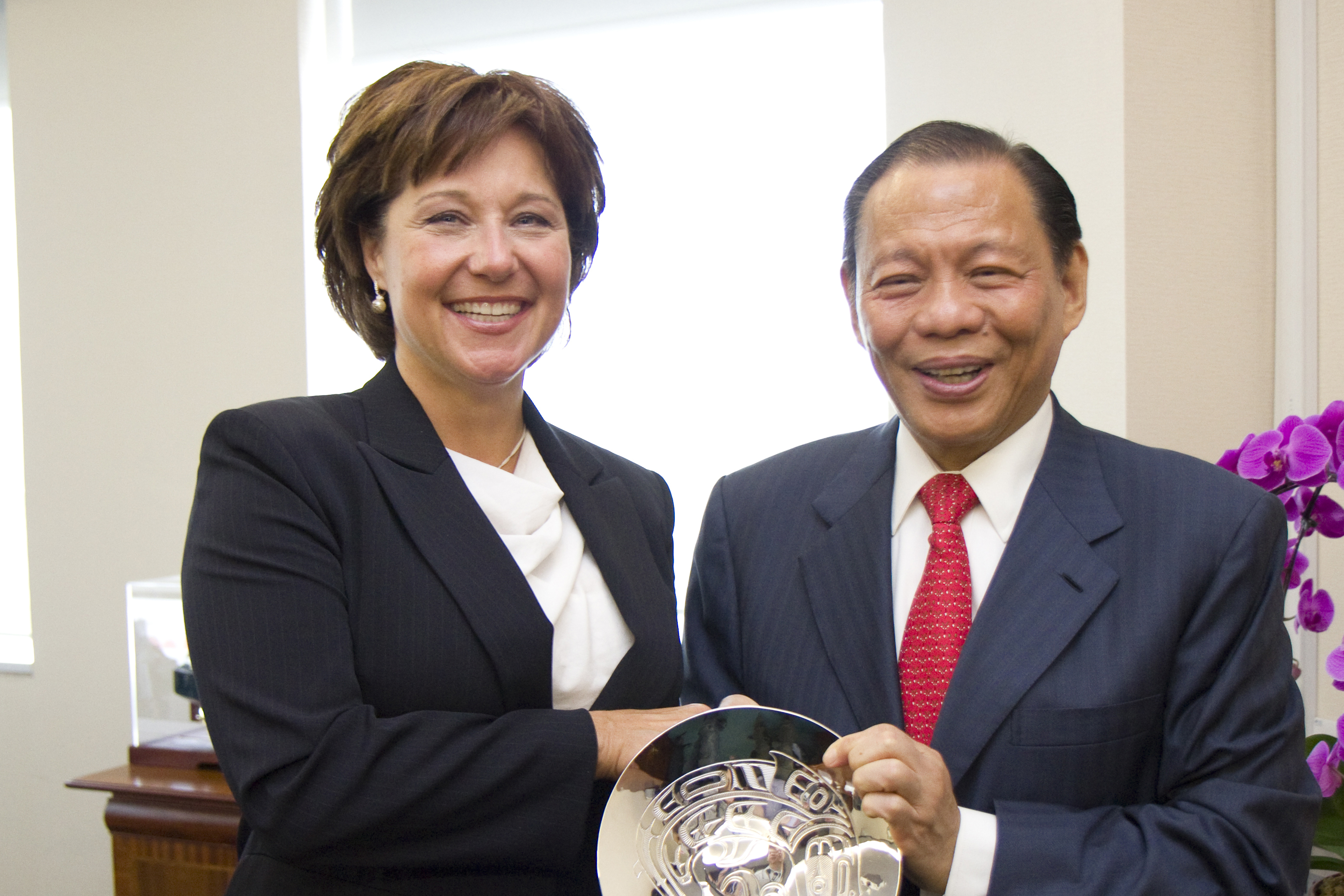 Yet as of early 2017, there are no jobs posted to career section of the Woodfibre LNG website.
Howe Sound retiree Eoin Finn finds that odd for a $1.6-billion project that the premier said was "finally getting underway." He's a former KPMG managing partner who has studied the LNG project's viability, and a well-known opponent of the project.
Finn believes Clark's announcement was more of a stunt to "save her political hide" than a final investment decision (FID) in the usual sense.
He explained Woodfibre LNG is a privately held company, so the wealthy owner's decision to proceed can easily be reversed. That's different than FIDs made by large publicly traded energy companies, such as Petronas, Shell and Chevron, which are legally accountable to investors, he said.
"Why in earth would a smart fellow like Tanoto decide to spend money making LNG [in B.C.]? Where he says he wants it is in Southeast Asia, he can buy all he wants at much lower prices from Australia," Finn said Sunday.
Then there's the question of actual buyers. When Giraud was questioned by the Vancouver Sun on Nov. 4 whether Woodfibre LNG had any customer contracts to justify the project, he replied, "stay tuned."
In making her announcement, Premier Clark acknowledged "we know that there's more work to do with First Nations, and with the community."
Squamish Nation had agreed to a conditional approval of the project if the proponents —Woodfibre LNG and Fortis — and the province meet all 25 of the band's economic and environmental conditions.
But that's a big if, suggested Chief Campbell, and Clark's comments about the project going ahead are premature.
"We have some dismay at the province attempting to pre-empt that work by announcing this and framing this as a done deal," said the chief.
Some conditions, such as a demand to change the LNG terminal's cooling system to one that would be less harmful to marine life, have been agreed to by Woodfibre LNG. But negotiations on a management plan to ensure wildlife throughout the life of the project are protected, and an "economic benefit agreement" for a share of revenues, have yet to be concluded.
The band stands to gain some $100 million over the long term, the Vancouver Sun reported.
When pressed, Campbell didn't say if he was for or against the LNG project, but said he respected the Squamish Nation's review process and acknowledged that many of his people oppose the project, which would bring three to four LNG tankers per month to picturesque Howe Sound.
For her part, Bain said she took the opportunity to meet the premier at the LNG media event in stride. She said she gave Clark her business card and intends to send her smoked salmon.
She added that she hopes some development, like LNG, comes to Squamish so she can hire more band members.