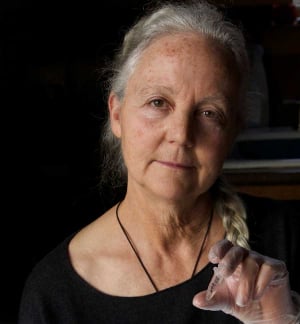 Salmon advocate and biologist Alexandra Morton is suing the Minister of Fisheries and Oceans, alleging the DFO is putting wild salmon at risk by failing to inspect hatchery fish for a known virus prior to transferring them to fish farms.
Morton's lawsuit charges the department with breaking fisheries regulations that say the minister can only issue a licence allowing fish farmers to transfer fish if they "do not have any disease or disease agent that may be harmful to the protection and conservation of fish."
Regulations also require the minister to ensure the transfer won't have an "adverse effect" on other fish stocks.
Morton won a similar legal case in 2015, after suing the Department of Fisheries and Oceans and Marine Harvest for transferring Atlantic salmon infected with piscine reovirus into its ocean feedlot operations. The virus is associated with Heart and Skeletal Muscle Inflammation (HSMI), a contagious and often fatal disease that has hit Norwegian and Chilean fish farms.
The Federal Court gave the DFO until September 2015 to revise licences granted to Marine Harvest to ensure diseased hatchery fish are not transferred into the open-net systems in the ocean. Marine Harvest and the federal government appealed the decision, but the federal government sought an adjournment in May after scientists revealed they had found a potential case of HMSI on a B.C. fish farm.
Asked about the fate of the appeal and department's apparent failure to comply with the law, DFO communications advisor Athina Vazeos wrote in a statement that "It would be inappropriate to comment further as this matter remains before the court."
HSMI, which damages the heart and affects the ability of fish to swim, remains the third largest infectious cause of death in fish farms owned by Marine Harvest, according to its 2015 annual report. The Norwegian corporation describes itself as the largest operator of fish farms on B.C.'s coast.
Morton decided to launch the new lawsuit after DFO officials notified her in writing that they do not require testing for piscine reovirus or HSMI or gather information on the viruses in relation to salmon transfers.
"In my view the federal government is breaking the law to protect the corporate fish farm industry," Morton told The Tyee. "Why not test for [the virus]? It is a virus of concern for the industry and our own wild salmon stocks are in poor condition. I just don't understand their thinking."
Lawyers working for Ecojustice filed the lawsuit on behalf of Morton on Oct. 12.
The lawsuit seeks a court order to force the Minister of Fisheries and Oceans to comply with the Fishery (General) Regulations and "apply the precautionary principle when approving fish transfer licences."
According to European researchers, PRV infections are widespread in farmed salmon and can be readily transmitted. Because the virus is already detectable in more than 10 per cent of the wild salmon tested, it is considered likely that PRV is transmitted from farmed to wild salmon and can travel long distances.
Researchers from the Norwegian Environmental Agency and the Norwegian Veterinary Institute confirmed in 2014 that the virus probably spreads from farmed to wild fish but that it was difficult to study the course of viral infections in wild salmon.
"This is probably due to the difficulty in catching sick wild fish for sampling because these fish usually die and disappear or are eaten by other animals," explained Norwegian scientist Eirik Biering in 2014.
In fact scientific studies rarely find dangerous viruses and bacteria in wild fish. In contrast, the artificial environments of fish farms can harbour a variety of diseases that have crippled wild populations, and therefore require constant surveillance by veterinarians.
In a related development, Port Moody-Coquitlam MP Fin Donnelly introduced Bill C-228, which would require the federal government to amend the Fisheries Act and force companies to move from open net fish farms on the Pacific Coast to closed containment systems within five years.
Donnelly, an NDP MP, has twice swum the length of the Fraser River to draw attention to threats posed to wild salmon populations.
The bill would "strengthen the Fisheries Act by requiring British Columbia salmon farms to move from harmful open net pens to safe closed containment systems," he says.
The BC Salmon Farmers Association said it does not support the bill. Jeremy Dunn, association executive director, said the industry has a robust regulatory system backed by voluntary third-party certification.
Marine Harvest is suing Morton for trespassing on three of its fish farms last month during a Sea Shepherd campaign to "audit" the industry that caught a die-off at one corporate feedlot on video, as well as apparently skinny fish with tumours on another farm.
The claim, filed with the Supreme Court of British Columbia last month, accuses Morton of "occupying, blocking or physically impeding the plaintiffs aquaculture sites" in the Broughton Archipelago and Okisollo Channel.
Morton has until Monday to respond to the lawsuit.