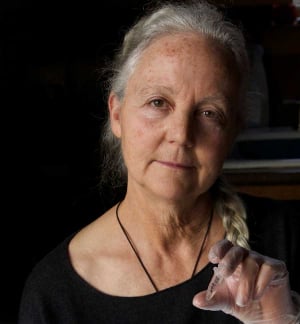 Marine Harvest is suing activist and biologist Alexandra Morton for trespassing on three of its fish farms last month during a Sea Shepherd campaign to "audit" the industry.
The claim, filed with the Supreme Court of British Columbia last week, accuses Morton of "occupying, blocking or physically impeding the plaintiffs aquaculture sites" in the Broughton Archipelago and Okisollo Channel. Marine Harvest, a Norwegian corporation, is one of the largest fish farm operators in Canada.
Last July and August, Morton, a long-time critic of the controversial industry, sailed the Vancouver Island coast in the R/V Martin Sheen, a vessel owned by the Sea Shepherd Society, to expose conditions on fish farms and give First Nations a platform to express their views on the industry.
Morton told The Tyee she was surprised to learn of the Marine Harvest lawsuit while reading an industry publication and was served notice on August 28.
"I think we are going to have a chance to see what bullies they are," said Morton, who described the development as a Strategic Lawsuit Against Public Participation (SLAPP). Such suits are intended to silence critics of an industry by burdening them with the cost of a legal defence.
In the past Marine Harvest has taken the position of ignoring one of fish farming's most formidable critics by not responding to her criticism.
"Now things have changed," said Morton whose scientific research has appeared in numerous well-known journals. "I think they are only inflaming the situation. The industry does not have a social license in this province."
In a press release posted last week, Vincent Erenst, Marine Harvest's managing director for Canada, said visitors are welcome at company fish farms but "we cannot stand by and allow individuals to ignore the law and trespass on our facilities."
Three incidents cited in lawsuit
The Sea Shepherd campaign provoked an aggressive response from the industry, which accused "professional protesters" of "harassment, false accusations and trespassing."
On July 26, Mike Ballard, a Fisheries and Oceans Canada enforcement officer, warned Morton the agency was getting complaints from industry about how close the Martin Sheen was getting to the farms and the ship's use of drones.
Marine Harvest cites three incidents of alleged trespass, including one on Aug. 23 when almost 60 members of the Musgamagw Dzawada'enuxw and other nations, including several hereditary chiefs, conducted what they called a "cleansing ceremony" while presenting the company with an eviction notice. Another alleged trespass occurred while Melissa Willie, a band councillor and spokesperson for the Dzawada'enuxw, opened totes containing dead salmon or "morts" from another feedlot operation in her territory.
On both occasions Morton accompanied the Musgamagw Dxawada'enuxw at their invitation on their territory. During that time, Morton stuck a GoPro camera into one of Marine Harvest's fish pens.
"I did go on the farm and I used a camera in the public interest and as a guest of a nation that has accused the company of trespassing on their territory for decades," Morton told The Tyee. She has 21 days to respond to the lawsuit.
The Musgamagw Dzawada'enuxw informed government that they do not want this industry in their waters and have not signed any formal agreement with Marine Harvest, unlike many other First Nations on the coast. They consider the Norwegian-owned multinational a trespasser on their traditional territory.
Two large delegations from the nation boarded one Marine Harvest and one Cermaq feedlot in August to present eviction notices for approximately 30 operations now located in their territory.
"We have seen salmon dwindling in our rivers for the past 29 years," explained hereditary chief and elected chief councillor Willie Moon of the Musgamagw Dzawada'enuxw Nation in August at a protest in Campbell River.
Melissa Willie told the protest the band had received a letter from Cermaq requesting a meeting. "We are not doing that," she said. "We want them out."
The eviction notices have been sent to the governments of B.C. and Canada. Asked for a response, DFO communications advisor Athina Vazeos emailed a statement saying that since 2010 the department "has been in discussions with all of the Broughton Archipelago First Nations and will continue to consult with them regarding finfish aquaculture in their claimed territory."
The Marine Harvest lawsuit identifies Morton and "John and Jane Doe and all other persons unknown to the Plaintiff." It alleges that Morton and others ignored demands to leave, "tampered with equipment" and inserted a camera through bird nets into an open net pen.
"They've cast a wide net that does include First Nations and that could include all kinds of people," said Morton. But to date, she is the only one named and the only one who has received notice.
It is not clear what damages are being sought or whether 60 members of the Musgamagw Dzawada'enuxw Nation will be brought into the lawsuit. Video footage of the boarding shows that it was civil.
Morton's five-minute video, which went viral on the Internet, shows farmed Atlantic salmon swimming in crowded conditions. Many appeared to be suffering from tumours and emaciation.
Jeremy Dunn of the BC Salmon Farmers Association said at the time that "looking at one or two salmon on a farm — with a video camera — does not give you the ability to diagnose the health of a fish population."
Morton said that "I think the industry is upset that nearly a million people have watched that video."
Long legal history
A 2010 study of the industry's impact on Norway's wild salmon concluded "it seems clear that salmon farming is the main threat to the viability of wild salmon due to spread of diseases, escapees, environmental pollution, etc."
Morton and Marine Harvest (and the fish farm industry in general) have a long legal history. The corporation, which operates the majority of fish farms in British Columbia, is one of the largest seafood companies in the world and the largest producer of farmed Atlantic salmon.
In 2009 Morton brought a private prosecution against the company for ensnaring wild, juvenile pink salmon while capturing domestic stock for transfer from its ocean pens near Port McNeill, on northern Vancouver Island. The federal government eventually took over the case and the company was fined $5,000 in 2011.
Two years later Morton took on a much bigger legal case. She sued Marine Harvest and the Department of Fisheries and Oceans for transferring Atlantic salmon infected with piscine reovirus into its ocean feedlot operations. The virus is associated with Heart and Skeletal Muscle Inflammation (HSMI), a contagious disease that has hit Norwegian fish farms. The condition can weaken salmon to the point they cannot swim and lay against the nets.
Morton won the case in 2015, when the Federal Court gave the DFO until September 2015 to revise and review licences granted to Marine Harvest and its 70 fish farming operations along Vancouver Island to ensure diseased fish are not transferred from hatcheries into the open-net systems in the ocean.
Marine Harvest and federal government appealed the decision. But last spring the federal government secured a five-month adjournment of the appeal after scientists revealed they had found a potential case of HMSI on a B.C. fish farm. The government has not said if it will continue to appeal the decision with Marine Harvest.
Several aboriginal fishers told The Tyee during the Sea Shepherd campaign that they have often seen wild fish trapped in feedlots where they become free food for farmed fish.
Some commercial fishermen also blame the industry for precipitous declines in wild salmon populations along B.C.'s coast over the last two decades due to disease exchanges, sea lice epidemics and predation on juvenile wild fish.
Morton has long advocated to move the industry onshore in controlled containers to protect wild fish.
But the industry, which is experimenting with onshore facilities, counters that it is trying to adopt better practices and more farmed fish is needed.
Most of B.C.'s farmed Atlantic fish currently goes to markets in China or the United States.