With conventional "one household, one space" residential arrangements -- whether single-family houses or apartment homes -- flying off the affordability charts in Vancouver, more and more people are exploring a third alternative: multi-family, often multi-generational, cooperative or co-housing that offers amenities and a closer community in shared space, as well as collective decision-making.
Co-operative (or "co-op") housing is in effect non-market rental housing owned and managed by its residents through a co-operative association; in Canada they have enjoyed subsidies from the federal government that are currently under review. "Co-housing" is a bit different: a grouping of private homes that share common space. Most co-housing projects are legally recognized as strata housing.
Both housing styles have independent family residences as well as communal amenities and recreation space. While co-op housing is government subsidized and not-for-profit, co-housing is privately owned and managed. This means that the cost of living in co-housing rests at market rates, unlike co-op housing, which offers affordable living below private sector rental rates.
We spoke with residents from both types of alternative housing community to learn more about what they offer.
Sarah Neault:
Mau Dan Gardens Housing Cooperative, Strathcona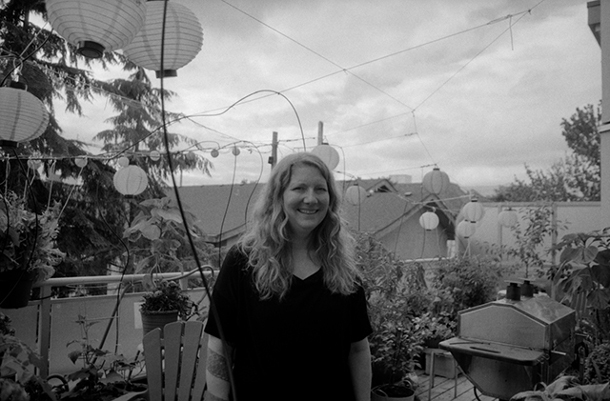 Sarah Neault grew up in Coquitlam and spent years as an adult slugging it out as a renter in Vancouver. She applied to join the Mau Dan Gardens Housing Co-operative in Strathcona in 2011, after becoming pregnant with her son, Solomon. She and Sol have lived in Mau Dan for over two years now -- one of 200-plus members of the Mau Dan co-op, one of Vancouver's largest.
Familiar with the unaffordability and insecurity of renting in a city as an expensive as Vancouver, Neault was motivated to join a co-op when she found out she would be a single mother.
She had some concerns, worrying about how conflicts would be resolved in the shared ownership setting. "How do you make things work when you don't personally get along or disagree with someone?" she asks. Neault has found that co-op living demands patience and compromise. At Mau Dan, she finds it rewarding to make collective decisions with fellow co-op members who she doesn't always see eye-to-eye with.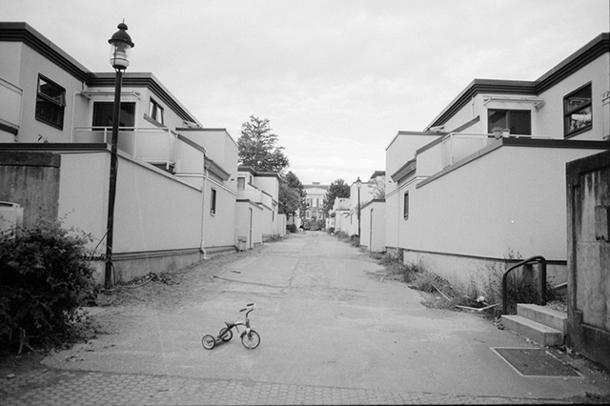 Describing her home, Neault says, "I feel like we are living in a very small town in the middle of a very big city."
Mau Dan's organization and physical features embody that community-oriented spirit. With both apartment-style and townhouse units, the gated co-op property shares walkways, gardens and a central courtyard.
Also chores. "The basic principle is that there's no landlord and the community volunteers their time to take care of all the things that a landlord would," Neault says. Basic maintenance, budgeting and internal policies are negotiated and arranged by the co-op as a whole, not by a landlord.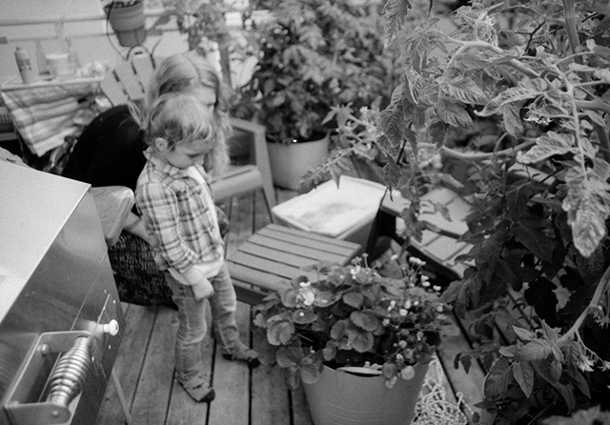 Warmth collects naturally on Neault's large, west-facing deck. The microclimate in its southwest corner grows tomatoes, peppers, spinach, kale, carrots, strawberries and flowers. A net of decorative solar-powered lights has been cast above the food and flora.
Neault shares her prime real estate with neighbours who also love plants. She met one a few years back in the laundry room -- just as Neault had filled up the last of all four available washers. She emptied it again in a gesture of compromise. Later her neighbour left a note saying "Thanks for being a good neighbour," accompanied by a toy for Solomon.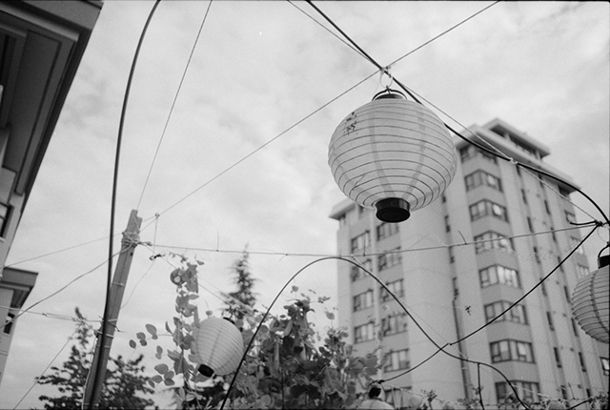 "Our housing charges [akin to monthly rent] here are incredibly reasonable, but are technically tied to market rates," Neault explains. "The market rates of our particular community are skyrocketing because of new rental buildings -- brand new, luxury rental buildings." The rise in market rates, she adds, pushed her own housing costs up almost 10 per cent this year from last.  
The federal government is reviewing how it supports co-ops like hers. But like so many others, Neault doesn't want to leave Vancouver: "It's home. It's where my family is."
Despite the big city outside her community's door, Neault says, "I really can't imagine raising Sol anywhere else now."
Andrew Stephens-Rennie:
Vancouver Co-housing, East Van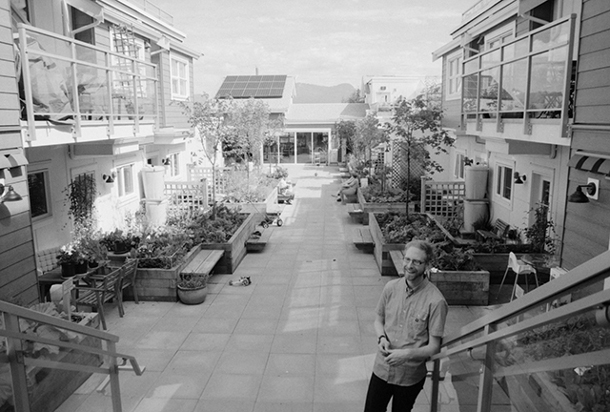 Shortly after Andrew Stephens-Rennie, his partner, Ericka, and their young son moved into Vancouver's first co-housing project at 1733 East 33rd Avenue, a mail carrier came by. "It looks like humans designed this place," the postie remarked in admiration.
When the co-housing community received its permit from the City of Vancouver on Feb. 22 this year to occupy its 31 units, 29 were already sold; the two remaining rental units had signed leases.
Centred around a shared courtyard, Vancouver Co-housing was designed by its own residents with 6,000 square feet of common amenity space. There are no darkened hallways. Instead, as Stephens-Rennie says, "there's connectivity and life and vibrancy to the space."
The property, assembled from three single-family lots, has a "common house" on the north end. Below its gabled roof is a yoga studio, office space, large kitchen, dining area and a kids' playroom. Families cook common meals several times a week; playtimes and office work are at the pleasure of residents.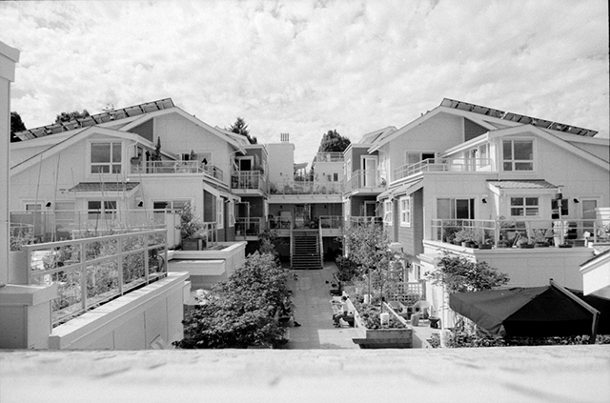 It wasn't all built overnight. It took four years of monthly meetings to translate the future residents' vision and values into policy and infrastructure. Operating on a consensus basis -- as opposed to a 50 per cent plus one model -- decisions can take a long time. Stephens-Rennie defends it though, saying it means "most of the people get most of what they want, most of the time."
Stephens-Rennie has lived in the new multi-family community for less than four months, but he already has memories.
He's seen his three-year-old interact confidently with adults, as well as other children. When the couple's two-month-old was born at home, Stephens-Rennie walked out into the courtyard cradling the blanketed newborn. "One neighbour yelled, 'Do you need coffee?'" he recalls. "Five minutes later there was a latte in my hand and one for Ericka as well."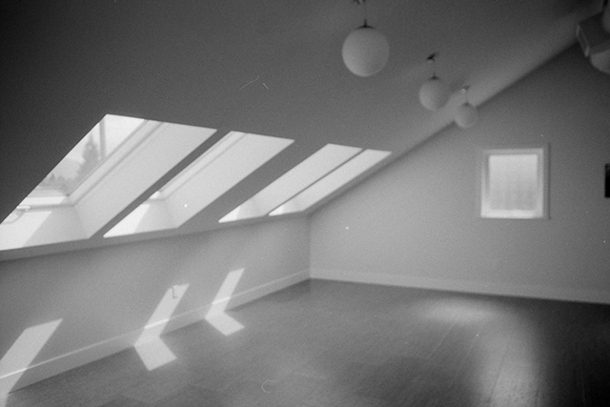 But why invest money and time into building a home -- however utopian -- in a city of empty condos?
According to Stephens-Rennie, "part of it is that very thing, that we do have a housing problem." Beginning with his own co-housing project, Stephens-Rennie is committed to resisting the idea that Vancouver can't be affordable for everyone.
Vancouver Co-housing, built on land purchased at market rates, won't be the answer for all incomes. But Stephens-Rennie sees it as just one of many possible solutions to Vancouver's housing crisis.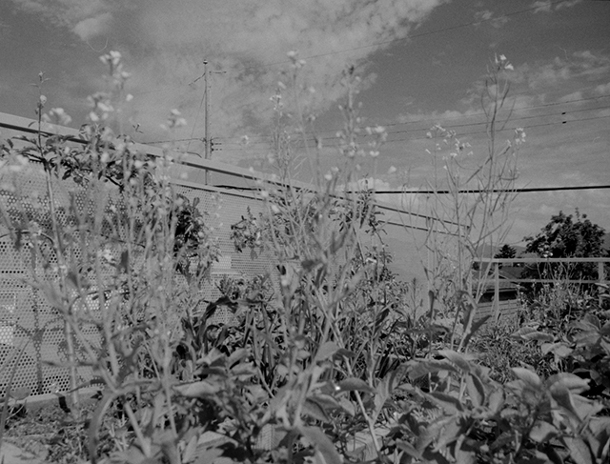 As a community outreach worker at Christ Church Anglican Cathedral, he sees another in faith communities, major landowners in the city. "The church and other religious institutions really need to think about the use of their land and how they can be co-participants in finding solutions to the housing crisis," Stephens-Rennie says.
While Stephens-Rennie is the first to admit that seeking different ways of living is "a hell of a lot of work," he is simultaneously baffled by "our inability to imagine a different future." It would be nice if solutions were provided from above. But Stephens-Rennie argues that citizens can also find them from below.