Lawyers had already been in British Columbia Supreme Court talking about the future of Victoria's tent city for several hours when Norm Ruble emerged from his tent on the courthouse lawn.
"Having a place to sleep every night is great," Ruble said. "Just having a place for my stuff and to lay my head at night has been doing wonders for me. I bet I look a lot more healthy, too. I feel a lot more healthy."
Ruble has lived in what residents call Super InTent City since November. In January, he told The Tyee about the experience, which he saw as better than sleeping in the city's parks where bylaw officers can wake tenters at 7 a.m. each day, though he said he would prefer to be housed.
In court, the provincial government was making a second attempt to get an injunction so it could force Ruble and the rest of the campers to leave. The courthouse was full, and among the roughly 50 attendees were Victoria MP Murray Rankin, Dandelion Society founder Reverend Al Tysick and former mayor David Turner.
Since April, when the court ruled against a similar application finding the campers had nowhere else to go, conditions have deteriorated at the camp and the province has created more housing in Victoria, the government's lawyer Warren Milman argued.
Concerns he listed included the risk of fires, increasing violence, the arrival of gang members, the presence of a "chop shop" for stolen bikes and an infestation of rats. "Weapons and weapons of convenience are ubiquitous throughout the site," he said.
He acknowledged the campers had made progress on reducing the risk of fire, but said there have been continued problems and mentioned a hole that was burnt in a picnic table. "This is a real risk that's ongoing," he said.
Since the camp started, the province has made progress providing housing options, and in July the recently purchased Central Care Home will make 140 more units available, Milman said.
Application premature, says lawyer
Representing the campers, lawyer Catherine Boies Parker argued that the city's application for an injunction is premature. "Until the new housing options have come on line, nothing has changed," she said.
She acknowledged that the camp has its challenges, but disagreed that conditions had degenerated and noted that people living on the street face many of the same problems as the tent city campers.
Boies Parker, who in 2008 won a landmark decision that struck down Victoria's anti-camping bylaw while the number of people who are homeless exceeds the number of available shelter beds, is set to continue presenting her arguments Tuesday.
Speaking with The Tyee, Ruble said the province's lawyer is right that the demographics of the tent city have been changing, but said that's nothing new. "Tent city's been ever changing since the start, really," he said.
While there's a certain amount of disorder at the camp, it's comparable to what goes on in many people's homes, he said. "We don't hear it because of the walls."
'Ridiculous' concerns, says Ruble
Ruble called the fire concerns "ridiculous" and noted that much has been done to clear smaller items from between the tents. When there have been fires, everyone has pitched in to quickly put them out, he said. "The entire camp mobilizes."
Similarly, it's funny the province would be worried about rats when rodents are everywhere throughout the city, he said. The last housing he lived in, run by a Victoria non-profit, had a serious mouse problem, he said.
As for gangs, he said, "No, that's not in my experience... not that I know of."
And, despite the province's arguments, so far the housing options that have been offered haven't been a fit, Ruble said. "They've opened a bunch of new shelters, which is exactly what we didn't want. That's why we're still here."
He said he thought the housing at Central Care Home would be better once it opens. "It took them long enough just to listen to our needs. It took a long-ass time."
Campers have made efforts to improve their tents and clear pathways, he said. The tent city now includes toilets, showers, gravel paths and large bins for waste. "I think things have gotten a heck of a lot better," Ruble said.
Symptom of government failure: advocate
Stephen Portman, the advocacy lead at the Together Against Poverty Society in Victoria, said during a press conference that the increase in social housing has been a "major victory" for the people in tent city.
People living in the camp want homes, not shelters, he said. "Instead of displacing a tent city, we're asking the government to end the conditions that require a tent city," he said.
Noting that B.C. has also seen tent cities arise in Abbotsford, Maple Ridge and Surrey in recent years, Portman said, "They are a product of disappearing social safety net and 30 years of disinvestment in social housing, shameful welfare rates and disability and pension rates, and a government that is truly failing its people."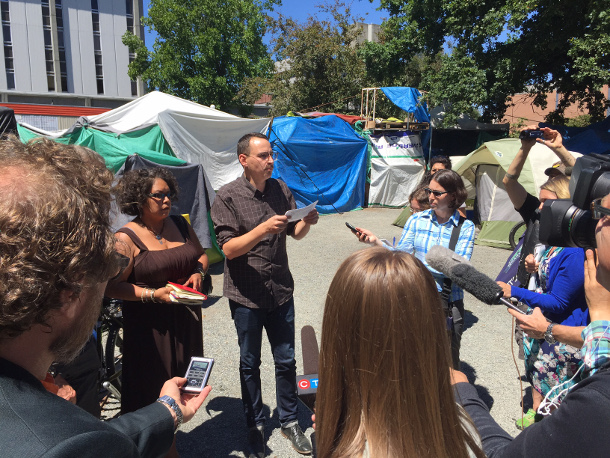 Chrissy Brett said that while indigenous people make up four per cent of the population, they represent 35 per cent of the homeless people in Victoria. They are also over-represented in the justice system, foster care and sex work, she said.
Bert Waldring, who had been involved in the tent city in Maple Ridge, said, "I'm ashamed of this. We should be ashamed of this. We can do better and we will, as long as we all cooperate to fix it."
National strategy coming?
DJ Larkin, a lawyer with Pivot Legal, said that displacing people causes harm. "The power of Super InTent City is people become visible. They have created strength in community, and that has led to housing and to change and to shifts in how we view poverty and homelessness in this country."
She said that people who are evicted from their homes, who flee violence or who couch-surf are also part of the wider housing crisis. Decision-makers need to listen to people who are affected and give them the options and housing they need, she said.
Megan Hooft from Canada Without Poverty said homelessness is an egregious violation of human rights and that viewing housing as a commodity is a problem. There's a need for a national housing and homelessness strategy that's anchored in a commitment to human rights, she said.
Meanwhile, B.C. Housing Minister Rich Coleman is hosting his provincial and territorial counterparts for two days of meetings on June 27 and 28.
"The provincial and territorial housing ministers will meet tomorrow with the federal minister responsible for housing, Honourable Jean-Yves Duclos," said an official update on the meeting. "The federal government's focus at tomorrow's meeting will be on its intention to develop a National Housing Strategy."
The statement said the provincial and territorial governments welcome the federal government's recent signals that it intends to be a partner on housing, including financially. "The federal government and all provinces and territories want to ensure every Canadian has a safe, affordable place they can call home," the statement quoted Coleman saying.
"We want to thank the federal government for its willingness to commit significant funds for affordable housing across the country and we look forward to its continued investments. We are confident that by working together we can create long-term solutions that will benefit all Canadians."