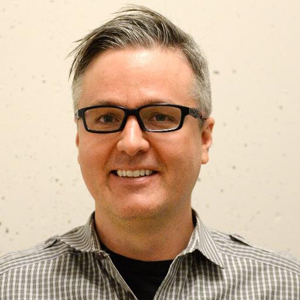 British Columbia's 41,000-member teachers' union has elected Vancouver elementary school teacher Glen Hansman as its next leader.
After seven years on the executive committee, Hansman was acclaimed as the new president yesterday during day four of the union's 100th annual general meeting in Vancouver.
Hansman, the first openly gay BC Teachers' Federation president and, at age 42, among the youngest in over 50 years, will replace current president Jim Iker on July 1.*
"The thing I'm sort of sad about is after July 1, I won't be working with him on a day-to-day basis," Hansman said of Iker, who has always been one position higher than Hansman since he joined the executive.
"I've really appreciated his mentorship and support over the years, and the fact that his approach with [current second vice president Terri Mooring] and I has been to really share responsibilities and trust one another."
Once a member of "The Coalition" -- an internal faction of the BCTF that ran successful executive candidate slates from the late 1990s up until Iker's first election as president in 2013 -- this time Hansman ran independently and uncontested for president.
In fact, every candidate ran as an independent. Mooring, who served two terms as second vice president under Hansman and Iker, was also acclaimed as first vice president, while member-at-large Clint Johnston beat out union finance committee member Kip Wood as second vice president.
Wood was voted in as a member-at-large, however, along with executive newcomers Robin Tosczak and Rae Figursky, and returning members-at-large Carole Gordon and Norm Sabourin.
One reason for all the acclamations could be the disconnect that teachers, particularly young, non-white teachers, feel from the political process of the union. It's an issue that Hansman intends to address during his tenure.
"I think it's important to have people from equity-seeking groups in all sorts of leadership roles," he said, including indigenous, young, and LGBTQ2S+ teachers in that category. Even women, who comprise over 70 per cent of the federation's members, don't often get involved at the bargaining table, Hansman said, which this year's meeting addressed with women in bargaining focus group.
"I've been very conscious of the fact that I'm a white male, as well. It's very important for me to use my privilege to make sure that we're paying attention to other issues, too."
Big court case ahead
Though this isn't a bargaining year, Hansman will still need to engage the government. Relations between the education ministry and the teachers -- and especially between Premier (and former education minister) Christy Clark and the teachers -- have remained strained since the Liberals came to power in 2001.
And despite a signed teachers' contract in the fall of 2014 -- which included a $400-million fund to address class size and composition disputes by hiring new teachers -- class sizes and composition levels have gone up while school board budgets continue to shrink, due to unfunded increases in utilities and Medical Services Plan premiums for teachers and staff, administrative cuts, and an education budget that's essentially frozen and hasn't kept up with inflation.
Hansman will also guide the union through a Supreme Court of Canada appeal expected to start in November. That hearing will examine a 2015 B.C. Court of Appeal decision to overturn an earlier court ruling that the province violated teachers' constitutional rights when it imposed class size and composition limits on them in their 2012 contract.
B.C.'s provincial Supreme Court awarded the union $2 million in damages, which the government has paid despite its successful appeal. The Supreme Court of Canada will be the last stop in a fight that extends all the way back to 2002, when then-education minister Clark stripped class size and composition, as well as teacher-to-student ratios, from teacher contracts.
Nevertheless, Hansman said the union's recent relationship with education ministry staff has been positive, particularly around the ministry's consultations with union members on the new curriculum, new graduation requirements, and the future of provincial exams.
Relations with current Education Minister Mike Bernier have been "cordial and productive," Hansman added, though the union doesn't see eye to eye with the government on many issues, including education funding.
But Hansman said the relationship might be respectful at the moment because the parties are away from the bargaining table. During bargaining "is when the game changes," he said.
If election traditions continue as they have under at least the past three BCTF presidents, with future presidents paying their dues as second and then first vice president before taking the top spot, new first vice president Mooring will be the one learning the government's new rules of the game at the bargaining table in 2019.
*Story corrected March 15 at 11:45 a.m.