A small revolt against the Conservative party was brewing in the mossy, misty province of British Columbia over the last four years, and it cost Stephen Harper dearly, observers say.
Canada's farthest-flung western province not only saw a nearly 10 per cent increase in voter turnout this election compared to 2011, it also took away more votes from Harper's party than the rest of Canada combined.
Of the roughly 230,000 votes the Tories lost on Oct. 19, about 150,000 were lost in B.C. That took the party from 21 to 10 seats despite six ridings being added to the province in 2012.
The results show that if any political party dreams of forming the federal government, it must have a solid understanding of B.C. and what matters to its residents, said Kai Nagata of the Dogwood Initiative, an organization that advocates for public control of natural resources.
The Conservatives lost the most B.C. seats in ridings that physically touch salt water, where concern about oil spills is high, Nagata said. In total, they lost 96,000 votes in seaside ridings compared to the 2011 election, according to his analysis.
Nagata said the Conservatives were out of touch with British Columbian opposition to various resource projects on the coast, citing comments made in 2012 by then natural resources minister Joe Oliver in an open letter about pipeline opponents.
"Unfortunately, there are environmental and other radical groups that would seek to block this opportunity to diversify our trade," Oliver wrote. "Their goal is to stop any major project no matter what the cost to Canadian families in lost jobs and economic growth."
The letter never specifically pointed to British Columbians, but at the time backlash to pipeline projects in the province was ramping up. Government aggression towards a viewpoint held by many in the province didn't do the party any favours, Nagata said.
"Watching Joe Oliver call people in British Columbia 'radicals' and getting the back of the hand from Stephen Harper stoked a miniature version of the western alienation Alberta felt towards Pierre Trudeau in the 1980s," he said.
There was a feeling that pipelines were being forced on the province by the federal government through a questionable process, Nagata said.
The Anti-Terrorism Act tabled earlier this year, which included language that critics said seemed crafted for use against environmentalists and other protesters, followed that.
"The Conservative approach to resource policy went against B.C. values," Nagata said. "A lot of people voted for the government in 2011 because they wanted a strong, stable Conservative majority and a functioning economy, and (then) they spent four years basically being treated like the red-headed stepchild of Confederation."
That resonated with hundreds of thousands of people in the province concerned about the environment and made mobilizing voters easier for pre-existing organizations, he said.
The Dogwood Initiative alone has 343,000 members. Around 284,000 are signed up to receive emails from the organization, giving them a larger reach than any newspaper in the province.*
That, Nagata said, enables the organization to motivate members to stay involved with Dogwood's issues, including the 10 per cent of them who identify as Conservatives.
More to it than oil
The province has a rich culture of environmental activism, but pipelines weren't the only issue on which the Conservatives were out of step with many British Columbians.
The Harper government's closing of Coast Guard facilities in the province, repeated legal attacks on Vancouver's safe injection site, and staunch opposition to marijuana legalization were also unpopular in parts of B.C.
Newly minted Liberal MP and former West Vancouver mayor Pam Goldsmith-Jones said one of the issues that continually came up in her riding, West Vancouver-Sunshine Coast-Sea to Sky Country, was the Conservative government's perceived negative attitude towards science.
"That to me was what was most remarkable. People think we have short memories as citizens -- not this time," Goldsmith-Jones said.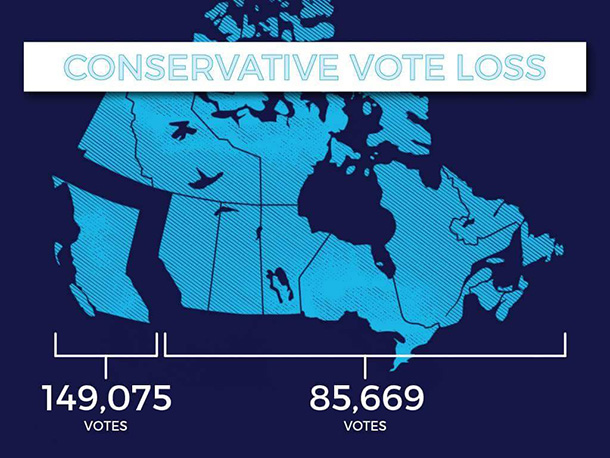 She said that constituents on doorsteps were particularly concerned about science in relation to wild salmon. Fish farms and environmental protection for wild salmon have been a huge issue on the West Coast for more than a decade.
The Conservative party made a gaffe during the campaign when it used a photo of an Atlantic salmon to boast of plans to protect salmon in B.C., drawing criticism in the province.
Other top concerns among voters in her riding were the integrity and accountability of government, Goldsmith-Jones said.
Power of populism
While there's a stereotype of the sandal-wearing, gentle British Columbian, deep down the province harbours a readiness to revolt, said political analyst Wolf Depner.
Depner recalled a former political science professor who joked the province's politics are a fusion of Scotland and Kentucky.
"There is a sense of populism in British Columbia that doesn't exist elsewhere in the country," he said. "Parties can live and die by this populism."
The province has geographic pockets with their own distinct political identity, Depner said, but overall the province is often against whoever is in power.
Depner said B.C. voters tend to be more reactionary to government. That can mean acceptance of the status quo for a time, but if the reactionary elements are awoken it's bad news for the governing party, he said.
The Tories have managed to harness the populist streak in the past, but they took it for granted this election, Depner said.
"What we saw this time again was B.C. voting against the government," he said. "B.C. has traditionally voted against the government in Ottawa."
The result was a Tory bloodbath in urban areas and coastal areas. Even Kelowna elected a Liberal, which hasn't happened since the 1960s.
The Liberal party won major breakthroughs in Metro Vancouver, leap frogging from just two seats in 2011 to 17 and giving it the seats it needed for a strong majority government.
Meanwhile, the Conservatives won two ridings in urban Greater Vancouver and two more in the Fraser Valley for a total of 10, down from 21.
Nagata said politicians would be wise to better deepen their understanding of British Columbia if they hope to take power.
Despite the Liberals' surprising gains on Oct. 19, even that party has work to do, he said. "They need to figure out this province. Everybody does. This is the path to a majority for any party."
*Story corrected Nov. 2 at 10 a.m.