While the proponent of a Howe Sound liquefied natural gas plant has pushed pause on the $1.7-billion project, area residents haven't suspended their campaign against it.
More than three-dozen power and sail boats -- as small as a rigid inflatable and as big as a yacht -- travelled around Bowyer Island midday July 11, blowing horns, displaying signs and banners and chanting "No LNG, No LNG!" under ominous clouds.
The Concerned Citizens Bowen and My Sea to Sky's Save our Sound Day had a hint of celebratory mood; the flotilla protest took place two days before the originally scheduled end of Woodfibre LNG's six-month environmental assessment review period.
The company behind the project, which has stated it would pay $2 million in local taxes a year and employ 100 full-timers, announced a delay to its application review on June 30 after the Squamish Nation Chiefs and Council issued 25 conditions for approval.*
The Squamish Nation worries the plant, proposed at a former pulp and paper mill, would pollute the air, land and water, and it wants insurance coverage in the event of a spill or explosion. The nation's conditions are similar to the 18 issued by the District of Squamish on April 30.
"As expected, the conditions reflect Squamish Nation's commitment to protecting land, water and heritage and our focus now is to take the time to review them and work with Squamish Nation to understand their conditions," said Woodfibre LNG vice-president Byng Giraud in a June 30 news release.
Woodfibre LNG proposes to produce 2.1 million tonnes of LNG a year with a 250,000 square-metre storage facility.
Natural gas supplier FortisBC, which built a pipeline in 1990 for the Sunshine Coast and Vancouver Island, proposes a 52-kilometre long, 20-inch diameter gas pipeline from north of the Coquitlam watershed to Squamish that would feed the plant.
Owner Pacific Oil and Gas Ltd. is part of Indonesian billionaire Sukanto Tanoto's empire.
Plant would fire up 2018
Woodfibre LNG still hopes to get regulatory approval and begin construction before the end of the year, but the plant wouldn't be in full operation until 2018, the year after the next provincial election.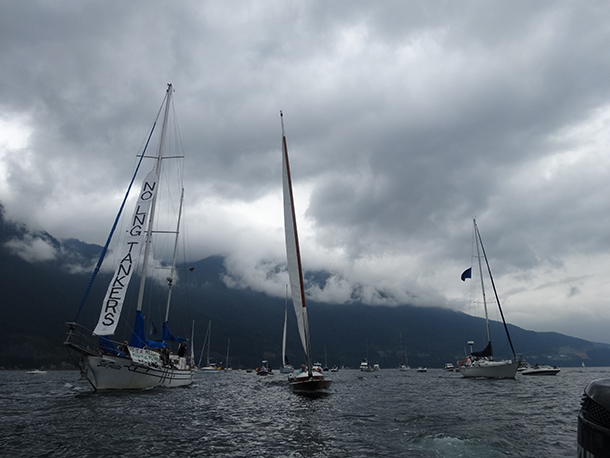 With as many as 20 proposals for LNG plants in B.C., the Howe Sound facility is considered the most important politically for the BC Liberals. Woodfibre LNG would be visible from the Sea to Sky Highway, so the media and skeptical residents of B.C.'s most-populous region could see for themselves the hype around Premier Christy Clark's strategy to build a new industry for exporting fracked B.C. shale gas to Asia.
Many area residents aren't enthusiastic about the plant or the prospect of six to eight tankers, nearly twice the size of BC Ferries, plying Howe Sound every month. Insights West's July 10-published poll for the anti-tanker Dogwood Initiative found that the debate over Woodfibre LNG could decide the fate of Conservative MP John Weston in the October federal election and lead to the election of former West Vancouver mayor Pamela Goldsmith-Jones.
Weston has positioned himself as a supporter of Woodfibre LNG, while Goldsmith-Jones has said she's listening to people's questions and concerns about the project.
Of those who responded, 23 per cent in West Vancouver-Sunshine Coast-Sea-to-Sky Country said they would vote Liberal, one per cent better than Conservative. Meanwhile, 19 per cent would vote NDP and nine per cent Green. Some 25 per cent of respondents, however, were undecided.
Woodfibre LNG could also be the first of a triple play of industrial development on the west side of Howe Sound. The Burnco gravel mine and terminal across from Gambier Island's north point and Aquilini Renewable Energy's Port Mellon waste incinerator would further industrialize the fjord.
"There is no regional plan for Howe Sound, it's a very piecemeal approach," said Concerned Citizens Bowen's Anton van Walraven. "What we have to do as communities around the sound, we have to demand a planning process. We have to develop a vision."
Van Walraven said communities must study the area's ecological, recreational, real estate and industrial values and decide on how to find a "good mix of all those things."
The flotilla protest came, coincidentally, in the wake of BC Ferries' announcement that its planned conversion of two Spirit-class ferries to natural gas would be delayed from 2017 to 2018. North Vancouver's Seaspan and shipyards in Poland and Italy were shortlisted.
*Story corrected July 13 at 12:15 p.m.