Rachel Notley's New Democrats have won a stunning upset in Alberta, shattering a 44-year old Progressive Conservative dynasty by running a confident campaign that took direct aim at the Tories' corporate-friendly spring budget, which saddled many ordinary Albertans with fee hikes and new taxes.
"I think we might have made a little bit of history tonight," Notley told supporters in a packed downtown Edmonton ballroom Tuesday night after her party won a majority government.
"I believe that change has finally come to Alberta. New people, new ideas and a fresh start for our great province."
It's the first time the New Democrats have formed a government in Alberta. Late last night, the NDP was elected in 53 of 87 ridings.
In her acceptance speech, Notley thanked Premier Jim Prentice for his public service, but also served notice that her government intends to do things differently. Prentice resigned his seat and the party.
She said she is looking forward to working with Prime Minister Stephen Harper and other premiers on a range of issues, "including the need for a national approach to the environment and to Canada's energy sector, that builds bridges and opens markets -- instead of giving us a black eye."
The lyrics of pop singer Serena Ryder's "Circle of the Sun" -- "Let's get away from who we think we are" -- rang through the ballroom as Notley made her way to the stage. The words underscored the desire of most voters to distance themselves from the Progressive Conservatives.
"There's so much resistance that has always been in this province," said NDP supporter Laura Collison, through tears. A campaign worker for Sarah Hoffman in Edmonton-Glenora, Collison couldn't believe the NDP won. "People have worked for years, and it found this moment."
Hoffman defeated PC MLA Heather Klimchuk, minister of Human Services. She was not the only sitting minister defeated in the orange sweep of Alberta's capital, which also saw an end for former Edmonton mayor and Health Minister Stephen Mandel.
Support from volunteers
Scores of Edmonton volunteers showed up at campaign offices around town to pull in the vote in the final days.
"It felt like change was possible and I wanted to make sure it happened," says Anjil Shimoon who joined up with Hoffman's campaign in the last days. Shimoon, a social worker, sees the possibility of social change.
"I have seen first hand the effects of the policies of this government on everyday Albertans."
University of Alberta political scientist Ian Urquhart said he expects swift changes from Notley.
"I think we'll see changes to things like election campaign laws and taking big money out of the electoral process, that can't help but be good for Alberta," says Urquhart.
"If you're interested in legislators that are going to meet for more than a few days in the fall session, that's what we're going to get from a Notley government."
Failure to connect
From the start, Jim Prentice struggled to connect with Albertans.
"Given the reaction to the budget, I was surprised they decided to go ahead with the election as planned," says Urquhart. "Prentice hasn't made any effort at all to connect with the people of Alberta."
Prentice's fail was Notley's opportunity. Throughout the campaign, Notley consistently played to Albertans, wrapping up a strong campaign by countering Prentice's assertion that Alberta was not an NDP province. At a final election stop in Edmonton, Notley declared to over 1,000 cheering Edmonton supporters, "Alberta doesn't belong to any party, Alberta belongs to Alberta."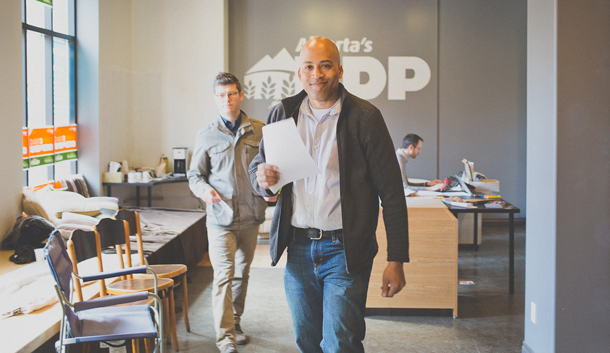 Notley's appeal to the populist attitudes of Albertans, combined with a strong platform and a budget that countered Prentice's proposed tax increases to individual Albertans only strengthened NDP support through the month-long campaign.
In interviews before the polls closed, Edmonton's NDP candidates said they sensed change was in the air.
NDP MLA Deron Bilous, who retained his Beverly-Clareview riding, said this campaign was far different from his first win in 2012. "The difference, and what's exciting is people on the doors, long-time PC supporters, have been telling me not this time, we're voting for you."
Fiscal mismanagement
It's a message candidates have been hearing since the campaign started, and it's one that did not fade in the last days of the campaign.
Bilous said people expressed anger at the fiscal mismanagement and unwillingness to tax corporations to pay their share.
"Advanced polls are a huge signal of that," said Bilous.
Ten per cent of Alberta's voting population cast ballots before Tuesday's vote. Elections Alberta reports 235,410 ballots were cast over the four days that polls were open in advance of May 5. That's a 31 per cent increase over 179,800 cast in 2012.
"People all over the province are saying it's time for a government to look after the best interests of the province," says Bilous. "You had 44 years to get it right, and you haven't."
Edmonton-Centre NDP candidate David Shepherd, who unseated Liberal MLA Laurie Blakeman, said trust remained a big issue with voters into the last days, "The number of people saying 'Norway' on the doors is huge," said Shepherd, in reference to Norway's resource revenue management. The Scandinavian country has saved $1 trillion from its oil revenues, while Alberta will be $30 billion in debt by 2020.
Blakeman represented Edmonton-Centre since 1997, but Shepherd attributed the NDP shift to the strong platform many Albertans recognized as being a solid proposal.
"We've put forward a really strong platform in creating jobs and a progressive tax structure, and raising the corporate tax," Shepherd said.