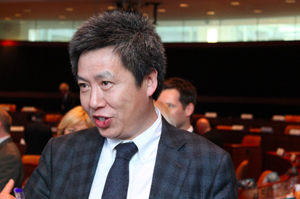 On Jan. 29, B.C.'s education ministry hosted BC Focus on Learning: Rising to the Global Challenge, the first live-streamed forum with education stakeholders discussing planned changes to our education system at the Morris J. Wosk Centre in downtown Vancouver.
The forum attempted to expand on the government's education vision and also provided an updated version of BC's Education Plan, which outlines the government's big-picture plan for the future of education. The update highlights some of the changes made to education so far, like the ongoing redesign of the K-12 curriculum, and a new initiative to measure the success of school-initiated innovations such as multi-grade lessons and student-run gardens that supplement school cafeterias.
The forum featured presentations from David Albury of the Global Education Leaders Program; University of Oregon's Yong Zhao; York University's Stuart Shanker; and Andreas Schleicher from the Organization for Economic Co-operation and Development (OECD). The ministry said it invited women to present, but none of those asked was available.
During the day-long forum, roughly 150 education stakeholders, including parents, teachers, students, and administrators, as well as industry and business representatives, peppered presenters with questions about their ideas. Some of those ideas presented seemed in direct contrast to the B.C.'s Skills for Jobs Blueprint, which emphasizes education to train people for specific in-demand jobs.
In case you missed the live stream -- the ministry promises more forums outside Vancouver in the future -- here are five highlights of the discussion:
1) There are international cooks in our education kitchen
Moderator Tony Mackay and presenter David Albury are no strangers to BC's Education Plan. Both are involved with the Global Education Leaders Program, a project run by the non-profit group, Innovation Unit, which works with governments to redesign social services like education.
The leaders program released a case study of B.C.'s Education Plan in 2012, and assistant deputy minister Rod Allen appears in several of its online videos lauding the program's work. Some B.C. educators are concerned because technology corporations Cisco Systems, Inc. and Promethean, which sell technology used in B.C. classrooms like interactive white boards and wireless routers, have been funders.
Albury says currently the program's sole funder is the Ellen Koshland Family Fund, a private foundation. He maintains that corporate funders have no say over their work.
''We're not interested in someone coming along and saying, 'This is what we want for this program,' '' he said.
2) Standardized test support is mixed
Andreas Schleicher, special advisor on education policy for the OECD discussed the organization's plan to update standardized tests like its Programme for International Student Assessment. Better known as PISA, 15 year-olds' in dozens of regions, including B.C., are tested in reading, math, and science comprehension every three years.
''The ambition for [PISA] is to embark on testing global competence,'' Schleicher said, including how students' understanding of the world from different perspectives, like other cultures.
The B.C. government supports standardized testing, lauding our high PISA scores and running its own annual Foundation Skills Assessment happening now.
But Yong Zhao, director of the University of Oregon's Institute for Global and Online Education, thinks there's too much emphasis on testing.
''Test scores really don't matter in life,'' he said, adding they can't predict students' futures. ''We know cognitive skills are generally what matter.''
3) Teach students to become entrepreneurs
BC's Education Plan emphasizes ''personalized learning,'' allowing students to pursue their own interests in a way that meets curriculum outcomes, instead of teaching every student the same way.
Yong Zhao calls it education entrepreneurship, but not in the business sense of the word. Instead he refers to social entrepreneurs who maximize social impact over profits, like social justice bloggers or protestors, or policy entrepreneurs who are re-thinking government policies, for example, to help solve larger social problems.
''[Entrepreneur is] not a profession, it's not a job, but represents a different kind of mindset,'' Zhao said. ''I use it in contrast to the 'employee,' who is passive, carries out other people's directions.''
4) Little agreement on education funding
The world's best education systems didn't get that way with more education funding, Andreas Schleicher told the forum.
But he got pushback from teachers' union executive member Gail Chaddock-Costello who said education underfunding in British Columbia has led to larger class sizes and greater teacher stress.
''If we don't protect the quality of those teachers and provide them a better environment in which to teach the children who will be the future,'' Chaddock-Costello said, referring to more funding for smaller class sizes, ''then we're not protecting our most valuable resource.''
Schleicher said regions performing better on the OECD's standardized tests make difficult financial decisions, like paying teachers more to attract the best, while keeping class sizes large. But they can't afford both.
However Yong says money makes a big impact. ''It's stupid to think money doesn't matter in education,'' he said. Referring to students whose skills aren't measured by standardized tests, Zhao said if his childhood school in a remote village in China's Sichuan province had more money, it could have exposed students to music and perhaps discovered their pupils had musical talents.
''I could have become Justin Bieber!'' he joked.
5) Changing the whole system is crucial
In his presentation, David Albury talked about other regions changing their education systems, like New York City's Innovation Zone. A state-run project, Innovation Zone supports schools to emphasize personalized learning projects over rote memorization or teaching every student the same way. Examples include a student learning about art and commerce by designing, printing, and selling his own t-shirts, or a class combining music and science by writing science raps.
But Innovation Zone hasn't changed the entire New York education system. Instead Albury says system-wide change comes when schools partner with the community.
''When it's the Smithers' chamber of commerce working with Smithers' schools. Or it's community organizations… working with schools,'' he said, supporting schools to support students pursuing their passion while still getting a good education.