The British Columbia government is sticking to its prediction that a new liquefied natural gas industry will generate 100,000 jobs in the province, but the public shouldn't get the impression all those positions will exist at any one time -- or come anywhere close to that once the anticipated gas plants are built.
"I wouldn't hang my hat on any of this," said Andrew Weaver, Green party MLA, noting that falling gas prices, decision delays and international competition are working against establishing the industry in B.C. "No longer is it a certainty."
Premier Christy Clark and her BC Liberal party ran in the 2013 election on a platform that emphasized LNG's potential to create huge numbers of jobs and eliminate the province's debt. The government halved its projected LNG revenue last fall, but has so far maintained its job creation projections.
Here's how Rich Coleman, the natural gas development minister, described the outlook in a Jan. 7 opinion piece circulated to B.C. media about the LNG industry: "Over time, we project as many as 100,000 new jobs could be created through diversification with the natural-gas sector."
There are 18 proposals for facilities that would export LNG, the Coleman piece said. They are at various stages, but the goal remains to have three facilities operating by 2020, it said.
The 100,000 number appears to be overly optimistic for various reasons. For one thing, it is based on five plants being built by 2023, which if Coleman's projection of three by 2020 is met, will require two more plants to be built in the following three years.
For another, it ignores that many of the jobs are temporary during construction and are projected to disappear once the plants are running. Nor does it allow for the current downturn in the oil and gas industry caused by falling prices, which has some companies delaying or cancelling development decisions.
So far, none of the LNG proponents have made a final investment decision that commits them to building a plant in B.C.
Premises, premises
It's worth examining a little more closely where the 100,000 jobs figure comes from.
Asked for the source for the figure, a Jobs, Tourism and Skills Training spokesperson cited an estimate created by the accounting and consulting firm KPMG and included in the provincial government's British Columbia 2022 Labour Market Outlook released in October.
"The 100,000 jobs would be made up of 58,700 direct and indirect construction jobs, 23,800 permanent direct and indirect jobs for operations and thousands of induced jobs as a result of households having more income," she wrote in an email.
Induced jobs are those created through the increased economic activity from a project, such as when demand for restaurant meals or entertainment grows as a result of people having money to spend.
The accounting and consulting firm Grant Thornton prepared an earlier estimate for how many LNG jobs B.C. might expect, which Focus magazine publisher David Broadland wrote appeared to be "fudged" to give the Liberals a talking point ahead of the 2013 election. KPMG's estimate is the most recent available to the public and arrives at similar figures to the Grant Thornton report.
The labour market outlook report that uses KPMG's figures says the 100,000 job projection was arrived at from information supplied by the companies proposing plants, 13 of which it lists. The projection is premised on a scenario where five LNG plants with a total production capacity of 82 million tonnes a year are built by 2023.
Temporary jobs
The labour market outlook report makes clear that many of the construction jobs are temporary and will disappear as plants go into operation. There is no year where the total jobs, expressed as full-time equivalents, add up to more than 100,000.
In the peak construction year 2018, for example, KPMG estimates there will be 58,700 direct and indirect construction jobs, but there will only be 500 direct and indirect operations jobs that year. There will also eventually be 13,000 "induced jobs as a result of households having more income," it said.
Adding the three figures for 2018 together, which charitably assumes all the "induced" jobs will exist by then, gives a total of 72,200 jobs.
Looking ahead to 2023, KPMG anticipates more operations jobs, but fewer in construction. By that year there would be 28,200 construction jobs, 23,800 in operations, plus the 13,000 "induced" jobs. That adds up to 65,000 jobs.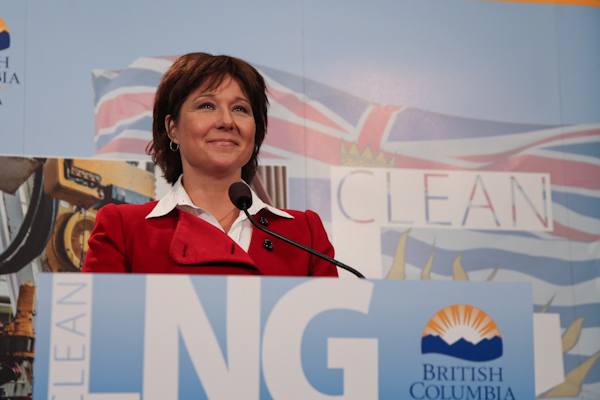 Both the 2018 and 2023 figures represent a significant number of jobs, but they are also about 30 per cent short of the 100,000 number trumpeted by Coleman and Clark.
Assuming all five plants included for the estimate are built, the demand for labour will drop once they are up and running, according to KPMG. "Once all five plants are in full production by 2027, the steady state direct workforce demand for operations is expected to be 8,000 to 9,000 jobs."
That's in line with recent information from proponents. Exxon Mobil Corp. and its Canadian subsidiary Imperial Oil Ltd. filed a project description for West Coast Canada LNG on Jan. 8 with the B.C. Environmental Assessment Office. The 141-page document predicts the 15 million tonnes-per-year plant will require up to 6,000 construction workers at its peak, but says that will drop to about 300 jobs once it is operational.
'Hope wrapped in hyperbole': Weaver
What then counts as 100,000 jobs? Is it fair to add jobs projected for one year to others that aren't expected to exist until five years later? Or to include ones that are temporary? The Jobs Ministry spokesperson didn't respond to emailed followup questions.
"When people think 100,000 jobs, they think 100,000 permanent jobs," said the Green party's Weaver.
Weaver has called the LNG plan a "pipe dream," and continues to question whether it can live up to the hype.
"It was a message of hope wrapped in hyperbole," Weaver said, adding the Liberal government is giving away the public resource too cheaply in an attempt to make good on promises they made during the 2013 election campaign.
Prices for natural gas have decreased globally in recent months, along with the price of oil. And there is stiff competition from Russia, Australia, the United States and Qatar, each of which has advantages over B.C., he said.
"There simply is not a demand globally for five LNG plants in B.C.," he said. "We have a glut of a product in global supply where we are really small players."
Last fall, Weaver was the only MLA to vote against the legislation that set up a tax regime for the industry. "I shouldn't have been the only person voting to delay this," he said.
Tomorrow: How tanking energy prices in Europe and Asia affect B.C.'s liquefied natural gas ambitions.