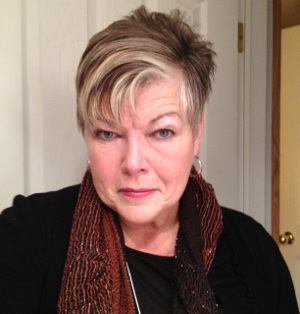 Ann Craft is a self-described strong willed and caring Irish woman who has been selling real estate in Central Alberta for 19 years.
But now she is getting rather upset.
"I'm more than pissed off. I'm appalled."
Appalled, she says, by the two-year fracking horror story she has lived through. And the consistent failure, she charges, of Alberta's regulatory bodies including Alberta Environment, Alberta Health Services and the Alberta Energy Regulator to do their respective jobs.
"It's mind-boggling."
For two years now Craft has been involved in a fight with the Alberta government over the structural damage to her property along with the appearance of strange substances on her land and dug-out along with changes to her well water due to oil and gas activity.
In addition, a private water hauler delivered a batch of toxic water to her cistern instead of potable water. Craft then bathed in it.
Her unexpected ordeal began in Feb. 2012. That's when something seismic happened to her 80-acre dream property, which included a mobile home, a shop, a barn, several outbuildings and several dogs, horses, goats and donkeys.
Ever since then, things have gone bad to worse.
"Look, I drive 60,000 kilometres a year selling properties all over rural Alberta. I have a critical eye. And now, the topography of my land is changing," says the 60-year-old businesswoman. "It's not normal what is happening here."
"I'm lucky I'm not dead," she adds.
Ann Craft is not kidding.
First came what Craft describes as "the bouncing" or "the event." In early Feb. 2012, something lifted up her covered deck and steps attached to 1999 mobile house and split all the wood reinforcing it. The deck hopped twice as she climbed up the steps.
Days later she noticed cracks in the ground as well as cracks in the cement floor of a metal covered shop. She also found buckled metal siding on a hay shelter.
Dumbfounded, Craft had no idea what moved the ground beneath her house.
But she strongly suspects that the uplift of her property was related to the fracking of four shallow coal bed methane wells just north of property by Quicksilver Resources in January and February of that year.
Months later strange liquids starting coming out of the ground, including something that resembled drilling fluid as well as a white powder. She also found small sand dollar-like discs in frozen water on her dugout.
Representatives from Albertan Environment and Quicksilver Resources finally visited Craft's property on March 21 to check things out and deal with her complaint. Craft let them know that she was concerned about long term structural damage to her buildings.
After Craft showed them the split beams and damaged buildings along with photographs, the representatives looked at the woman.
"Well, it was probably an earthquake or an anomaly," offered the Alberta Environment official.
Craft thought to herself that earthquakes shook things sideways. "This event lifted stuff up."
The government representative said she would check the records. She later phoned Craft and said all the local oil and gas activity checked out just fine. She added that she lived in rural Alberta and that wood splits in the country.
The representative then told Craft that "It's human nature to make things up."
What the hell does that mean, thought Craft. Does the government think I'm making all of this up? "I guess our conversation is over," replied Craft.
Fracking and earthquakes
But hydraulic fracturing can indeed make the earth move and in unpredictable ways.
The technology, which injects highly pressurized volumes of water, sand, gas or chemicals into shallow and deep formations, has caused small earthquakes in British Columbia, England and Oklahoma.
Last year, the controversial technology also triggered hundreds of small quakes in Ohio when frackers hit an unknown fault line.
In 2013, the Canadian Society of Exploration Geophysicists also admitted that hydraulic fracturing can cause unintended small earthquakes. Fracking can create "new fractures and interaction with pre-existing fractures" that results in industry-made tremors.
In addition, fractures have travelled out of zone, bounced around and even connected and exploded up other oil and gas wells as far away as 1.2 kilometres. There have been more than 30 such incidents in Alberta and British Columbia.
Alberta landowners near Cochrane and Peace River have reported several abnormal seismic events near oil fracking operations that have broken windows and cracked foundations.
In early November, scientists reported that injection wells that pump wastewater deep in the ground have probably triggered small quakes in Alberta including several near Ponoka, Alberta.
Although the provincial scientists consider the risk of oil and gas activity triggering a damaging quake low, a 2014 report added this critical qualifier:
"However, if it becomes necessary to verify or refute a definitive causal correlation, it would be hard to do so with the currently available data. In the areas of concern, more work is needed to expand the array of seismic stations to precisely detect the epicenter and hypocenters of an earthquake."
In any case, the province did not offer to conduct any seismic investigation into the anomaly that rocked Craft's property.
Oozing substance
After the March meeting, Quicksilver, a Houston-based company, wrote a letter to Craft saying it was confident that its operations "did not affect the integrity of any of your buildings" and that it considered the fracking of coal seams "to be a safe activity."
But fracking 500-metre-deep coal seams remains a problematic and uncertain activity. Containing fracks in coal seams is never assured, and the practice has resulted in scores of complaints about methane contamination of water wells or water bodies in Alberta, Colorado, New Mexico, Australia and Alabama.
Unlike many other oil and gas formations, coals are very complex, highly layered, well fractured and typically contain water or connect to aquifers. Coal seams lie much shallower in the ground than shale formations and closer to groundwater too. In 2009, Halliburton, the big U.S. fracking service company, pointedly admitted that "The complexity of CBM fracs exceeds current modelling capabilities."
But then things got worse for Ann Craft.
A year after the strange bouncing events and the fracking of four shallow CBM wells north her property, Craft started to get sick. Most of her animals seemed unwell too.
That spring she found bizarre unexplainable substances oozing through the ground on her property and more cracking on the buildings.
While checking the water tank for the horses, she discovered that a year-old Styrofoam float had partly disintegrated. The water came from her domestic well.
"Do you know what eats Styrofoam?" Craft asked Alberta Environment officials. "Light chemicals do. How did that happen?" She says she got no answer. (Acetone and diesel, which melt Styrofoam, are common chemicals used in hydraulic fracturing.)
Sickened and burned
In May 2013 Craft's son Brent, an overseas oil and gas driller, dropped by the farm to help out. After he took two showers, he says that his skin was on fire. "I work with bad water all the time and this water was unclean." He told his mother to stop using it.
The next day they installed a plastic 1,750-gallon tank in the shop to bypass the water well. A truck delivered clean water. For the next month Craft says that she and her animals started to feel better.
But on June 27, 2013, Doug's Tank Truck Service of Stettler Alberta delivered what industry calls "produced water" or dirty waste from oil and gas activity. In this case the contaminated water included a flush from a sour crude pipeline.
(For every barrel of oil that industry extracts, it also pumps up about three barrels of "produced water" or highly toxic wastewater that is mostly injected back into the ground.)
Even by industry standards produced water makes a nasty brew: it typically contains salts, heavy metals, radioactive particles, oil, hydrocarbons, dissolved gases, H2S, biocides, corrosion inhibitors and emulsion breakers.
Before Doug's Tank Truck Service recognized the mistake, Craft showered, washed her face, shaved her legs and brushed her teeth in what Material Data Safety Sheets later described as sour crude oil containing carcinogens as well as a corrosion inhibitor that released ammonia when heated. All "may cause central nervous system effects" and skin irritation.
Almost immediately her face started to burn. Red blotches appeared on her head and legs. "It was embarrassing. I never had skin problems." Days later, new symptoms appeared and her left eye swelled up." Pictures show that Craft looked like she was wearing some kind of monster Halloween mask.
After the delivery of the sour crude to her water tank, several of her horses and donkey's lost their hair. Her biggest dog, Hank, developed a calcified nose that looks to this day badly burned.
Craft now frankly calls the whole affair "a shit show."
According to a July 10, 2014 letter later written by Dr. Deena Hinshaw, Medical Officer of Health for central Alberta, Craft ended up in the hospital weeks later with severe abdominal pain and diarrhea. She was almost in a convulsive state.
Since then she has made more than 30 trips to the doctor or the hospital over continued ill health. All health providers familiar with her case admit that her symptoms are consistent with repeated exposure to hydrocarbons.
'Lucky I didn't die'
After the toxic water delivery, Craft moved out of her contaminated house due to the sour smell and lived in a rig shack as interim housing.
As she battled with insurers and the government, one thought overwhelmed her: "How does one deliver sour crude produced water to a home and not know it?" (Another landowner also received a toxic water delivery but was notified of the mistake before he used it.)
"They are lucky I didn't die."
She later discovered that the truck hauler did not even have a food permit for delivering fresh water. There was no fine because as Mel Cherlenko, an environmental health officer with Alberta Health, explained to Craft in an email, "the company immediately ceased delivery of potable water to the public."
In a matter of days the company reapplied and got a permit to deliver potable water.
"Are you kidding me?" thought Craft. She still thinks the delivery should have been treated as a toxic release in Alberta and properly reported by Alberta Health Services.
Meanwhile, Breeann Barry of Alberta Environment and Sustainable Resource Development finally followed up on Craft's original complaint about changes to her well water and strange substances leeching out of the ground.
On July 4, 2013, three weeks after the toxic water delivery, the environmental protection officer ordered Quicksilver Resources to review its drilling activities including chemicals used in fracking for all completed CBM wells within a two km radius of Craft's farm, along with "complete a hydrogeological evaluation of the subject area."
That's an expensive study that looks at how groundwater moves through rocks and how its quality may vary or be impacted by industrial activity.
At that point Craft's son Brent, who works in the industry, said, "Holy shit. Someone is doing their job in the government and taking this issue seriously."
Focus of study changed
But that's not what happened. The final report contained no information on the four CBM wells drilled north of Craft's home. It disclosed no information on frack fluids either.
In fact, the government and Quicksilver jointly agreed to alter the entire focus of the study. It now included only one CBM well 800 metres away that had been drilled in 2006. Craft never suspected that particular well had anything to do with the seismic event.
The government later explained in an email to Brent that they had changed the intent of the study after talks with Quicksilver. In addition, there was "no plan to sample the water well for gases" such as methane. Nor was the government going to perform any hydrogeological study.
The truncated study concluded that there were no problems. The government closed the case again.
Since then Craft has been phoning and battling with government to get a proper investigation on the uplift of her mobile home as well as the delivery of toxic water to her cistern.
Two rounds of soil testing at her septic system pump out found soil containing volatile hydrocarbons including benzene way beyond Alberta soil and groundwater remediation guidelines.
Reports by Nichols Environmental indicate that a "substantial amount of contaminated water travelled from the Craft potable water tank and through the Craft residence and septic system."
Yet to date, the government has not cleaned up the contamination as required by law.
The Alberta Energy Regulator says they have closed Craft's case and that the delivery of toxic produced water and contamination of her home was not "under AER jurisdiction."
Peter Murchland, a spokesperson for the regulator added in an email, that "Clusters of earthquakes are being observed in some areas of increased oilfield activity. The Alberta Geological Survey is investigating the cause of these clusters."
Craft now describes the government response to both events as pathetic and appalling. "They spent 20 minutes out here in 2012. There wasn't an ounce of concern. I'm not the enemy. I am part of the environment as any Albertan. And that's what the government is there to protect. I just want the government to do its job."
Brief fireworks in the legislature
Last May, her story sparked a brief but heated debate in the Alberta legislature.
Rodney Fox, a Wildrose MLA representing Lacombe-Ponoka, asked why, after dozens of letters and phone calls, Craft had no satisfaction from the government.
"Given that the government has allowed Ann's calls and letters to go unanswered for two and a half years and given this issue of property rights, environmental protection, and, quite frankly, a serious public health concern, do the ministers understand why Albertans have completely lost confidence in you, your government, and in the new Alberta Energy Regulator?" asked MLA Fox.
Robin Campbell, then minister of Environment and Sustainable Resource Development, replied angrily to the charge.
"I take great offence to the member opposite saying that we don't return letters or answer phone calls. The people in our department are very conscious about the environment, and they're very conscious about the work they do. I will say to you that if a letter was written or if a phone call was made, I would say that those phone calls would be returned. Let me say that we don't always agree with the people on the other end of the phone. The answer might be no, so that person may not be happy. But I will commit personally that I will deal with this issue, and I will talk to that constituent."
Craft eventually got a call from Campbell, who promised to look into the matter and get back to her. Campbell, however, got reassigned as finance minister.
"I never did hear from him again."
'I'm not going away'
Outside her mobile home, Craft explains that she is not the kind of person to make mountains out of molehills.
"But I've never experienced or seen what I've seen here on my land. I'm not an environmentalist, geologist or doctor. But I can connect the dots and I'm concerned."
She dares an Alberta politician to live what she has endured. She continues to hand-haul 40 to 50 gallons of water a day as she has done for 17 months. She chronically worries about the health of her animals and herself. She feels she's been continuously exposed to residue from the toxic water delivery in her plumbing system. Every day she bathes in a fruit bowl. Her health has not returned to normal. To date she has accumulated nearly $60,000 debt and lost five animals.
With the snow flying, she now lives in a metal-clad shop building because of the contamination in her mobile home. "The irony here is that I try to find a home for people every day."
She has launched a $850,000 lawsuit against the trucking company that delivered sour crude instead of potable water to her cistern. But what bothers her most is the government's unaccountability.
"If as Albertans we can't care about what we do to each other, where are we? I'm not a tree hugger. But there has to be accountability."
She pauses: "If my land is moving what is happening underneath it? ... I'm not going away 'til this is handled properly."
A recent letter to Alberta Premier Jim Prentice asked for help. It was answered by Kyle Fawcet, the province's new environment minister on Nov. 13.
Craft calls it another Dear John letter. She has a collection. Fawcet's reply assured Craft that "the regulatory requirement to remediate the environmental contamination on your property is a priority."
Craft is still waiting a genuine reply from the premier.
"I went to bed two years ago and my world was okay. When I awoke, the nightmare happened. And it was accelerated to an almost mind-boggling state by the people that we elect and pay our taxes to protect us. Words can not really describe the shamefulness of this."