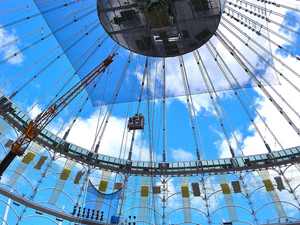 The new roof and renovation of BC Place, paid for by the citizens of British Columbia, spiraled over its stated price by nearly $200 million in the first year it was announced, 2009.
It looks like the budget blowing didn't stop there, according to figures released by B.C. Pavilion Corporation (PavCo), the crown corporation in charge of the project.
Numbers just made public, added to earlier accounts, show the biggest contract for the renovation of BC Place Stadium appears to have gone $80 million over budget.
But PavCo's top officials are keeping quiet on the details.
PavCo released its Financial Information Act return on Oct. 1 for the year ended March 31, 2014, showing $3.3 million was paid to PCL Constructors Westcoast even though renovation of BC Place was said by PavCo to be finished.
PCL was originally hired in November 2009 on a $318-million fixed price contract, but the total paid to PCL over the last four fiscal years now stands at $398.7 million.
The difference between those two figures: $80.7 million.
The Tyee sought to confirm whether this means the BC Place project has, as it appears, gone another $80 million over its last stated price tag, a figure former minister of tourism Kevin Krueger put at $563 million in 2009.
But neither PavCo interim CEO Ken Cretney, board chair Stuart McLaughlin, nor governance, finance and audit committee chair Don Zurowski responded to repeated interview requests by phone and email.
Zurowski is running for the mayoralty of Prince George.
PavCo lawyer mum on $80 million difference
PavCo lawyer Clark Ledingham claimed by email that the $3.3 million paid to PCL last year was "part of normal course contractual construction holdbacks from the revitalization project."
"The holdback funds were returned by PavCo to PCL in fiscal 2013-2014 after successful resolution of the outstanding lubrication stain matter," Ledingham wrote. "As you are aware, the affected panels are currently being replaced at no cost to PavCo."
The B.C. Law Institute website says that owners, contractors or subcontractors can agree to "retain a holdback from those they engage to ensure proper performance of the contract or subcontract and to ensure that if there are any deficiencies to be remedied, funds will be available to do that."
Ledingham did not respond when asked about the $80-million disparity between PCL's fixed price contract and the sum of payments to PCL from 2010-11 to 2013-14.
Runaway budget
The story of the BC Place renovation is one of steeply escalating estimates and costs.
In January 2008, a year after the roof ripped and collapsed under the weight of wet snow, PavCo chair David Podmore wrote to Vancouver city manager Judy Rogers that the Crown corporation was considering a $100 million replacement of the inflatable fabric roof. In May 2008, premier Gordon Campbell announced a more ambitious project, including the German-engineered retractable roof system, but declined to comment on the budget.
In January 2009, a $365-million all-in budget was announced. By October of that year, the price had climbed to $458 million. Kevin Krueger, the tourism minister responsible for PavCo, admitted that the total budget was actually $563 million because of work already underway at the 2010 Winter Olympics ceremonies venue.
The stadium reopened on Sept. 30, 2011, but work to complete the project continued into 2012. Crews returned to the stadium's roof during the last three summers to replace fabric roof panels stained by grease leaking from the roof support cables. The latest round of work is scheduled to be finished in November.
If the added $80 million in payments to PCL Constructors West Coast's fixed price contract are in fact additional to the highest figure government has attached to the project so far, the BC Place renovation would now cost nearly two thirds of a billion dollars.
Again, that question put to PavCo by The Tyee elicited no response.
Dogged by glitches, lawsuits
PavCo and PCL were defendants in an October 2011 lawsuit by French cable installer Freyssinet, which sought $6.5 million from Quebec steel supplier Canam. Canam countersued Freyssinet for $26.4 million. A scheduled 20-week B.C. Supreme Court trial was settled in March and the terms not released. The court earlier heard that the damage to BC Place's roof would cost $20 million to fix.
PCL hired Canam on a $122-million subcontract in November 2009. Ledingham said the latest PCL payments were not related to the settled lawsuit.
Then-auditor general John Doyle agreed in January 2013 to an NDP request to examine the cost of the renovation project, but no formal investigation was launched. PavCo paid the Office of the Auditor General $118,469 last year to act as the auditor of its financial reports.
Latest figures: losses and big pay for bosses
PavCo, which operates the Vancouver Convention Centre as well as BC Place, lost $10.5 million on $111.5 million revenue during the last fiscal year. Its statement of financial information showed it paid 45 managers and directors $75,000 or more. Eighteen of the employees listed were paid $100,000 or more, topped by interim CEO Ken Cretney at $338,778. His predecessor, Dana Hayden, was paid $270,339.
The statement of financial information did not include the $460,140 paid to Howard Crosley, the BC Place general manager who was fired the day after the 2013 provincial election. PavCo declined to comment on the reasons for Crosley's termination. The July 15-released public sector executive compensation disclosure showed Crosley received $438,375 in severance, $26,348 salary and a $19,964 vacation payout.
The biggest contractor was food and beverage caterer Centerplate at $17.08 million. Centerplate was paid $20.85 million the previous year.
Vancouver Convention Centre security provider Contemporary Services ($3.02 million) and janitor Best Facilities Services Ltd. ($2.5 million) were other big service contracts. Bell, which handles telecommunications for the convention centre, was paid $1.83 million, while stadium provider Telus was paid $1.45 million.
BC Place had total revenues of almost $43.7 million, including $12.74 million in event revenue, but expenses of $57.04 million left it with a $13.347-million loss. The Vancouver Convention Centre finished the year with a $2.84 million profit.
The biggest portion of BC Place revenue was $24.02 million in deferred contributions from government, but the expenses included nearly $7.33 million in interest on long term debt and $26.63 million amortization.
Meanwhile, the stadium's west-facing, external video board is being dismantled to make way for the controversial $535-million Paragon Gaming casino/hotel project. In September, City of Vancouver permitted Paragon to begin preliminary work on PavCo land at the stadium's west side. The project is awaiting final city hall approval. PavCo originally hoped to get $6-million lease revenue annually, but renegotiated the deal before the 2013 provincial election for $3 million a year.