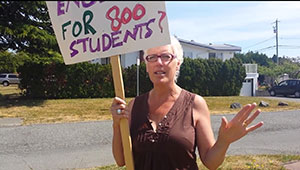 Christopher Bowers has a lot of stories from his 40 plus years -- 33 of them spent teaching -- in British Columbia's public school system. Funny stories, inspirational stories, stories about how teachers like him changed students' lives for the better.
So he was surprised when the teachers took to the picket lines three weeks ago and it seemed like no one was telling teachers' stories in public -- not the teachers union, not the government and not even teachers themselves.
"When the strike started I thought, 'Who actually knows what goes on in classrooms?'" Bowers said, speaking with Tyee Solutions Society by phone from Victoria.
The teachers' union, in Bowers view, wasn't giving the public a good idea of what exactly teachers do every day and neither was the Ministry of Education. Both sides were wasting an opportunity to strengthen a positive public opinion of teachers.
"I thought 'we need to somehow change the culture and get these stories out there,'" he said.
The result is Classroom Moments, brief videos of teachers and administrators talking about their favourite teaching memories, from coaching kids through crippling anxiety to spending extra time with English Language Learning students to tutor them in essay writing.
"We have that amazing opportunity every day as teachers to totally change people's lives," he said. "It's a life changing activity."
'No one else is doing it': Bowers
Retired from teaching since 2003, Bowers makes his living coaching great stories out of people through his business Conversation Works, which trains organizations and individuals to communicate better through interview and storytelling techniques. Bowers also posts stories he collects from a wide variety of people on the Conversation Works-run site Mobilizing Hope.
"It's stories that all aim to inspire, give leverage to good things that people are talking about," he said. Those "good things" range from a woman talking about how she changed her life post-divorce, to how a dog trainer inspired confidence in a fellow dog owner, to 35 short videos of a Saanich elder telling stories passed down through generations in her nation.
Some of these videos include teachers or are education focused. But for the strike series Bowers collected what he refers to as "low-hanging fruit" by interviewing educators on picket lines in the Greater Victoria School District and asking them to recall their favourite classroom moments.
"Some [teachers] didn't want to talk, because teachers are actually not good storytellers, and they don't know how to market [themselves]," he said. "They just know how to teach, but they don't think they have an obligation to actually showcase what they do."
But some teachers did talk, and you can hear from the delighted off-screen gasps and whispers of "Perfect" from Bowers that he believes the stories are powerful and positive.

Stories range from how teachers were able to reach students with special needs despite worries they would never mesh; to coaching students with anxiety and panic issues into becoming willing and excited participants in classrooms and assignments that required them to speak out; to receiving a handmade thank-you card from a student.
"Teachers need a chance to tell their story and no one else is doing it," Bowers said. "Public education is not supported that well by people's hearts because they're not aware. If they were aware they might get behind it better."

Selling the positive aspects of school
Bowers maintains the videos aren't political. He tried to sell the idea of promoting the videos to the BC Teachers' Federation but was shot down.
"They're really interested in their members' well-being," he said. "[But] they're political. If you ever listen to them, you never hear them say 'We're really excited about this new project!'"
He understands the union's focus on class size and composition and other working condition issues for teachers. But in his experience of doing videos for organizations like the Victoria Foundation, he has learned that people want to hear success stories, too.
"If you hear the successes, then people will get on board and say 'I want to support this,'" he said.

Bowers' past videos, which he's been uploading to Mobilizing Hope since 2008, have gotten decent traffic. But while the site would normally receive 300 hits a day, after he started uploading the teacher videos, traffic increased to an average of 1,200 hits a day. He doesn't think the traffic is coming from fellow teachers, either, since schools are shut for the summer.
"Some of my highest Twitter reaction is from [the videos], and it tells me which of those stories are getting picked up," he said.
Bowers isn't content with just hearing stories from Victoria teachers. He wants more teachers, those who work with teachers, and those who have been impacted by teachers to reach out with their stories, too.
"My next step is to put the call out [to teachers]: we know you've got a story," he said. "I think it's a relief for teachers to realize that their story counts."