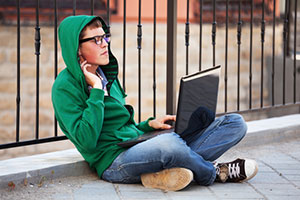 Unless you live in a B.C. school district with a year-round calendar, regular classes are definitely out for summer. But the future of summer school in the province is still unknown due to the ongoing teachers' strike and lack of progress at the bargaining table.
Both the Surrey and Vancouver school boards have said they will announce later this week whether they will provide summer school classes. Surrey superintendent Jordan Tinney told parents on June 20 that some districts have already decided to cancel summer classes. School District 70 Alberni is rumoured to be one of those districts, but The Tyee was unable to confirm that.
There are a variety of reasons students choose summer school, including freeing up next year's timetable or trying to graduate early by taking a condensed version of a course; extra lessons to ease the transition from elementary to high school; or to make up for a class they failed to understand, or failed to care about, so they can pass.
The B.C. Public School Employers' Association sent a letter, via their lawyer, to the Labour Relations Board late yesterday afternoon requesting instruction in remedial summer school, year-round school, and school in health-care and corrections facilities be considered part of the essential services order teachers are currently under.
The Ministry of Education has already said it will lift the ongoing partial lockout of teachers during summer schools if a negotiated contract isn't reached by June 30. So far, the lockout has prevented teachers from being at school more than 45 minutes before or after classes, advising students or meeting with administrators during recess and lunch.
But so far the teachers' union hasn't said whether it'll make an exception for summer classes with its ongoing strike, putting many students who failed to make the grade this year in a tough academic spot come September.
Cancellation costs districts
According to the ministry, last summer 49,210 students took summer school courses in B.C., up slightly from the 47,933 enrolled in 2012, or about eight per cent of all students. There's no breakdown of how many of those students specifically took remedial courses.
Only 27 districts reported summer school expenses last year. The Surrey school district was one of them, with one of the largest summer school programs in the province.
This year about 10,500 students have registered for the district's summer program, including 3,900 in the elementary program, mostly home-school students seeking to improve skills required for the next grade level; 5,300 in full-credit courses to free up their timetable or graduate early; and 1,300 in remedial courses to let them move to the next course level.
Because of the strike, all exams except for provincials have been cancelled this year. While some students might have relied on final exams to boost their grades, says Doug Strachan, who speaks for the Surrey district, the end of exams hasn't had much effect on the number of kids going to summer school.
"Students who were struggling in a course typically sign-up for summer school prior to exams anyway. They will withdraw if their exam score [raised] the mark to a pass," he said.
Surrey's high school students, however, choose their fall class schedule before summer vacation, with many assuming they will pass a class in summer school. If summer school is cancelled, Strachan said students may find the courses they need to retake are full.
"Of course, if this is the case for all students taking a remedial course, there will likely be several students in each school trying to do the same thing," he said. Surrey is on a semester system, he added, meaning if a student doesn't pass a course they won't be held back a grade. But he understands some districts are on a linear system, meaning failing a course could mean being held back a whole year.
But the cancellation of summer school, which employs 300 teachers in the Surrey district -- only two from outside the union -- is expected to affect many districts' bottom line.
"We will lose money, though this hasn't been calculated yet," Strachan said. "We won't be able to claim funding, but employees [already] worked to plan the summer programs."
Essential summer service?
In its letter to the Labour Relations Board, the employers' association references a 2011 report from Mark Brown, then vice-chair of the board, on how long teachers could stay on strike without violating the essential services designation. The report, which was requested by both the teachers' union and the employers', was not formally binding but recommended that in the case of a teachers' strike at the beginning of the school year, a strike should last no more than 10 school days.
After the 10-day period, "any further withdrawal of services would need to be reassessed, and should include a consideration of grade and time of year." During assessment, teachers could walkout no more than one school day per week.
Although this is the end of the school year, the employers' association notes the 10-day period will end June 30, three days after what would have been the last day of school if there were'nt a strike -- except for the province's five elementary schools on a year-round calendar, in a corrections or healthcare facility, or need to take a remedial summer school course.
The employer is asking the board to order teachers to teach for all six weeks of remedial summer school courses; for at least four days a week at year-round schools; and to designate education at all corrections and medical facilities as an essential service, meaning those teachers cannot strike.
"The recommendations contained in the Brown decision, while not formally binding, should be given significant weight," reads the letter to the board.
"The recommendations are those of a former vice-chair with significant experience in this sector, and were made as the result of an agreed upon process involving extensive evidence and argument."
Stay in (regular) school
High school math teacher Jacqueline Sheppet believes taking regular semester or year-long courses will be better for students' education in the long run.
"Summer school is very brief, so the amount of depth that they can get to at summer school is pretty minimal," said Sheppet, who's taught for a decade. "It's most definitely not the same experience as a regular course."
Some students fail courses because they don't try hard enough, while others have serious learning disabilities. Sheppet said learning resource teachers, who specialize in helping students overcome learning disabilities, are in short supply in high schools -- an issue the union continues to raise at the bargaining table.
Instead of getting the help they need in the regular school year, struggling students are lumped into summer school with disengaged students who often distract the kids who need extra help.
"What [summer school] does is essentially give students a pass on paper," Sheppet said. "If a kid seriously doesn't get algebra, for example, a quick six-week, bite-sized course can't even begin to address the concerns."
Her solution is to hire more specialized teachers, and her union agrees: the B.C. Teachers' Federation is currently asking its employer for one learning assistance teacher for every 350 students, increasing to one for every 275 students by July 2016. The Tyee contacted the union for comment on summer school yesterday, but did not receive a response.
If the employers' association doesn't agree to an increase in learning assistance teachers, Sheppet said parents, students and teachers will have to get over their distaste for students having to repeat a course instead.
"Why do we have a situation where if a kid needs to repeat a course, we make it seem like it's a huge failure on their part?" she asked. "Because they may very well have just not been ready, and when they're ready, they'll do great. If a kid truly needs help, then they need more time with the material."
No tutor advantage
Private tutors can't dole out passes or fails, but they can offer students extra help over the summer. But if summer school is cancelled, Reesa MacKinnon, a coordinator at the Teachers' Tutoring Service in the Lower Mainland, expects few students will seek tutors.
"A lot of our business comes from the kids that are in summer school looking for help and exam prep," she said. "And without those things in the offing, we think we will probably [see a] decrease."
Last June, the tutoring service had 100 students sign up, and this June is set to surpass that number. But MacKinnon doesn't think they'll be able to reach the 80 students they tutored last July and August without summer school.
"We wish the strike were resolved," Mackinnon said, adding her husband is a teacher. "It's really messing up [students'] next years. It's sad."
The union and its employer have five days left to reach a negotiated agreement before the employers' $1,200 signing bonus is taken off the table, but the two sides remain far apart.
The biggest issues dividing the pair, which have been bargaining for almost 18 months, are salaries, class size and composition, and specialist teacher-to-student ratios.
As of publication, teachers are asking for a five-year contract with a $5,000 signing bonus; eight per cent wage increase, plus an annual increase equal to the difference between the predicted and the actual gross domestic product; lower class sizes; a cap on classes with more than three special needs students; and the return of specialized teacher-to-student-ratios including learning assistance teachers and teacher librarians.
In return, the employer is offering a six-year deal with a seven per cent increase or a seven year deal with an 8.5 per cent increase, while keeping class size and composition the same, and no specialized-teacher-to-student ratios.
Although the union announced a press conference yesterday afternoon for a bargaining update, it was soon postponed indefinitely.