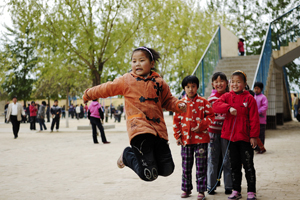 The B.C. teachers' union insists the first phase of its three-phase job action, which starts today, will not affect students' education.
But by refusing to supervise students outside of class time or communicate in any way with administrators -- meaning principals and vice-principals -- outside of anything to do with health and safety in schools, it puts pressure on administrators, who will be expected to pick up teacher supervision duties in addition to doing their own jobs.
The aim is to agitate administrators to the point where they pressure the BC Public School Employers' Association to introduce new proposals at the bargaining table that are more amenable to the union. Unlike the union's job action in the 2011/12 school year, teachers will still volunteer for extracurricular activities, and report cards will still be sent home.
But if school is to remain business-as-usual for students, how will it change for teachers, principals and vice-principals? How will it change for parents?
The answer is that everything is about to get a lot slower, especially communications between teachers, administrators, and parents, who will continue to meet though not necessarily in the same room at the same time. "The communication aspect slows down when you have [job action] like this," said Shelley Green, chair of the BC Principals' and Vice-Principals' Association.
The only part that won't be slow is the school day itself, which in some districts will become 15 minutes shorter with recess cancelled for the duration of the action.
Communication slow-down ahead
Teachers and administrators are typically in school much longer than students are, arriving an hour-and-a-half before school starts and still at their desks two to three hours after the final bell rings. Outside of their regular teaching and administrative duties, a big part of both jobs is communicating with one another.
"Communication is a key part of the job," said Green, who is also an administrator in the Nanaimo/Ladysmith district. She cites school-based teams of teachers, counsellors, and principals as an example. These teams typically meet at least once a week at a school to discuss individual education plans for kids who are falling behind their peers.
Despite not typically having a direct relationship with students, Green said it's important for administrators to be present at meetings because they understand the resources available for students, such as a learning specialist with available time, which teachers might not know about.
Such meetings will still happen during the current phase of teacher job action, but unless the principal also teaches a class with the student concerned, they will no longer be able to participate in the meetings.
Administrators won't sit on their thumbs while these meetings take place, however. Green said adding supervision duties before and after school, as well as during recess and lunch, will put administrators' other work on the backburner; work they must still do.
"Many of our principals and vice-principals also teach," she added.
For any meetings they aren't part of, administrators will need to stay as informed as possible. All of this happens on top of keeping the school running and communications with parents open and ongoing.
BC Teachers' Federation president Jim Iker said informal chats between teachers and administrators are allowed and encouraged during job action.
Recess on recess
Some districts won't download as much extra work on administrators during the job action as others. Instead, as of this morning nine districts -- Prince Rupert, Prince George, Arrow Lakes, Central Okanagan, Qualicum, Coast Mountain, Bulkley Valley, North Okanagan/Shuswap, and Quesnel -- are cancelling recess. In these districts schools will close 15 minutes early or open 15 minutes late.
Bulkley Valley will cancel recess in favour of starting the school day 15 minutes later beginning April 28. Administrators will supervise students before and after classes. Lunch supervision won't be affected in the district as other employees already cover it.
Superintendent Chris van der Mark said it's a small district of eight schools in five communities, and there aren't enough administrators to ensure students are properly supervised during recess. The superintendent also feels the pressure put on administrators isn't fair.
"We understand that it's one of the tools available for putting pressure [on the employer]. Unfortunately for us, as a small district, it puts a lot of pressure right on our administration, and that's a significantly unreasonable additional burden for our admin," he said.
Not all secondary schools in the district have recess, but for those that do, and at all the elementary schools, classes will start 15 minutes later in the morning, as will bus schedules. While students will notice little difference, parents who need to get to work may face a 15-minute delay in the morning if they're not comfortable leaving before their child does.
"We're a small community, and I think people recognize that this is largely out of our hands," said van der Mark.
Action could escalate
Union president Iker is disappointed districts are cancelling recess, saying in previous job actions teachers have filled in the supervision gaps when administrators and staff aren't enough. But instead Iker said at least one district, Prince Rupert, whose superintendent refused to comment, did not consult with the union local before deciding to cancel recess. He believes it isn't the only district that didn't consult.
"It's very unfortunate that they're cancelling recess, and we see that as a punitive action by districts on students," he said.
Iker added that administrators should be doing student supervision in the mornings and afternoons even when there isn't job action by teachers.
Green doesn't believe students will suffer because of recess cancellations. During the 2011/12 job action, teachers in her school implemented inventive methods of ensuring students still received the benefits of recess without actually having it.
"Most classrooms put in a natural movement break in their day," she said. "Teachers would do that so [students] weren't just sitting there and doing study pieces from nine to noon."
The union offered no timeline on the current job action. But if it and the BC Public School Employers' Association remain far apart during negotiations, teachers say their next step will be rotating, one-day-a-week strikes.