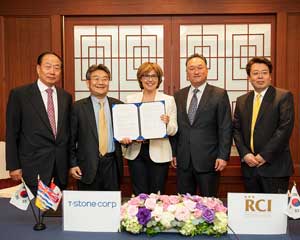 The Vancouver businessman that named Christy Clark a founding director of a company he formed in 2007 claimed in a January interview that she was never connected to his company.
A story in the April 10 National Post, based on leaked documents, showed Clark was contracted as chair of an RCI Capital Group international education subsidiary in Sept. 2007, two years after she originally left the BC Liberal government and was hosting an afternoon talk show on CKNW AM 980.
RCI CEO John Park was asked on Jan. 21 if Clark was involved with RCI, in addition to her then-husband, lobbyist Mark Marissen.
"With RCI? No never," Park told The Tyee. "We hired Mark because of his work with then federal Liberal leader [Stephane] Dion. He was, from what I've been told, the strategic campaign manager for Mr. Dion. So just out of his competence in that area is the reason we hired Mark for a file. Nothing to do with then Christy Clark, as you say, was just doing talk radio. In fact, I've never met Christy Clark before then."
RCI's website claims it has facilitated more than US$7 billion of capital flow from Asia-Pacific countries to Canada and the U.S., focussing on energy and resources, immigrant investments and aboriginal business.
Park did not respond to Tyee interview requests on April 10, but was quoted in other media reports claiming Clark was not paid and didn't do any work, despite corporate registry records showing she remained a director of RCI Pacific Gateway Education Inc. until it was dissolved on May 16, 2011 -- two months into her premiership -- for failure to file.
'No obligation to declare': Clark
In Question Period, NDP leader Adrian Dix grilled Clark, saying had hid the RCI job from the public.
Clark responded: "Not only did I not get paid by the company, not only did I not attend any meetings on behalf of the company and not only did I cease my involvement when I got involved in the media, but I also, as the member should know, had no obligation to declare my relationship with that company in the time that I was working in the private sector and outside of politics."
Clark was later quoted on the website of CKNW, her former employer, saying that she would refer the RCI matter to Conflict of Interest commissioner Paul Fraser.
"Oh, absolutely, I mean I'll ask him what he makes of it and see and make sure you get his answer, because, as I said, when I went to work for the media, I severed all of my relationships in the private sector," Clark said.
The RCI contract making her the non-executive chairperson of subsidiary RCI Pacific Gateway Education Inc. was signed on Sept. 27, 2007 -- a full month after she began her Monday to Friday, 12:30 p.m. to 3 p.m. full-time talkshow on CKNW. The first of three annual director's fee installments of $4,000 was due to be paid her within 120 days of her RCI appointment. The two-year contract included incentives and bonuses.
An April 2, 2008 RCI letter to University of New Brunswick Saint John associate vice-president Mohamed Kabir was copied to "RCI PGEI chairman" Clark. That letter proposed a $52 million program to recruit 1,050 foreign students over three years. It does not appear to have succeeded.
"PGEI whose founding chair is former B.C. deputy premier and education minister Christy Clark, has developed an innovative and turn-key business model designed to undertake large-scale recruitment of international students in partnership with a Canadian public university," the letter said.
Opportunity knocked
Dermod Travis, executive director of IntegrityBC, called Clark's claim she was not paid "a red herring."
"Numerous directors of startup companies are not paid, that does not necessarily mean they're not working on behalf of the company," Travis said. "Secondly, under B.C. legislation and federal legislation, being a director of a company has very clear legal responsibilities and potential ramifications. Anybody who understands that and chooses to step aside from a company generally submits their official resignation and asks that the corporate records be updated to ensure they're not potentially exposed to civil liability down the road because of the decisions of other directors. We can only hope that she's being far more diligent with her duties as premier than she seems to have been with her duties as director of this company."
Travis said Fraser ought to refer the Clark matter to an outside conflict of interest commissioner, just as he did when John van Dongen filed a complaint in 2012. Fraser's son is the Clark-hired John Paul Fraser, Assistant Deputy Minister of Strategic Planning and Public Engagement and a former business partner at Marissen's Burrard Communications.
"[Paul Fraser] set, after some reticence, a precedent," Travis said. "It was regrettable on that first occasion he had reticence about it. Any time that he is investigating anyone in the premier's office, including the premier, that should be a natural matter of course."
The van Dongen complaint was eventually dismissed in April 2013 by Gerald Gerrand, the Regina-based conflict of interest commissioner for the Northwest Territories.
"The premier has done significant business promoting this company since becoming premier," Dix said in Question Period. "She was a director of this company as she was Premier. She seems unaware. She says she didn't have any relationship with the company during her time when she worked in the media. That is manifestly not true. The Company Act contradicts her."
Trade mission partner to Clark's government
RCI figured prominently in Clark's 2012 and 2013 Asian trade missions. On May 17, 2012 in Seoul, Clark witnessed Park and T-Stone Capital Fund agree to a $300 million matching funding investment in Canadian companies.
On Nov. 26, 2013 in Beijing, RCI director and former Conservative cabinet minister Stockwell Day was on-hand for an RCI-brokered deal for the China New Energy Chamber of Commerce Biomass Energy Industry Association to invest up to $1 billion in B.C.'s wood pellet industry as a coal substitute for China.
On Oct. 25, 2013, Clark appeared at a news conference in Vernon at the headquarters of tire dealer Kal Tire to promote its joint-venture with SST Wireless on a new wireless tire pressure monitor for heavy duty mining trucks.
"That was a Kal Tire initiative, not SST," Park said. "Kal Tire is a shareholder in SST, we're the largest shareholders in SST. So that's the connection. We're introducing the technology, RCI, as a contracted agent of SST, we're introducing SST's technology to the world."
Last December, Clark appointed then-RCI managing director Tenzin D. Khangsar as chair of B.C.'s Multicultural Advisory Council. Khangsar, a former chief of staff to federal Conservative ministers Jason Kenney and Tony Clement, was a key Tory ethnic campaign strategist in 2011. Khangsar also helped form the Canada Korea Foundation, of which Park was founding chair.
CKF is registered as a business, not a foundation, to encourage bilateral business ties between the countries. Park and co-founders Charles Kim and Dr. Doo Ho Shin (the new chair) are scheduled for an April 22 trial in B.C. Supreme Court. Park wants a refund because he claims they reneged on a pledge to match his $50,000 donation.
CKF's board includes Day and Harry Bloy, the former B.C. multiculturalism minister and only caucus member to back Clark in her 2011 leadership bid. Conservative Sen. Yonah Martin was a co-patron until she resigned last November.
Martin, Kenney and West Vancouver-Capilano Liberal MLA Ralph Sultan were among the attendees at a private CKF meeting on April 5 in the Terminal City Club in Vancouver. When she arrived, Martin told The Tyee that she was there to promote Prime Minister Stephen Harper's March-signed free trade agreement with South Korea.