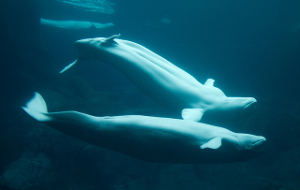 [Editor's note: Science writer Jude Isabella recently attended the American Association for the Advancement of Science annual conference in Chicago, and her dispatches will run on The Tyee this week. Stay tuned for more.]
Massive ice loss in the Arctic is like a game of craps for scientists -- they can make some guesses about what an ice-free north could mean, but mostly they're just watching as some species catch a lucky break, and some don't, including humans.
Vibrio bacteria responsible for paralytic shellfish poisoning in humans, for example, have headed north with warmer waters. But the most recent big news is the discovery of Toxoplasma gondii in western Arctic beluga whales, a traditional food of some Inuit communities. Michael Grigg, a molecular biologist with the University of British Columbia's Marine Mammal Unit, reported the news at the American Association for the Advancement of Science Meeting.
About 30 per cent of humans have been exposed to the parasite, and in northern communities exposure varies from 12 to 60 per cent, depending on geography. The parasite is found in terrestrial Arctic animals like foxes, caribou, and polar bears. T. gondii can be nasty, especially for a fetus, resulting in encephalitis. "You don't want it when you're pregnant," Grigg said. The parasite is the leading cause of infectious blindness in the world.
Ice was a significant barrier to its transmission. But not anymore. "The big thaw is facilitating the mixing of marine mammal ranges and changing distribution of pathogens, and marine mammals are the sentinels," Grigg said.
Is it related to climate change? "Patterns are changing and pathogens take advantage of that," he commented. (The Black Plague of medieval Europe is a chilling reminder of how new pathogens can wreak havoc in new environments.)
Less ice also means pathogens flow the opposite way -- south. For example, ringed seals, the most abundant seals in the Arctic, are likely a source of fatal necrotizing hepatitis, a disease caused by a new strain of the Sarcocystis parasite that killed 400 northern Atlantic grey seals in 2012. The new strain, Sarcocystis pinnipedi, is related to canine distemper (Sarcocystis canis).
Sarcocystis is a protozoal disease, which are the fastest growing kind of emerging infectious diseases. (Protozoa are one-celled animals found worldwide in most habitats.) Water efficiently disperses protozoal diseases, which makes marine mammals sentinels a warning system of what may come, Grigg and other scientists point out.
Other break outs
While T. gondii and Sarcocystis parasites have found new environments to exploit -- T. gondii courtesy of northern cat populations -- scientists have little baseline data that allows them to figure out what's novel and what's normal, and whether a disease is the result of an infection or the complex interaction of a new disease agent, physiological processes, and environment.
"Few people have actually looked at disease in the Arctic animals," said Kathy Burek Huntington, a pathologist with Alaska Veterinary Pathology Services.
Raphaela Stimmelmayr, a wildlife veterinarian for the North Slope Borough in Alaska, studied another unusual event affecting seals beginning in spring 2011 in Alaska. That year, ringed seals had hauled out on land (they normally haul out on ice) and exhibited hair loss, sores on their flippers, tails, and anal areas and were approachable -- even loud humans on ATVs did not send them diving back into the water.
Over 60 ringed seals died and over 400 seals have been affected by the mystery disease since 2011. It hit ringed seals (an ice-dependent species) the hardest, followed by bearded, spotted and ribbon seals, and Pacific walruses at one location called Point Lay in Alaska.
"We still don't know the exact cause, but we're working on it," Stimmelmayr said. It could be a bacteria or virus. The only unusual event environmentally that year was the nuclear blast in Fukushima, Japan. The fact the disease hit in spring suggests something went awry with the moulting process.
The geographic range of the disease's spread overlapped with the movement of ice seals and it occurred during the ice break up, when a lot of ringed and bearded seals start their seasonal move. Overall, it looks like a dispersion of sick animals, rather than a break out of the same disease at multiple sites, Huntington said. The disease also appeared in seals in Russia, Canada, Sweden, and Japan, a geographic range connected by four water bodies: the Beaufort Sea, the Chukchi Sea, the Bering Strait and Bering Sea. Reports from local hunters indicate the disease is new.
"The Arctic and its inhabitants are the canaries in the coal mine," Huntington said. "We're seeing changes in disease transmission pathways, changes to nutrition, and we will see more anthropogenic effects. So what's the plan? We need baselines on the new normal."