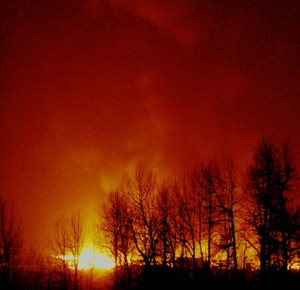 A forestry union leader is calling out Premier Christy Clark's "light" response to recent news that because of a flawed investigation, no charges will be laid against Babine Forest Products after its Burns Lake mill exploded in January 2012, killing two workers and injuring 20.
Despite a process that took nearly two years and turned up evidence that the fatal accident was preventable, provincial Crown counsel announced on Jan. 10 that B.C.'s worker safety agency investigation into the fire was so riddled with procedural errors that charges would not be laid.
Yesterday, Premier Clark said that her chief bureaucrat will conduct a fact-finding investigation to determine what went wrong with the WorkSafeBC investigation.
"We don't need more fact-finding," said the United Steelworkers' Steve Hunt, whose union represents workers at the Babine Mill and Lakeland Mill in Prince George, where a similar dust-fuelled explosion killed two workers in April 2012.
"We need the political will to use all the legal tools at our disposal to stop the preventable deaths of working people on the job. It happens close to a thousand times a year in Canada -- workers go to work in the morning and never get home alive."
Hunt said the premier's initiative is "a light response" and that more needs to be done to hold negligent bosses and managers to account in Canada.
A WorkSafeBC report on the Lakeland mill deaths is expected some time next month.
Dual role of safety agency questioned
Crown counsel's statement highlighted the dual role of WorkSafeBC as both an accident prevention body and an investigator of possible safety breaches as one reason for the agency's procedural errors.
Because of the dual role, the statement suggested, WorkSafeBC investigators failed to conduct the elements of their investigation that looked toward possible criminal charges, and didn't follow standard criminal investigation guidelines, such as obtaining search warrants and cautioning witnesses about their Charter rights.
Robert Luggi and Carl Charlie died in the explosion, the result of inadequate maintenance and cleaning in a mill choked with dry, fine-grain, explosive wood dust from pine-beetle killed timber. The decision that no charges would be laid was greeted with shock by their families.
"How could my husband die at his workplace, and the Crown has evidence, has received it, and is not able to conclude any charges will be laid?" asked Maureen Luggi, widow of Robert Luggi. "It was a lot of shock and reopening of old wounds." Luggi, like fellow victim Charlie, leaves behind three children.
Hunt's union, which played a key role in lobbying for the passage of 2004's Westray Act, landmark legislation that in theory would allow criminal charges to be laid against company managers and board members responsible for negligent decisions that kill workers, is concerned that the law is not properly enforced.
He said that while the WorkSafeBC report called for prosecutions against the company for regulatory violations, it never raised the possibility of laying charges under the Criminal Code passage created by the Act.
In October, the Steelworkers launched a national campaign, "Stop the Killing, Enforce the Law," which calls for proper enforcement of the Act. In February, the union will travel across the country, beginning in Nova Scotia, where 26 miners died in the Westray disaster, to visit municipalities where workers have died because of management decisions.
Call to fund a dedicated prosecutor
Hunt said his union would also like to see the worker safety agency improve law enforcement on B.C. worksites.
Hunt said he met with WorkSafeBC CEO David Anderson in March 2012 to discuss the Babine fire, a proposal to fund a dedicated prosecutor for work-site related cases, and joint training for WorkSafeBC inspectors and RCMP to ensure they are up to speed on the provisions of the Westray Act and the protocols required to bring charges against negligent managers.
Hunt said Anderson has not responded to follow up letters from the union, nor taken action on these reforms. A request for comment from Anderson sent to WorkSafeBC was not returned.
Brian Fitzpatrick's son Sam was killed on a Kiewit construction site at Toba Inlet in 2009, an incident which led WorkSafeBC to impose substantial fines on the company but which did not lead to any criminal charges. Fitzpatrick sees the latest events around the Babine mill fire as business as usual in B.C.
"The Workers' Compensation Act is working as it was intended," he said. "No politician or political party will bite the hand that feeds them by making any changes… Immunizing employers from the legal consequences of injuring or killing workers, while at the same time preventing workers from having access to civil courts for damages, is the way the [the Act] was intended to operate."