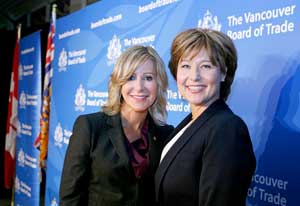 Hotel and spa owner Wendy Lisogar-Cocchia, a key supporter of Premier Christy Clark, is one of two new members of the B.C. Lottery Corporation's board of directors.
Lisogar-Cocchia and investment advisor Robert Holden were appointed Nov. 27, 2013 by cabinet orders. Lisogar-Cocchia's term runs a year, while Holden's is for two years. They replace Cindy Grauer and Neil McDonnell. For the year-ended March 31, 2013, BCLC directors were paid $6,875 to $16,750 for attending meetings.
Lisogar-Cocchia owns the Century Plaza Hotel in Vancouver and the Absolute Spa chain, which includes a location at Great Canadian Gaming's River Rock Casino Resort in Richmond.
"Ms. Lisogar-Cocchia's business is not connected to BCLC or gaming at River Rock. BCLC has conflict of interest guidelines for our board, which are posted to our website," BCLC manager of media and issues management Laura Piva-Babcock told The Tyee. "Board members must file a statement of disclosure semi-annually with the Chair. In addition, they must disclose any real or apparent conflict of interest as they become aware of them. The Chair and the Chair of the Governance Committee will review the statements of disclosure and approve a mitigation strategy. That process is being followed in this case."
Donations, previous Clark team jobs
Lisogar-Cocchia was on Clark's leadership advisory committee in 2011 and attended the cabinet swearing-in as a guest of Clark. Clark's first headlining appearance at a Vancouver Board of Trade luncheon on June 16, 2011 was also Lisogar-Cocchia's first event in her term as the 124th chair of the civic business board.
Elections BC records show $17,299 in donations to the Liberals since 2006 from Absolute Spa, Century Plaza Ltd., Crew Management and Lisogar-Cocchia personally. Husband Sergio Lisogar-Cocchia is president of the Pacific Autism Family Society, which received a $20-million capital grant from the province in April 2012.
Lisogar-Cocchia hosted Clark's first post-election caucus meeting at the Century Plaza on May 23, 2013. BCLC is not Lisogar-Cocchia's first provincial appointment. In December 2011, she was named to the 18-member B.C. Jobs and Investment Board, Clark's successor to the Gordon Campbell-created B.C. Progress Board.
The Progress Board's two-pronged mandate was to measure and benchmark B.C. social and economic performance and advise the premier on strategies, policies and actions to enhance economic and social wellbeing. Between 2000 and 2010, the Progress Board found the province's economy fell from fourth in Canada to fifth, personal incomes dropped from third to fourth and social conditions stayed ninth overall.
The Jobs and Investment Board's mandate did not include measuring and benchmarking. The follow-up to its September 2012 interim report was originally expected last spring, but a representative of the Ministry of Jobs, Tourism and Skills Training told The Tyee in December the draft report was completed "earlier in the summer." Minister Shirley Bond met with chair Ray Castelli "in the last month" and the report is expected to be published early in the new year.
The JIB listing on the Board Resourcing and Development Office website shows there are no members and Castelli is "not currently a member of any board."
Multicultural Advisory Council's new chair: Tenzin Khangsar
Meanwhile, the province's Multicultural Advisory Council has a new chair. Veteran federal Conservative aide Tenzin Khangsar was appointed by cabinet on Dec. 11 for a two-year term. The Quebec-raised, Tibetan-Canadian ran a third-place campaign as a Conservative in the Brossard-La Prairie riding during the 2006 federal election. For the next six years, he held a succession of Parliament Hill postings, including chief of staff to Citizenship, Immigration and Multiculturalism Minister Jason Kenney and Treasury Board president Tony Clement.
Since December 2012, Khangsar has worked as managing director and executive vice-president of Vancouver-headquartered RCI Capital Group Inc. On its website, RCI claims to be the largest manager of immigrant investor capital in Canada, is involved in junior and mid-market energy and resource companies and provides aboriginal trust fund management services.
RCI president John Park's board includes Clark supporter Stockwell Day, whose federal Conservative cabinet duties under Prime Minister Stephen Harper included International Trade.
The B.C. Office of the Registrar of Lobbyists shows no current entries for RCI, but two well-known Liberal names are listed in the archives as ex-RCI lobbyists. Clark's then-husband Mark Marissen lobbied for RCI from September 2007 to September 2008. Andrew Wilkinson, who became minister of Technology, Innovation and Citizens' Service last June, was retained by RCI from June 2007 to November 2009.
A video crew from Newstapa, the Korea Center for Investigative Journalism, recently visited Vancouver to probe RCI's role in the 2011 Capstone Mining Corp. takeover of Far West Mining Ltd., which involved Korea Resources Corp.
RCI donated $11,500 from 2011 to 2013 to the BC Liberals, including $5,000 to Kevin Falcon's leadership campaign in 2011. In 2013, the company donated $4,500 to unsuccessful Coquitlam-Maillardville Liberal candidate Steve Kim.
Kim was appointed to a two-year term as a director on the Khangsar-chaired MAC on Dec. 31. Kim is a former chair of the C3 Korean Canadian Society, which was founded by 2009-appointed Tory Senator Yonah Martin.