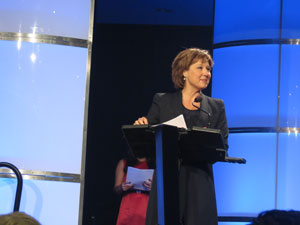 A BC Liberal-allied public relations agency received no-bid contracts to host Times of India executives in late 2012 and act as project coordinator for last April's controversial Bollywood awards, according to documents obtained under Freedom of Information.
Pace Group Communications was hired for $70,000 from a list of pre-qualified companies to coordinate the Times Group's recognizance missions in November and December 2012.
Executives were greeted on arrival Nov. 18, 2012 by Pace general manager Jordan Humphries and Canada-India Business Council director Vivek Savkur. The itinerary for their stay, through Nov. 22, 2012, shows meetings with Premier Christy Clark, then-Tourism minister Pat Bell and his deputy minister Dave Byng, Richmond Mayor Malcolm Brodie, Vancouver Mayor Gregor Robertson and Surrey Mayor Dianne Watts. Finance Minister Mike de Jong hosted a dinner at the posh CinCin Restaurant in Vancouver. The trip also included meetings with B.C. Place Stadium and Surrey Board of Trade executives.
The government agreed Dec. 12, 2012 to pay the Times Group $9.5 million to produce the April 6, 2013 awards show. The event was announced with a glitzy Vancouver Convention Centre news conference on Jan. 22, 2013, hours before more than 3,000 film industry workers rallied at North Shore Studios for government action to rescue the slumping industry.
Pace's initial contract was amended, according to a Dec. 20, 2012 notice of intent, for "an amount not to exceed $250,000." The document said the job was "to continue work related to the Market Outreach Activities." Though the file number was "NOI13-TOIFA-003," the document made no mention of the Times of India Film Awards. It only vaguely stated that "the province is proposing activities in coming months."
More than $2 million in taxpayer funds to Pace
Public Accounts for the year ended March 31, 2013 show Pace received $2,159,519 from the government. Additionally, the company was paid $338,057 for its contract with B.C. Pavilion Corporation that includes, among various duties, issuing news releases about themed lighting displays on the B.C. Place roof.
Elections BC records since 2005 show Pace donated $114,976 to the Liberals. It also gave $1,875 to the NDP in 2012 and 2013. The company worked on Kevin Falcon's unsuccessful 2011 leadership campaign. Founder Norman Stowe has also represented local tycoons Francesco Aquilini and David Ho.
Among the documents also released was the Draft Project Charter dated Feb. 22, 2013 that showed the Times Group agreed to match the government's $9.5 million grant. The document showed the breakdown of the additional $1.5 million for the program, including: $450,000 for a three-minute opening act, $470,000 for a global business forum, $250,000 for advertising/promotion of the event in B.C. and a 30-second commercial for rebroadcast in India, $50,000 for community activation, $200,000 for contracts for the B.C. project team and a $50,000 contingency.
A team of 10 people, headed by assistant deputy minister Grant Mackay, coordinated TOIFA from the government's side. Clark's office was represented by senior outreach coordinator Barinder Bhullar.
The awards drew 35,000 people to B.C. Place on April 6, but the government has not released a financial report showing how many tickets were actually purchased. The NDP criticized TOIFA as a pre-election ethnic campaigning ploy by the Liberals.
Benefits from TOIFA to British Columbians unclear
The day after the event, Clark tweeted that 400 million people had seen the awards, when in fact no air date had been scheduled. Indian rights holder Sony Entertainment TV finally aired TOIFA on June 16, after the finish of cricket season.
The Jobs, Tourism and Skills Training Ministry was unable to comment this week because of the holidays. In October, it released a prepared statement: "TOIFA re-runs continue to be broadcast throughout the global Indian diaspora. The province has not been provided with final ratings for TOIFA. We are expecting a final list of air dates from the Times Group once all of the broadcasts have been completed."
The government claimed 6,000 people were employed because of the awards, but that was based on an estimate provided by the promoter. The government is keeping secret two-thirds of the list 45 subcontractors.
Several Mumbai companies were subcontracted, based on companies that were credited in B.C. Place on April 6: WorkThatWorks Entertainment Design, Cineyug Group of Companies, Reliance Digital, St. Angelo's Professional Education, Genesis Burson-Marsteller and 70 Event Media Group.
The Times Group was also supposed to shoot a Bollywood feature in B.C. called "Kaneda." Also in October, the government said it was not directly involved in the project, which it claimed was in the planning stages for 2014.
No 2014 host has been announced.
B.C. was originally supposed to host the International Indian Film Academy awards, which will be in Tampa Bay, Fla. on April 26, 2014.