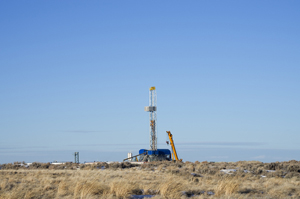 Canada's largest private sector union has called for a national moratorium on hydraulic fracturing, a brute force technology that has opened up shale formations for mining across North America and the world.
Unifor, which has 300,000 members in the country, said the technology has raised substantive environmental and economic concerns across the country and needs greater scrutiny.
Hydraulic fracking uses millions of gallons of water, tonnes of sand and toxic chemicals to blast open concrete like shale rock one to two kilometres below the ground. It has been the subject of intense protests in Australia, Ireland, England, South Africa and much of the United States.
Unifor came into existence earliest this year after the merger of two of Canada's most powerful and largest unions: the Canadian Auto Workers Union and the Communications, Energy and Paperworkers Union of Canada.
In a Nov. 14 press release, the union cited concerns about "frightening" groundwater pollution, methane leaks, "unpredictable impacts" on rock formations, "destruction of surface land" as well as safety issues for workers "toiling under haphazard, gold-rush-like conditions." 
The union was also disturbed by the fracking industry's impact on First Nations and unresolved treaty claims, a major issue in British Columbia and Atlantic Canada.  
"First Nations activists in New Brunswick and elsewhere are highlighting, with determination and passion, their insistence that no resource exploration or extraction can occur on their lands without full informed consent and a generous sharing of the economic benefits."
A national moratorium should remain in place "until such time as the safety and environmental risks associated with fracking have been adequately addressed, and until First Nations communities have given full informed consent for fracking activity on their traditional lands."
In step with US municipalities
More than 100 U.S. municipalities have now passed laws banning hydraulic fracturing in their jurisdiction because of concerns about water usage, groundwater contamination, air pollution and the industrialization of farmland. In early November, voters in three major cities in Colorado, an oil and gas state, approved bans on fracking. Voters in Boulder, Fort Collins and Lafayette all approved moratoriums by a wide margin.
The government of British Columbia has banked its economic future on the development shale gas in Peace River region. These deposits, among the costliest and most water intensive in the world, would require the drilling of more than 50,000 wells.
By some rough estimates, this level of shale gas drilling could use as much water as annual water requirements for bitumen mining in Alberta or enough water to support a city of two million people a year.
To date, the government has performed no cumulative impact assessment on the industry's heavy footprint on water and land, nor a financial risk analysis.
This week, several environmental groups filed a court action against B.C.'s Oil and Gas Commission for allegedly violating the Water Act by repeatedly rolling over short-term water licenses to some of the world's wealthiest companies.
Environment Canada and Health Canada told the Auditor General in 2012 that they did not have a good understanding of the 800 chemicals and substances used for hydraulic fracturing fluid. Nor had they investigated the risks associated with the hydraulic fracturing process.