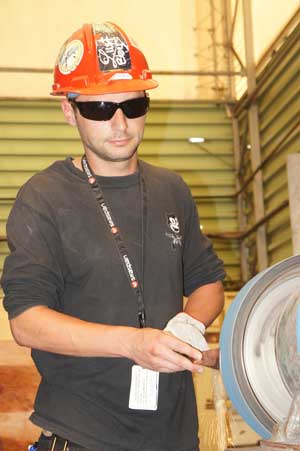 A move to allow semi-skilled workers in British Columbia to perform electrical work normally done only by electricians has polarized the electrical industry.
On one side are educators, contractors, inspectors and unions, aiming to protect the national standard. On the other, the association representing technologists and technicians and the provincial safety regulator.
"We're talking about an attack on red tape, but also an attack on the Red Seal, which is a nationally recognized standard to which currently all electricians in the province of B.C. are trained into," said Phil Venoit, president of the International Brotherhood of Electrical Workers' (IBEW) provincial council.
Venoit is part of the Protect Red Seal Trades coalition opposing the British Columbia Safety Authority's approval for the Applied Science Technologists and Technicians of B.C. (ASTTBC) to grant Electrical Work Practitioner certificates. Starting next year, ASTTBC members meeting the criteria will be able to legally perform limited fields of work, like testing, servicing and repairing of electrical, electronic and biomedical equipment.
Even though Electrical Work Practitioners would not be allowed to act as installation electricians, industry opponents are worried that the move would compromise both safety and the interprovincial Red Seal trades standard for electricians, of which there are an estimated 30,000 in B.C.
"Bringing in people that are not trained to the recognized standard of Red Seal will undermine the electrical integrity of every building and all the infrastructure," Venoit said. "It will endanger our membership, it will endanger the unqualified worker... it will endanger my membership as they come in to fix the mistakes that have been made."
'They've ignored industry concerns': BCIT instructor
Electrical journeypersons must undergo 1,200 hours of technical training and 6,000 hours of supervised field work under the Red Seal. Semi-skilled workers could get Electrical Work Practitioner certificates after 1,500 hours training and 4,000 hours of supervised work experience. Until late September, the B.C. Safety Authority was willing to allow only 480 hours of training, but that changed after a letter-writing campaign to Premier Christy Clark and deputy premier Rich Coleman.
Coleman's portfolio includes the Safety Authority. A Tyee request to interview Coleman was not fulfilled.
"I think there needs to be an independent review of it; it should not be left just to the Safety Authority," said Ted Simmons, chief instructor of the B.C. Institute of Technology electrical trades program.
"The Safety Authority themselves, that's where the problem is. They've ignored industry concerns... and tried to brush them off. Even though we say there's a risk to public safety and worker safety, they say 'Tell us how.' Even though we do, they still ignore them."
Simmons said opponents will urge industry stakeholders to boycott B.C. Safety Authority committees and events.
The authority is a quasi-non-governmental organization established in April 2004 during premier Gordon Campbell's first term. The not-for-profit, self-funded corporation oversees amusement parks and elevators to boilers, refrigeration and electrical equipment and systems. In 2007, it made a strategic shift toward self-regulation: instead of focusing on inspections, it began to emphasize working with the industry on preventive measures.
10 years later, the B.C. Safety Authority is realizing that the Safety Standards Act needs an overhaul. An August internal review proposed legislative changes to plug holes in the Act.
"Contractors may apply for a license and we must issue it because they meet prescribed requirements and pay the fee," said the internal report. "However, that contractor, under a different name, may have had repeated compliance issues, may have been the subject matter of numerous complaints or may have had some other issue that gives reason for pause on the issuance of a license."
There are other gaps in the Act. For instance, there is no prohibition of unlicensed contractors who make false representations about their legal status. The Act doesn't allow for the publication of names of offenders or the types of sanctions assessed and the B.C. Safety Authority doesn't have the power to disclose incident investigation reports or enforcement activity reports.
ASTTBC, the organization granting the new certificates, has 10,000 members. Of 150,000 people employed in technology occupations in B.C., more than one-third are technologists and technicians. ASTTBC is predicting 25,000 new job openings by 2020, although it has concerns about technology education keeping up with growth.
Its executive director John Leech said he was not available for an interview and referred The Tyee to the organization's website, which says: "The safety of the public is the foremost consideration for recognition of certain members and registrants to perform regulated electrical work within a limited scope. To qualify, all eligible members will generally need to demonstrate their technical competency to practice within a limited area of electrical work."
'Recipe for disaster'
According to 2012 WorkSafeBC statistics, there were 17,619 work days lost due to electrical mishaps and a record $9.27 million in claims costs paid, up $2.1 million from 2011. In 2009, there was a record 20,326 work days lost. Through the end of May 2013, 7,208 work days were lost and $3.1 million in claims were paid out.
A 2012 B.C. Safety Authority report said there were nine severe electrical incidents, including five explosions and/or fires at non-residential facilities where electrical equipment was suspected to be involved, three residential fires and one electrical shock. Nine people died and 44 major injuries were recorded.
The authority's 52 safety officers made more than 33,000 physical inspections and issued 78 compliance orders and three fines in the electrical sector last year -- 17 of which were for no permit and 15 for no valid B.C. certificate of qualifications.
Simmons said those certified under Electrical Work Practitioner would be able to conduct testing on live equipment, which he said would put workers in jeopardy. Between five and 10 arc flash incidents happen daily around North America, killing one or two workers, according to the National Fire Protection Association. It will also be a logistical nightmare to govern, he said.
"We're going to end up with multiple certifications. How do they monitor that, how do they know which certificate is which? They'll have to carry a list of certificates as to who is able to do what. For them it's very difficult," Simmons said. "For us as educators in one way it would be great, because we could do all kinds of training, all these little courses to train these semi-skilled people, but it definitely isn't what we want to do. It's a real recipe for disaster."
B.C. Safety Authority's electrical safety manager Ulrich Janisch has been on the receiving end of the ire of Electrical Work Practitioner opponents. He said the fears are unfounded and denies the new regime would dilute standards.
"In fact, what we currently have is a system where the work is not regulated, because these individuals are not trained, they're not qualified, and we don't know where they're doing the work or who's doing the work," Janisch said. "Safety is improved when workers are trained to do the work properly and safely and I don't think that lowers the standard, that increases the standard for the technicians."
The electrical work would be similar to general work performed by electricians, he said. "They don't do installation work, they're only maintaining equipment they have specialized training to work on."
The new certificates would roll out in the first quarter of 2014 at the earliest. Janisch, however, said there will be no additional oversight.
"Under our system work is monitored by the contractors, permit holders and primarily through the field safety representatives who are required to supervise work that is performed," he said. "These workers are only allowed to work under a permit and under the supervision of a field safety representative."