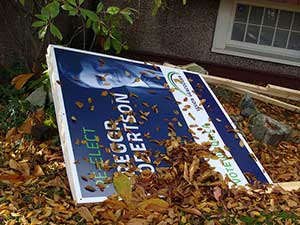 The British Columbia government is considering a new law that will put a chill on people who want to speak out during local government elections, says an information and privacy advocate who is taking the province to court over a similar law already in place for provincial elections.
"Presumably they think taking away people's freedom of expression during an election is a good thing," said Vincent Gogolek, executive director of the B.C. Freedom of Information and Privacy Association.
"It's hard to come to another conclusion. They've had multiple opportunities to change this and they refuse to do it."
On Sept. 9, Community, Sport and Cultural Development Minister Coralee Oakes released a 132-page white paper outlining proposed changes to elections of mayors, councillors and school board trustees. It also covers the elections of directors for regional districts, parks boards and the Islands Trust.
Among the changes, which the government is seeking public comment on before making them law when the legislature sits in 2014, are plans to require individuals or organizations doing anything that meets the definition of "election advertising" to register as a sponsor of third-party advertising.
As with provincial elections, this includes not just advertising that directly or indirectly supports a particular candidate or party, but also ads that take a position on an issue with which a candidate or party may be associated.
Failing to register could bring up to a $5,000 fine and a year in jail for an individual, or a $10,000 fine for an organization, according to the draft law.
31 recommended changes
The white paper follows a consultation task force process launched in 2009 that recommended 31 changes to how British Columbians elect mayors and councillors. They include things like setting campaign expense limits and banning anonymous donations.
Minister Oakes has said the province plans to make some of the changes in time for the 2014 elections, while leaving the setting of spending limits for politicians to a later consultation with a goal of implementing them for 2017.
The government will, however, require all third party advertising sponsors to register and file disclosure statements as part of its first phase of changes to the law.
"The regulation of third party sponsors as an identifiable group in local government elections is new," reads the white paper. "The approach taken in the proposed Act is consistent with the approach taken in the provincial Election Act."
Making the rule the same as in provincial elections is a mistake, said Gogolek. His organization is suing the government in B.C. Supreme Court over the provincial rule, seeking to have parts of B.C.'s Election Act declared unconstitutional if they require groups or individuals to register if anything they plan to say or distribute during an election period might be considered election advertising.
Other jurisdictions, including Canada and Alberta, don't require people to register until they spend $500 or $1,000 on election advertising, and neither should B.C., said Gogolek. "B.C. is out of step with everybody else."
In B.C., a person who makes a paper sign and puts it up in their window is required to register as an election advertising sponsor and can be penalized if they don't, Gogolek said.
'They got distracted,' says NDP critic
During the general election The Tyee reported that various individuals and groups were guarded about what they said due to fears about the law. For example, the Sierra Club of B.C. froze much of its website during the campaign and a pesticide activist in Kamloops made her website unavailable to the public.
A 2010 Canadian Centre for Policy Alternatives report found the B.C. laws had a "chill effect" on advocacy groups during the 2009 B.C. election.
Minister Oakes was unavailable for an interview the day after the white paper's release.
In an emailed statement, a ministry official said, "Mandatory registration serves the goal of transparency. It will also enable Elections BC to communicate with all third party advertisers to ensure they are aware of the rules respecting advertising, including how to calculate the value of their advertising and the requirements respecting disclosure."
Internet advertising through sites like Facebook, Twitter and YouTube mean "one can no longer assume that advertising below a particular threshold would not have an impact on elections," it said.
Those arguments are similar to ones the province made in court documents in response to FIPA's lawsuit. "The Attorney General of British Columbia disputes the plaintiff's assertion that the registration requirement is unconstitutional," the document says. "Section 239(1) has been in force in British Columbia for 18 years without challenge, serves important objectives in enhancing transparency and public accountability in electoral discourse, and does not violate freedom of speech."
Gogolek said that with the changes to local elections, at least the minister has invited comments from the public before making the proposed changes. "I suspect people will let their displeasure be known. I hope they will."
The NDP's critic for local government, former Coquitlam city councillor Selina Robinson, said she'll be canvassing opinions on the white paper next week at the Union of B.C. Municipalities convention in Vancouver.
"I don't have any perspective just yet in terms of what are the implications," she said when asked specifically about the effect on third-party advertisers. "At this point I don't have a comment because I don't understand the full implications."
Robinson criticized the Liberals for taking so long to put the task force's recommendations into place and for the further delay on introducing spending limits for local elections. "What have the Liberals been doing all this time?" she asked. "They got distracted. To me that's unacceptable... I think we should be outraged. This is an example of them not governing."
The consultation period is open until Oct. 23.