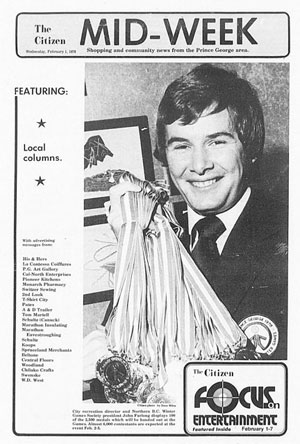 Former Vancouver Winter Olympics CEO John Furlong published a memoir that omitted his stint in Northern British Columbia between 1969 and 1972 and why he put an end to it, returning to his native Ireland for two years before coming to Canada a second time.
The Tyee has turned up archived news reports in the Prince George Citizen newspaper from 1972 that tell a long buried story of soccer field violence and death threats against Furlong.
A later 1978 article from the same archives, which are recently digitized, quotes Furlong declaring "I played in the Olympics twice" -- something else, if accurate, left out of his book.
Furlong's 2011-published Patriot Hearts: Inside the Olympics that Changed a Country cites Edmonton in fall 1974 as his arrival point in Canada. His co-writer, Globe and Mail columnist Gary Mason, told The Tyee last September that Furlong did not mention his time in Burns Lake, B.C. to him during the course of interviews for the book.
When sensational allegations of child abuse by Furlong during that period in B.C. were published by the Georgia Straight in September of last year, Furlong flatly denied them and explained that his book failed to mention his first three years in Canada because they were "fairly uneventful."
Last November, Furlong filed a defamation suit against The Georgia Straight and freelance author of the article, Laura Robinson, who both responded in January with defence statements that contained more allegations of abuse.
On July 26, Furlong's lawyer filed a court rebuttal saying Patriot Hearts was written as a history of the Vancouver 2010 Winter Olympics "and was never intended as a chronological personal biography."
"The facts are that [Furlong] came to Canada by invitation on a temporary basis to do volunteer work from 1969 to 1972, and had a very positive experience, and decided to immigrate and make it his home after the school where he had worked invited him to return and take up a full-time position," said Furlong's long-awaited counter-filing to Robinson and the Georgia Straight's six-month old defence statements.
But a forgotten story in the Prince George Citizen portrays a rugged end to Furlong's three-year sojourn in Canada.
At the centre of the front page of the July 12, 1972 edition is a story headlined "Assaulted ref off to Ireland."
It describes how Kostas Apostolov, the captain of a Prince George soccer team, was fined $300 in city court by Judge G.O. Stewart, who warned "one of these days I'll put a first offender in jail" if the assaults continue.
The story says Apostolov was convicted of the "May 14 common assault on referee John Furlong. Furlong was pushed and kicked in the groin during the disputed call.
"Furlong could not testify, prosecutor Brian McAsey told Judge Stewart, because he left the country to return to Ireland after threats were made against his life by soccer teams and players."
Broken nose, cut eye
The story said Furlong volunteered as a referee for the North Cariboo Soccer Association and "has been repeatedly assaulted by players, coaches and fans at the matches and one other player was convicted of assaulting him.
"In that incident, Furlong's nose was broken and his eye lid cut. That player was suspended by the league."
A five-paragraph brief tacked on to a story about a marijuana grow-op bust in the June 22, 1972 Citizen said Mita Tomic was fined $100 after pleading guilty "to assaulting John Furlong in a North Cariboo Soccer League game in which he was a player.
The page 3 story said: "'A referee should be fair,' was the plea of a man who struck a referee at a soccer game June 4. Tomic said he just tried to protest a call by the referee when the assault occurred."
Stewart, who was also the judge, said: "This court has had trouble with these soccer games before. In my opinion you should be banned for life from the game."
The North Cariboo Soccer Association, now the North Cariboo Senior Soccer League, had a rough and tumble reputation. The history section of its website said that the B.C. Soccer Association refused to register the league because it was "too troublesome." NCSA finally joined BCSA in 1974, two years after the attacks on Furlong.
"In the seasons 1966 to 1970, the game was almost entirely played by immigrants who formed teams of similar ethnic groups," the NCSL website says. "This, sadly, led to emotional outbursts related more to national pride than the game of soccer and trouble was a frequent bystander at our games. As a result the league was rarely completed and visits to courtrooms were not uncommon."
"It was ugly in the beginning," league referee and pioneer John DaSilva said on the website.
"We had all ethnic teams and there were fights every game. The police even had to come out and oversee the games. But then we got some organization and proper referees and order came about."
Furlong was unveiled April 12, 2012 as executive chairman of Major League Soccer's Vancouver Whitecaps FC. His biography on the team's website and the announcement of his appointment on his own website make no mention of Furlong playing or refereeing soccer in British Columbia or elsewhere. However, at the news conference he told reporters, "It's a sport I grew up in, I grew up watching it and playing it."
"I remember as a centreback, as a player, that the best feelings I had always as a player was when I came off the field and had nothing more," he said in an interview with Carl Valentine. "Soccer allowed you to do that, it allows you to spend yourself completely." 
Furlong, whose father was a senior Irish jail executive, played five-on-five soccer matches on a grass tennis court outside the family's house on a prison compound, according to Patriot Hearts. The book said the school he attended banned the playing of soccer.
Prince George comeback
Furlong and his work at the 300-pupil, co-ed Catholic school Prince George College (Now O'Grady Catholic High School) were profiled in the Oct. 8, 1975 "Sports of Sorts" column by Ron Allerton.
"Furlong, a 26-year-old native of Dublin, came to Canada in 1969 as a 21-year-old veteran of four international sports (basketball, volleyball, team handball and soccer)," Allerton wrote.
"After a year in Burns Lake, he came here and spent two years at the college. He left in June 1972 to return to his native Ireland."
The 1950-born Furlong was actually 18 when he arrived in Canada. Allerton made no mention of Furlong's troubles as an abused soccer referee, which were documented by the Citizen. Instead, his column says: "Furlong left Prince George in 1972 because he wanted to study more and because there were developing opportunities in Ireland for working in recreation management."
Citizen stories indicate Furlong returned to the North Cariboo Soccer Association as a player. A Sept. 22, 1975 story by Steve Pyle noted Furlong's misfortune to be playing for PG Fab International in an 8-0 loss to Labatt's United. "Fab was handicapped with just nine players for the whitewash with Labatt's. Fab -- one of the strongest teams in the league in the early season -- has been bothered lately by many quitting."
Ex-Fab player Bill Cumming led Labatt's with a trio of goals and Uwe Knees had a pair. Two others contributed singles. There was also an own goal. "John Furlong potted one into his own net, for the other marker."
By 1976, Furlong had joined City of Prince George and a July 9, 1976 story by Tom Nixon, headlined "No jock talk from city's new recreation director," said "John Furlong first came to Canada in 1969 and after a year at Burns Lake came to Prince George College where he was a math and physical education teacher. He returned to Ireland in 1972 for more study on recreation management. He managed a government sports centre and after getting the experience he was after, he was 'glad to come back to Canada.'"
'I played in the Olympics twice'
Furlong's proudest achievement in Prince George was organizing the Feb. 2-5, 1978 Northern B.C. Winter Games, which were hyped as the second-biggest athletic event in North American history, after the Montreal 1976 Olympics. Prince George 1978 boasted 5,600 participants from eight to 80 in 38 events.
A full-page, Jan. 27, 1978 preview ran under the headline "Only the Olympics were bigger."
"And if you think someone's exaggerating, talk to Games manager John Furlong. Sitting in the civic properties office, wearing his official Games suit and tie, Furlong breathes enthusiasm into the event," said the story.
Further down the first column comes an apparent revelation about Furlong's athletic past.
"Why is it the highest number of competitors ever in British Columbia? 'Because we're trying to develop the emotional contact. Everybody's a winner,' said Furlong.
";I played in the Olympics twice and I can't hold that experience over just competing for fun. I can't side with the elitism.'"
When he was profiled in the Sept. 14, 1979 edition, after taking a job with Nanaimo's recreation department, Furlong said: "I can't get it out of my mind. It was the highlight of my career and I've been involved in Olympic, European and other international competition."
Furlong's memoir claimed he played for Ireland's national basketball and handball teams, but Patriot Hearts makes no mention of him ever attending the Olympic Games as a competitor.
Furlong did not respond to a July 26 query from The Tyee about his 1972 return to Ireland or the 1978 newspaper quote suggesting he competed in the Olympics.
If John Furlong's defamation lawsuit against The Georgia Straight and journalist Laura Robinson goes to trial, lawyers for both sides will certainly argue why the VANOC boss chose not to tell readers of his memoir the facts about his arrival in Canada.
Robinson's Sept. 27, 2012-published expose ran in The Georgia Straight under the headline "John Furlong biography omits secret past in Burns Lake." At news conference that day, Furlong flatly denied he had physically or sexually abused his elementary school students, but admitted that he had been in Burns Lake and Prince George between 1969 and 1972. He called that period of his life "fairly brief and fairly uneventful," even though Northern B.C. was where he married his first wife, Margaret Cook.
Furlong's July 26 B.C. Supreme Court rebuttal said "he arrived in Burns Lake in or about April 1969 to volunteer as a physical education instructor and sports coach at Immaculata School. In 1970, he moved to Prince George and continued volunteering as a physical education instructor and coach at Prince George College until 1972 when he returned to Ireland."
Furlong claimed in the July 26 court filing that he was well-liked by students and never abused them, and that Robinson has a personal vendetta towards him.
Furlong's brief claimed "there is no evidence at all that he 'hid' five years of his life in his leadership book."
The Georgia Straight and Robinson stand behind their story and deny the defamation claims.
Furlong was sued in B.C. Supreme Court on July 24 for abuse and defamation by two female former Immaculata students, but has yet to respond.
None of the allegations in either lawsuit has been proven in court.