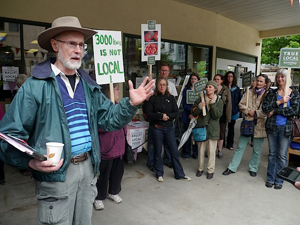 If you live in the Kootenays, is an Okanagan apple local? If you live in Vancouver, are Abbotsford strawberries local? What about a Gulf Islands oyster or an Alberta potato if you live in Atlin?
Until recently, the answer to all of these queries would have been 'no'.
But last month, the Canadian Food Inspection Agency (CFIA) changed the definition of local. It used to apply to food grown within 50 kilometres of sale. Now, any food produced in B.C. or within 50 kilometres of provincial borders is technically considered local and can be labelled as such -- but not all farmers and retailers are happy about it.
New label means new competition
"The new definition is totally nonsensical to me," says Nelson-area farmer Nettie Lack. "Local means the community. It means the neighbourhood. This is about the big boys getting in on the act and using 'local' as a form of marketing."
She's referring to grocery chains like Loblaws, Safeway, and Save-on Foods, all of which, simultaneously with the CFIA's change of definition, began marketing province-wide food as local.
Lack runs the Kootenay Local Agricultural Society and farms eight acres of vegetables that she sells in the West Kootenay region. Her most important customer is the Kootenay Co-op store in Nelson.
The Kootenay Co-op's marketing manager Jocelyn Carver says, "the new definition means farmers in the immediate area will now have to compete with farmers across the province to provide food to customers who want to make a point of buying local food."
She says consumers will be misled by the new "local" designation because it is so watered down as to be meaningless.
"The definition of local," she says, "is meant to bring the beginning of the food chain and the end of the food chain together in a relationship based on mutual support. That way, small and medium size local businesses who often struggle to gain a bit of a foothold will get support from consumers who will seek them out.
"To call provincial or western Canadian food 'local' disadvantages the most challenged sector of an already challenged agricultural economy, which is small and medium sized growers," she says.
'True local defined'
The Kootenay Co-op is the largest independent natural foods retail cooperative in Canada, with annual sales of just under $11 million. It has 11,000 members. One of its stated priorities is to support small agricultural businesses in the region.
In response to the CFIA's definition change, the co-op has initiated a marketing strategy they're calling True Local. They've drawn the boundary of what they consider to be local on a map of the region. The co-op will tag food grown within those boundaries True Local on the shelves.
They kicked off the campaign with a rally in front of their store on June 1. About 45 people came out, including the local media and some high-profile speakers: B.C. Southern Interior NDP MP Alex Atamanenko, Nelson-Creston NDP MLA Michelle Mungall, and National Farmers Union president Colleen Ross.
Atamanenko wondered aloud why the CFIA first changed the definition and then announced that it would be holding public consultations about it later.
"Normally, when you have an existing policy you say, 'OK folks, we are thinking of changing the policy, so lets do some consultations across the country, let's talk to people like the co-op here, let's talk to the National Farmers Union, the Federation of Agriculture, all those representing farmers, and once we have done that, then let's lay out a policy.'
"Or are they just going to be talking to their friends like the Western Canadian Wheat Growers and Monsanto and CropLife to rubber stamp what they are doing?"
Rola Yehia, acting manager of consumer affairs for the CFIA, contacted by the Tyee, explained that her agency will be initiating a food labelling modernization initiative which will take up to two years and will involve public consultations. The change in the definition of local is part of that, she said.
Asked why the change came before the consultation, she said the new definition is an interim one, and that "we are trying the balance the needs of consumers and the industry."
Yehia said the definition change came on the advice of its consumer round table, a stakeholder group that includes the Consumers' Association of Canada.
Bruce Cran, president of the Consumers' Association of Canada, says Yehia is mistaken.
The definition change "never came up at any meeting I was at," he told The Tyee, "and I attend all those round-table meetings. I am a senior member of that round table."
Cran says he doesn't know who wanted the definition changed. "I have no idea where it came from," he said.
Local just one piece of the picture
The Kootenay Co-op and Atamanenko didn't necessarily like the old 50-kilometre definition either. Carver says that for a northern community with no farms in the area, or for someone living in a large metropolitan area, it was "so restrictive that it was almost asphyxiating" for small and medium sized food businesses.
Abra Brynne, a board member at the Kootenay Co-op and a staff member at Food Secure Canada, says a discussion of the meaning of local is long overdue. She says "local" is too geographically oriented and doesn't cover all the bases.
"We need to understand that anywhere on the planet good and bad practices happen -- environmental practices, humane handling of animals, how people are being treated -- they happen anywhere on the planet and that will be local to someone all of the time."
Brynne also thinks the discussion is too focussed on fruit and vegetables.
"We cannot assume that we can get everything within 50 or 100 or 200 kilometres, wherever they will draw that line on the map. I have seen comments on different news feeds where people say things like, 'I get all my food locally, in my back yard.' Well, I am highly sceptical they are meeting all their protein and oil needs and full dietary needs in their back yards."
Brynne also points out that small-scale or regional farmers, fishers, and processers "are fundamentally business owners and you have to factor in their economic viability in order to attain all those other values, and sometimes that means when fishing and farming happens in sparsely populated areas, they have by necessity to ship further distances."
Jon Steinman says the problem is the very act of labelling. He is a Nelson journalist and the producer and host of the Deconstructing Dinner radio show and forthcoming television series.
"People have chosen to look for a label to give them an assurance of what they are buying. The same way a label like 'organic' has become very commodified, we are starting to see that with "local."
Steinman says our relationship to food is driven by a "mental image of what we are eating. We eat with our heads. We fear certain foods and will only eat certain foods because of where they are from or what is on the label. That is a mental relationship. If we demand certain foods, food that is natural, we are going to see more and more labels and brands that use the word 'natural'. If we demand foods that are farm fresh we are going to see multinational companies come out with a label that says "farm fresh."
"What we are demanding is just an assurance through a label. We are not really demanding change in the food system, we are just demanding that we feel good about what we are buying."
Steinman says we should "absolutely abandon even recognizing the CFIA as an agency that has any interest in serving us. Let's move beyond having to rely on those labels and start developing relationships with our food producers and with each other and creating our own names and labels."
Like True Local, perhaps. A local definition of local.