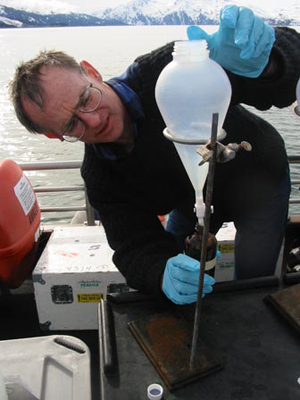 Some diluted bitumen products will sink in fresh and brackish marine waters in less than 26hours following a tanker spill or accident at a marine terminal.
That's the conclusion of new report by Jeff Short, a highly respected U.S. environmental chemist who worked with for National Oceanographic and Atmospheric Administration (NOAA) for decades.
Short directed much of the groundbreaking research on the impact of the Exxon Valdez spill on aquatic life. His research found that oil's toxic properties lasted as long as two decades in marine waters.
The scientist's bitumen study ("Susceptibility of Diluted Bitumen from the Alberta Tar Sands to Sinking in Water"), was filed by the Gitxaala Nation to the National Energy Board last March and directly contradicts testimony by Enbridge hired guns during the Northern Gateway hearings.
Enbridge's claims
Enbridge, the pipeline company that leaked 20,000 barrels of diluted bitumen into the Kalamazoo River (the spill cost a record $1-billion to clean up), wants to build two pipelines over the Rocky Mountains and 700 waterways to the marine port of Kitimat. The controversial proposal is now the subject of public hearing with the National Energy Board (NEB).
One line would export diluted bitumen to tankers bound for Chinese refineries: the other would import foreign oil from the Middle East to dilute the bitumen for transport.
As a consequence First Nations, scientists and environmentalists have raised a variety of concerns about the potential of bitumen and condensate spills involving tankers or pipelines to destroy B.C.'s rich coastal marine life.
One Enbridge expert, Alan Maki, even claimed that bitumen was buoyant: "It is an immutable fact of physics that they will float. They simply cannot sink in water."
Other testimony including a report by SLRoss Environmental Research, a Calgary engineering firm, claimed that bitumen would most likely stay on top of the ocean too.
"I had some real reservations about the conclusions of SLRoss report which wrote off the possibility of bitumen sinking," explained 63-year Short to The Tyee.
The SLRoss study based its findings on a limited laboratory experiment that Enbridge filed as evidence at the last minute with the NEB.
Short explained that if the SLRoss study had repeated their limited laboratory experiment at slightly lower water (and more realistic) temperatures at higher wind speeds, their study would have lead to different conclusions than those presented to the Joint Review Panel.
"They actually got to the point where the bitumen did sink but didn't acknowledge that fact clearly. They should have done a range of tests at different temperatures and wind speeds," Short told The Tyee.
Heavier, thicker, denser
Bitumen is both heavier, thicker and denser than light crude because it is a naturally weathered hydrocarbon that has been heavily degraded by bacteria over millions of years. It also contains a variety of heavy metals (nickel and vanadium) as well as sulfur and nitrogen.
The low-grade crude must be diluted with imported condensate, a gasoline-like product, in order to move through a pipeline.
But the density of bitumen prior to dilution will determine how fast the substance will sink in fresh or salty water. "Yet we only have limited data on a few bitumen products."
In the event of spill on ocean water the condensate would flash evaporate into the air, producing toxic fumes full of carcinogens such as BTEX.
The remaining bitumen would float in highly saline water for a while until it mixed with sediment or plankton that could weigh it down. Such processes would eventually give the substance a density greater than water. Most bitumen varieties are very close to the density of water or "on the edge," explained Short.
In Kitimat Arm and other areas along the Douglas Channel where glacial water enters the ocean, the salinity remarkably decreases. With less salt to create buoyancy, the risk that the bitumen will sink rises dramatically. "As soon as you get to fresher water the risk of sinking is really high."
In fact Short found that diluted bitumen would sink within 25 hours in Kitimat Arm at temperature of 12 degrees and at maximum wind speeds.
His report recommends that much more "testing should be done a variety of bitumen products at realistic oil slick thicknesses and at realistic environmental conditions of wind speeds, temperatures and salinities."
Concluded Short: "It is clear that accidental spills of diluted bitumen products from the Alberta tar sands would often eventually sink in fresh water solely on account of evaporative weathering, and would also sink in brackish marine waters under plausible circumstances."
Environment Canada: bitumen sinks
Short's findings directly support those of Environment Canada. Merv Fingas, a former chief researcher, told The Globe and Mail earlier this year that Enbridge's claims about floating bitumen were false and that some kinds of bitumen will definitely sink in salt water.
Added Fingas: "Every time we did get a sample of any kind of bitumen in the laboratory and analyzed it, it always sank."
Short told the Tyee that he was mystified by the paucity of science on bitumen's properties in water as well as limited data bitumen densities that Enbridge wants to pipe to Kitimat.
"On a project of this significance, Canadians should go into it with their eyes open and not fantasize about what might happen and not base your public policy on fantasies."