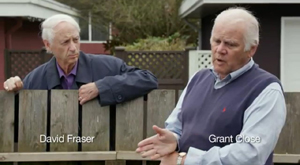 One of the people who portrayed an average British Columbian on the BC Liberals' "Strong Economy, Secure Tomorrow" campaign infomercial is the partner of a prominent provincial board appointee. Another is the husband of a candidate appointed the night before the writ dropped.
Vancouver's Grant Close was in the 30-minute, Pamela Martin-hosted broadcast on Global BC on April 14, which was promoted by a BC Liberal news release that said: "The special highlights the Premier's remarkable ability to connect with everyday British Columbians, showcasing her experiences listening to families across B.C."
Close was seen at the table in The Diner Cafe, listening intently to Clark espouse her ideas about jobs and families.
"The NDP of the past, which is really the same government and the same players are there in the background, they'll all appear if they do become elected," Close said by a wooden fence, gazing below the camera lens. "It will be a repeat of running deficits and a few of the big unions running the store, really."
Close is married to Judy Rogers, who was appointed by Clark to the B.C. Assessment Authority in October 2011 and the B.C. Housing Management Corporation in April 2012. Rogers is also chair of the University of B.C. Alumni Association and past-chair of Lift Philanthropy Partners, the former 2010 Legacies Now. In January, Clark presented Rogers with a Queen's Diamond Jubilee Award. Rogers was paid $10,250 during 2011, for attending 20 B.C. Assessment board meetings. As chair of BC Housing, she receives $15,000 a year.
"They just asked me to do it," Close told the Tyee when reached by phone. "I don't know the dates, I can't remember. Not long ago."
"I think she's tough enough, but she's empathetic to other issues that need some warmth and feeling as well as the bottom-line has to be like this, or that," Close said in the infomercial, during a close-up shot.
Asked if it was unscripted, Close said yes, but he answered no when asked if he is a Liberal member or donor.
"I don't want to make it into a big deal. It is what it is," Close said. "I'm not discussing anymore about how I vote, who I vote for. No more questions, you should vote Liberal and be on with it."
BC Liberal spokesman Sam Oliphant did not immediately respond to an interview request.
Rogers succeeded Ken Dobell as Vancouver's city manager in 1999 and served until 2008, when newly elected Mayor Gregor Robertson installed Penny Ballem. Rogers received a $572,000 severance. Robertson's predecessor, Sam Sullivan, is running for the BC Liberals in Vancouver-False Creek, a riding that includes the in-receivership Vancouver Olympic Village.
Rogers and Close, a former TransLink human resources director, are listed as joint donors to the Van Dusen Botanical Garden capital project and Vancouver Heritage Foundation. They live in a 1912-built heritage house four blocks south of city hall and less than two blocks from Clark's home, in the Vancouver-Fairview riding held by Health Minister Margaret MacDiarmid.*
Seated to Clark's right at the table in The Diner is Adrian Lu of Coquitlam, who is shown in the special with his father Joey, an elder with the Westwood Community Church. There was no mention of Adrian's marriage to Barbara Lu, the Liberal candidate in Port Coquitlam. A news release about Barbara Lu's candidacy was posted on the Liberals' website on April 11, three days before the show aired on Global.
Adrian and Barbara Lu appear in a leaders' photograph on the website of Langley-based Redleaf Prayer Ministries.
Among others featured in the infomercial:
Monica Peacock, proprietor of the Inn Flower Place in Prince George and the winner of the city's citizen of the year in 2012 for her Evening of Pink breast cancer fundraiser.
Peacock was acknowledged in the legislature by area MLA and Justice Minister Shirley Bond on Feb. 25, the day before Clark presented her a Queen's Diamond Jubilee Medal. Elections BC records show a $350 donation to the Liberals on March 17, 2010 for her company, MLP Services.
Gordon Bliss, president of Prince George residential and commercial developer InvestGo Ventures Ltd. Bliss is listed as a "presidential appointee" of the Canadian Home Builders Association of B.C. Bliss hasn't donated to the Liberals since the $395 he gave in 2006. CHBA-BC donated $17,725 to the Liberals since 2009 and hired former government communications director and Liberal strategist Brian Bonney as its CEO in February. Bonney quit less than a month later after release of the Dyble report into the Multicultural Outreach strategy.
David Fraser, the husband of Janet Fraser, who was Gordon Campbell's executive assistant when he was mayor of Vancouver. Janet Fraser later became a contractor for 2010 Legacies Now and she also received a Queen's Diamond Jubilee Medal from Clark.
Elections BC reports show $9,051 in donations from a Janet Fraser to the BC Liberals since 2005, nearly triple the $3,606 by David Fraser in the same period.
With his right arm slung over the wooden fence, standing near Close, David Fraser offered one of the more entertaining quotes of the video: "Christy Clark? She's a tough cookie."
*6:06 p.m.: Riding name corrected to Vancouver-Fairview.