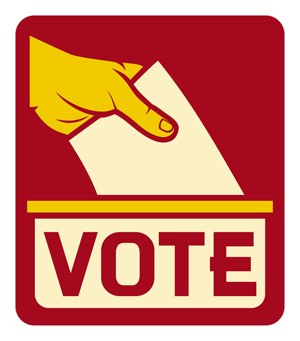 In many deeply-troubled developing nations, the sheer physical act of standing in a long line to cast an election ballot is seen as proof that democracy, despite its flaws, is worth fighting for.
In many wealthy and long-established democracies, on the other hand, it is well known that election turnouts have been in serious decline recently, particularly when it comes to young people in their 20s.
That is especially true in B.C. where, in the provincial election of 2009, only 34 per cent of voters in the age group between 20 and 24 years cast their vote, leaving a stunning two-thirds of that registered demographic without a voice.
Pathetic and alarming, yes, but some see that the issue is less about apathy and more about a failure to engage this demographic in a way that speaks their language.
Worried by this growing indifference to the political process, several local non-partisan groups hope to begin reversing that trend in the run-up to the May 14 provincial election.
They aim to get those alienated by the complex world of party politics to either vote or at least feel as though there are issues they care about. The groups want to encourage people to exercise their political voice.
It's an important effort considering that the last provincial election boasted a dismal turnout from voters. According to a report compiled by Elections BC, out of the 2.9 million registered voters, only 55 per cent cast a ballot four years ago.
The results also suggest that residents new to the region or the country, the unemployed, and people not in the workforce are less likely to vote.
Engaging through digital realm
The Tyee spoke with three groups which are trying to combat this feeling of disenfranchisement through some new approaches.
Samara is a non-partisan organization that "works to improve political participation in Canada," and it has begun a series of facilitated discussions called Democracy Talks. Each discussion takes place in a group of eight to 10 people. A facilitation guide leads them through a structured discussion of democracy, active citizenship, pertinent issues of concern, and how to work through those issues within our democratic system.
These talks are geared towards demographics that, based on research undertaken by Samara, tend to be less engaged -- youth voters, people with low income, and newcomers (either to the country or to the province). In Vancouver, two discussions will take place simultaneously as just over 20 people have registered.
Party X is the brainchild of John Richardson, former founder of Pivot legal network. He left Pivot two years ago and decided to get involved in politics. This has manifested itself as Party X, a non-partisan group dedicated to engaging people in politics through the digital realm. For the upcoming provincial election, Party X will be launching a platform called Ethelo, which Richardson sees as a potential way to crowd-source the mandate of whichever government is elected. The demo launch goes live in April, but there is an example on the site curious users can take for a test run.
Bring Your Boomers is a series of talks organized by Gen Why Media that aims to bring baby boomers together with so-dubbed "Generation Y" to hash out issues and bring forth civic engagement that bridges the generation gap. The next talk, April 3 at the Rio Theatre, is in partnership with the Canadian Centre for Policy Alternatives, LeadNow.ca, Vancity and Get Your Vote On. Candidates from each provincial party, along with three young voters, will discuss political policy around climate change, with questions then being opened up to the audience. The event is presented more as a cultural activity than a traditional public forum, with social media integrated in the question period and live music from local indie band Au4.
The groups have given serious consideration to understanding why, with youth in other parts of the world quite literally fighting for their right to vote, would such a huge portion of B.C.'s young voter population feel so disenfranchised that they don't even make it to the polls.
Reversing alienation
Marissa Lawrence, Samara's B.C. project coordinator for Democracy Talks, said she has found a lot of trouble with the political process. From her point of view, this comes from a lack of acknowledgement of each person's role within a democracy.
"Because there's a lack of recognition of citizen voice, perhaps we're a little bit politically worn down in that sense," she said.
If citizens feel empowered, and feel they are informed about issues they care about, they'll feel the desire to vote, she said.
Tara Mahoney, co-founder of Gen Why Media, calls the symbiotic relationship of disengaged voters and a political system they don't relate to a "vicious cycle."
"People don't engage in the current political system very much, and so it doesn't pay attention to them. And because it doesn't pay attention to them, they get more disengaged and alienated," she said.
Even when reaching out to political candidates to speak at Bring Your Boomers, Mahoney said she encountered resistance to reach out to young potential voters.
"We would describe our audience and they'd be like, 'No, no we can't come to that, why would we show up at an event where nobody is going to vote for us there?' We got that answer a few times before people said yes, so I think there's a calculation that happens, and young people get left out of it," she said.
"And then it's just like, 'Why would I vote? I don't care about any of these people and none of these people are speaking my language' … and so it's this gap being created and getting wider," she said.
"We're trying to bridge that with our events and say, yes, politics might be alienating or boring or whatever, but it's not going to change unless you start paying attention and do something about it. Start changing it, start voting, start doing things that change how decisions are made."
Solve problems together
Lawrence said that part of Democracy Talks is looking at why it's important to engage citizens and get them to participate in the democratic system.
"Their voice will, and can, shape our democracy," she said.
Richardson's vision seems to be aiming for that ideal in the era of digitization. Basically, users will be able to create a profile on the site and rank policy according to where they stand and what is most important to them. Then, they'll be able to see which mandates they would be the most and least satisfied with.
Richardson said that from this, a crowd-sourced public mandate that fairly represents B.C. residents will be created. He hopes the government will follow it, whichever party is elected, although the only power he will be wielding is "persuasion, at most."
"I think governments do feel an obligation to attend to different interests, and this is a way to address the concerns of a diverse group of people instead of just the people who voted for their policy platform," he said.
Bring Your Boomers seems to rely on the message of collaboration as well. Mahoney said that, no matter what generation we come from, we're all ultimately facing the same issues.
"I think the big message is we need to solve problems together … The societal problems we're facing are big and complex and are happening on system levels so we need everyone to participate and try to solve them," she said.