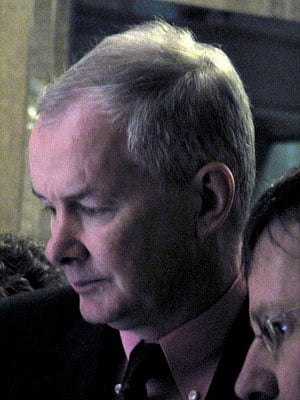 A statement attributed to John Furlong's children, grandchildren and two ex-wives claims the man described in a journalist's court filings is not the man they know.
"During the Olympic excitement three years ago, when John Furlong was finishing a decade of service to this country, we would never have imagined this day, stepping forward to defend our father," said the statement, which was published on The Globe and Mail website. "These shocking allegations are without merit and portray a character whom none of us recognizes."
Laura Robinson's Jan. 21 B.C. Supreme Court statement of defence against Furlong's defamation lawsuit included new allegations that the 2010 Winter Olympics chief executive beat his first wife Margaret when they lived in Prince George from 1970 to 1972 and that he raped an unnamed common-law spouse whom he lived with in Nanaimo between 1979 and 1982.
None of the allegations have been proven in court.
Words like 'a wrecking ball': family
Robinson's Sept. 27, 2012 story in the Georgia Straight claimed Furlong physically abused aboriginal children at a Burns Lake elementary when he originally came to Canada in 1969 as a Catholic missionary. Furlong's Patriot Hearts memoir said he arrived in Canada at Edmonton in 1974. While Furlong emphatically denied the abuse claims, he admitted he lived in Burns Lake and Prince George before permanently settling in Canada. He called his initial three years in northern B.C. "uneventful."
The Jan. 23 statement called Robinson's allegations "unsubstantiated" and said it was from children Maria, Johnnie, Damien, Emma and Molly, ex-wives Margaret and Gail and 11 unnamed grandchildren.
"Imagine trying to explain to your nine-year-old child that an adult in a position of power has written that Grandpa is a racist, a wife-beater and a rapist because of what appears to be personal enmity," the statement said. "This is not objective journalism, but self-serving sensationalistic misuse of the media. Obscene accusations and innuendo have now been printed nationwide and nothing could possibly undo that.
"The public should be deeply concerned at the power of a single journalist whose words can smash into a family like a wrecking ball. We politely ask that you respect our privacy as this will be our only statement."
Robinson reacted with a statement of her own, that said: "This story is not about the Furlong family, and has never been about the Furlong family, and because we do not want them to be in any way a focus of this investigation, that's all we can say."
Legal team to respond
The Furlong family statement was issued the morning after Furlong's public speaking representative TwentyTen Group said Furlong described the new allegations as "completely unfounded." 
"He will be making a full and complete response to these allegations, as with Ms. Robinson's previous allegations, in the course of the litigation commenced by him against Ms. Robinson last fall. His legal team will be filing a formal response in court in the coming days."
Furlong, the TwentyTen Group said, is "confident he will ultimately be vindicated."
"We know we speak on behalf of his many friends and colleagues who came to know him well while organizing the 2010 Winter Games, when we say that we are completely supportive of him," concluded the TwentyTen Group statement.
Furlong remains the executive chairman of Major League Soccer's Vancouver Whitecaps, chairman of Own the Podium and Rocky Mountaineer Railtours, and a director of Whistler Blackcomb and Canadian Tire.
His Nov. 27, 2012 lawsuit claimed he suffered personal and professional harm from the Georgia Straight story, including cancelled speaking engagements.
The Tyee confirmed after the Georgia Straight's Jan. 14 defence statement that a North America-wide convention of YMCA fundraisers planned for Vancouver in April cancelled Furlong's speech because of the publicity from the Georgia Straight story. Furlong's replacement is another Order of Canada member, Rick Hansen.
Exactly a week before Furlong sued Robinson and the Georgia Straight, he headlined the Nov. 20, 2012 Abbotsford Economic Symposium before 300 people at the Abbotsford Entertainment and Sports Centre. Records obtained via Freedom of Information show the City of Abbotsford paid $22,400 (including HST) for his appearance. The May 1, 2012 contract with the National Speakers Bureau required a $10,000 deposit be paid by May 21, 2012 and the $12,400 balance by Oct. 21, 2012.
The contract said Abbotsford would have forfeited the deposit plus all applicable taxes if his speech was cancelled more than a month before the event.
"If the sponsor cancels this agreement less than 30 days prior to the date of the engagement, in addition to forfeiting the deposit, the sponsor will pay to the NSB the balance of the engagement fee plus all applicable taxes on the fee," the contract said.
Due to the nature of this story, comments are closed.