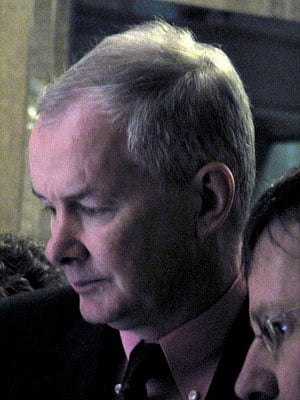 The defence statement filed by the Ontario journalist who is being sued for defamation by John Furlong alleges that the Vancouver 2010 Winter Olympics chief executive groped schoolchildren while he was a gym teacher in northern B.C., beat his first ex-wife and raped his ex-common law wife.
None of the allegations have been proven in court.
Laura Robinson wrote an expose for the Georgia Straight's Sept. 27, 2012 edition, headlined "John Furlong biography omits secret past in Burns Lake," which pointed out inconsistencies in his 2011-published post-Olympics memoir, Patriot Hearts. It also included allegations in sworn statements from eight ex-students that Furlong abused them at an aboriginal elementary school after the Irish native moved to Canada as an 18-year-old Catholic missionary.
Furlong sued Robinson and the Georgia Straight on Nov. 27, 2012, alleging she acted with malice. The Georgia Straight filed its defence statement on Jan. 14 in B.C. Supreme Court.
Robinson's Jan. 21 defence filing alleged Furlong touched the breasts and buttocks of schoolgirls, including Beverly Mary Abraham, who claimed Furlong called her his "favourite princess" and told her she was "my prodigy, you're my favourite out of all the girls."
Furlong met and married Margaret Cook, a schoolteacher at Immaculata, and the two moved to Prince George College where they were resident supervisors at the Catholic high school from 1970 to 1972. Robinson's statement alleged that Furlong physically and psychologically assaulted his first wife, whose face "had a huge bruise" and "her eyes were red and swollen" the morning after a loud fight in their Hostel 2 living quarters at Prince George College that was allegedly heard by several students.
During 1979 to 1982, the statement said, Furlong and his common law wife lived in Nanaimo and he allegedly physically assaulted, bullied and psychologically abused the woman, who was a reporter for a local newspaper. The statement alleged Furlong raped her in a shower.
"The plaintiff felt that he had a license to have sex on demand, which resulted in her being forced to have non-consensual sexual relations on many occasions," said the documents, filed by Robinson's lawyer Bryan Baynham.
"At the end of their relationship, they stopped having sex altogether and she began sleeping in the guest room. The plaintiff entered the room uninvited and forced himself on her, ultimately raping her."
Furlong's lawyer, John Hunter, declined comment on Robinson's defence statement.
"The matter is before the courts," Hunter said.
Furlong, Robinson both claim they were defamed
Robinson denies she defamed Furlong and pleads the defences of responsible communication in the public interest and fair comment.
The defence statement said Robinson was contacted by the former common law spouse and a former resident of the hostel where Furlong and Cook lived.
The allegations in the Georgia Straight story drew a swift, strong denial from Furlong at a news conference on the day it was published. Furlong did, however, admit to coming to Canada prior to the 1974 arrival in Edmonton that is mentioned in Patriot Hearts. At the news conference, he branded his time in Burns Lake "brief" and "uneventful."
Robinson said Furlong's statements about her at the news conference were "a personal and defamatory attack" on her "professionalism, competence and integrity."
"He supported this attack, in part, by asserting that he and defendant Robinson were in contact with one another on many occasions in the past, when in fact, the plaintiff and the defendant Robinson have only spoken to one another on three occasions, namely March 2009, August 2010 and April 2011," the documents said.
Robinson's defence statement details what she said were her numerous attempts to seek Furlong's comment on the allegations that she had gathered since receiving a fall 2009 tip that Furlong had been a teacher in Burns Lake. She did not actively investigate his past until the February 2011 publication of his memoir. He confirmed through a book publicist that he taught at Prince George College.
In the defence statement, she recounted her April 29, 2011 attempt at the Newspapers Canada conference at River Rock Casino Resort to ask Furlong about his past.
"The plaintiff screamed 'stop it, stop it,' turned his back" on Robinson and walked away.
It also said she provided copies of the eight affidavits to Furlong's lawyer Marvin Storrow, but Furlong only responded through Storrow with "a blanket denial of the allegations."
"The (April 10, 2012) letter from Mr. Storrow speaks for itself. The plaintiff did not respond directly or through Mr. Storrow to the questions raised in the email of April 7, 2012 and has consistently refused to respond to questions directed to him directly and/or indirectly aside from making a bare denial and threatening litigation."
Robinson decided to write two further stories about Furlong and the alleged victims. From September to November 2012, Robinson interviewed witnesses in northern B.C. and Ontario.
In his statement of claim, Furlong charged Robinson with further defamation after she contacted Own the Podium's spokesman Chris Dornan in November 2012 with a series of questions. Furlong is the chairman of the taxpayer-funded, high performance sports organization that distributes funds to Canadian sport organizations.
Dornan referred her to Storrow, who did not respond.
Robinson claimed she was simply performing due diligence while working on a story about new accusations and the retraumatization of the prior alleged victims.
The trial date has not yet been set and John Furlong's lawyers had, as of Monday afternoon, not filed a reply to Robinson's defence or the Georgia Straight's defence.
Read Laura Robinson's statement of defence here.
Update to this story, posted Jan. 22 at 5:30 p.m.
A statement issued in the late afternoon Jan. 22 by the TwentyTen Group said Furlong described the allegations in Robinson's defence statement as "completely unfounded."
"He will be making a full and complete response to these allegations, as with Ms. Robinson's previous allegations, in the course of the litigation commenced by him against Ms. Robinson last fall. His legal team will be filing a formal response in court in the coming days."
The statement said Furlong is "confident he will ultimately be vindicated," but his primary concern is the "irreparable harm being caused to his family by this unfounded attack on his character and reputation."
"We know we speak on behalf of his many friends and colleagues who came to know him well while organizing the 2010 Winter Games, when we say that we are completely supportive of him," the TwentyTen Group statement concluded.
The Gastown marketing firm is owned by former VANOC vice-president of marketing Andrea Shaw. Its chief operating officer is former VANOC commercial rights director Bill Cooper. TwentyTen Group acts as the public speaking agency for Furlong and other ex-VANOC senior executives.
Due to the nature of this story, comments are closed.