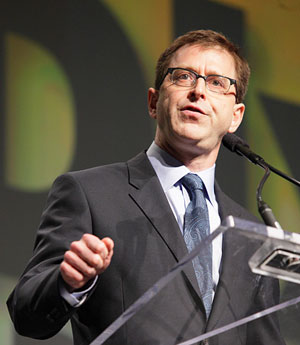 A New Democratic Party government led by Adrian Dix would expand child care, reduce fees for seniors' long-term care, ban the cosmetic use of pesticides, put a moratorium on independent power projects, stop renovictions and create disincentives for exporting raw logs.
A Dix government would start a Ministry of Women's Equality, get rid of the foundation skills assessment (FSA) for students and allow teachers to negotiate class size and composition as part of their contract bargaining. It would reinstate a tax on financial institutions and raise corporate taxes.
Those commitments and others, all publicly available, run contrary to an assertion that has become common in Victoria that Dix won't say what he wants to do if the NDP forms government.
With the NDP ahead in the polls, Premier Christy Clark's talking points in the past year have included suggestions that Dix has a secret plan for the province. The Liberal Party she leads has pushed the theme, often echoed in the media, with a "Searching for Dix's Hidden Plan" website.
In one year-end interview, Dix said people wanting to know what an NDP government would do should look at what they supported as opposition in the last year, rather than dwelling on what's been unsaid.
More instructive is to look at what Dix said in early 2011 while he was running for the NDP leadership, a time when he stressed he was being specific about his promises in his appeal to party members to vote for him. They include proposals that would change the economy, health services, education and the environment.
Some of them Dix has repeated frequently since becoming leader, but many of them he has not. While they may not add up to a full platform and they leave policy gaps, it is worth remembering what they were.
Raw logs and women's equality
While the website for Dix's succesful leadership bid appears to have disappeared from the internet, The Tyee held onto copies of his announcements. In some cases they are specific about dollar amounts, in some they just indicate his intentions, and in others he identifies policy changes that would transform sectors without great expense to the government.
Following are commitments on some of the province's higher profile issues:
- Using financial disincentives to discourage raw log exports. "I am calling for a major increase in the provincial fees levied on raw logs harvested on Crown lands for export, and for a new provincial sales or earnings tax on raw logs exported from private forest lands," he said;
- "I am committed to a Ministry of Women's Equality to ensure that all agencies and all ministries are moving forward on issues impacting equality for women, including the Premier's Office," announced Dix. "The Liberal decision to scrap the ministry was a step backward that I will reverse";
- "I am also committed to expanding legal aid and supporting and financing women's centres and centres dealing with violence against women";
- "I am committed to expand child care, to initiate a provincial childcare system and to pressure Ottawa to play a major role in such a system";
- Reversing the BC Liberal's hike in fees for seniors in long-term care, which in 2011 transferred a $54 million government expense to seniors and their families;
- Stopping the smart meter program;
- Placing a moratorium on independent power producer contracts;
- Renewing the B.C. Utilities Commission process to restore public accountability, restoring moves in recent years that took things like smart meters out of the BCUC's review;
- Enforcing employment standards and improving "the provisions for workers seeking to organize and bargain collectively";
- Reversing B.C.'s position on the Comprehensive Economic and Trade Agreement (CETA) with the European Union to protect the province from "soaring" prescription drug and health care costs.
Health and education
Several proposals addressed education:
- "Changing the school funding formula to help keep schools open" and "increasing the resources and services for students";
- Ending the current Foundation Skills Assessment program (see Sidebar) and replacing it with something more comprehensive;
- Restoring teachers' right to negotiate class size and composition;
- Eliminating the interest on student loans;
- Creating a grant program for post-secondary students with a budget of $100 million a year, building on a plan to restore grants of $18 million a year distributed based on need, and spending $30 million towards eliminating the interest on student loans.
And the former health critic had several policies aimed at improving care and containing costs, particularly for prescription drugs:
- Requiring B.C. hospitals to buy locally grown food, a move he said would support the province's agriculture industry and benefit patients;
- Expanding reference-based pricing where the government pays for the lowest cost option when there's no therapeutic difference between different priced drugs;
- Increasing support for the Therapeutics Initiative (T.I.), a body at the University of British Columbia that gives independent assessments of the evidence on prescription drugs. The T.I. would be given a stronger voice in the province's drug review process, he said;
- Increasing support for academic detailing, a program where doctors are provided "objective research" on drugs, a way of counterbalancing what they receive in promotions from drug company representatives.
No more 'renovictions'
Several Dix policies were aimed at improving things for renters:
- "Eliminating problematic sections of the Residential Tenancy Act that permit steep rent increases and tenant harassment, and introducing new rules to end 'renovictions' and providing advocacy services for renters." Dix said he would give existing tenants the right to move back into a renovated suite after a renovation at the same rent they paid previously. He also said he would end the "georgraphic market increase clause" that allows landowners to jack rents when neighbouring renters pay more;
- Landowners would no longer be allowed to ask tenants to voluntarily agree to higher rents, a clause Dix said makes tenants vulnerable to intimidation;
- A "Tenants' Assistant" program would be available to renters to provide information and advocacy, a service that would be particularly useful to renters whose first language is other than English;
- The residential tenancy office would be required to track and publish statistics on evictions, such as how many were filed, where, whether they were disputed and whether they were overturned.
And there was a long list of environmental commitments:
- Creating a legislature standing committee on sustainability tasked with examining ways the government can integrate sustainability into government policies and monitor progress;
- Developing a long-term strategy for old-growth forests, which would include protection of Avatar Grove and other specific areas subject to immediate logging plans;
- Ending the carbon tax's revenue neutrality where the amount collected is returned via other tax cuts, and instead using it for transit, energy-efficient infrastructure and other partnerships to reduce greenhouse gas emissions;
- Rewriting the environmental assessment laws to include "sound scientific analysis, genuine participation of the public, full consultation with First Nations and public credibility";
- Writing long overdue endangered species laws following public hearings on the subject and broad public discussion;
- Holding "accountability reviews" on the public concerns about fracking, sour gas and GHG emissions in oil and gas production;
- Intervening against Enbridge's proposed Northern Gateway pipeline from Alberta's "tar sands," rejection of which would also prevent the growth of oil tanker traffic on the coast;
- Paying for an "energy conservation megaproject" that would see the retrofitting of public and private buildings to reduce their energy use, bills and carbon emissions. Dix did not set a budget or a target number of retrofits, but said "these investments more than pay for themselves through reduced utility and maintenance bills." They would also generate thousands of jobs, he said;
- Expanding the province's marine protected areas, stopping commercial development in parks and creating new parks and protected areas where more protection of natural areas is needed;
- Increasing the number of staff in parks to help the public and protect the parks;
- Establishing environmental youth teams, a move that would create summer jobs for young people and provide a pool of labour to work on environmental stewardship projects in parks or elsewhere. Dix proposed to create 1,500 positions through $14.5 million in annual funding;
- Working with First Nations, the forest industry, communities, forest trade unions and conservation groups to develop "new forest management strategies to address carbon sinks, old growth and ongoing transition to second growth utilization";
- Accelerating the implementation of the Great Bear Rainforest agreements;
- Banning the use of pesticides for cosmetic reasons, to beautify lawns or gardens where there is no health, food protection or environmental reason to use them;
- Introducing a water protection act that would prevent unregulated water pollution, protect groundwater and require management plans for all river basins;
- Closing loopholes that allow properties in the agricultural land reserve to be developed and giving the agricultural land commission enough resources to do its job;
- Establishing an agricultural policy to support local food production, processing and procurement.
Making a mandate
Finally, there were a couple measures aimed at raising revenue, making taxation fairer and paying for some of the commitments Dix made:
- Rolling back corporate taxes to 2008 levels, a reverse of the tax cuts associated with the carbon tax, which would raise government revenue by $385 million;
- Returning the minimum tax on financial institutions to where it was in January 2008, which would bring in $100 million a year.
Dix has since also said he's open to raising personal income taxes, but only for people with incomes over $150,000.
At least some observers made note of Dix's promises on the way to the leader's office. For example, Ken Wu, founder of the Ancient Forest Alliance, was particularly interested in the commitment to develop a strategy for managing the province's old growth forests.
"There's no details and he hasn't repeated it since he became the leader, but we're going to hold him to it, and all his MLAs and candidates," said Wu.
The MLA from Cariboo North, Bob Simpson, who parted with the party in 2010 to sit as an independent, has long raised concerns that an NDP government will be elected without any mandate to do anything if they fail to articulate a vision for the province.
"They've committed to proving to people they are not the socialist hordes, (so) they're not being very creative on the revenue side," Simpson said. "I would like to see more creative thinking around how they're going to realign the revenue side so they can adress some of the things that need to be addressed on the spending side."
He questioned the goal of having B.C. be the lowest taxed jurisdiction in Canada. "I think there's no reason we couldn't be in the middle," he said.
The provincial legislature is scheduled to return on Feb. 12 for the speech from the throne, followed by a budget on Feb. 19. It won't be long after that until all the parties release their platforms with the provincial election set for May 14.
When the NDP releases its platform, it will be interesting to see how well it reflects what Dix committed to during his run for the party leadership.