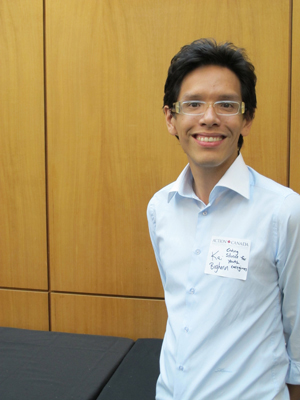 Kai Bighorn was 16 years old when his father experienced congestive heart failure in 2000. Although he survived, it started a role reversal of sorts between father and son: where once his dad took care of him, Bighorn was now helping to take care of his dad.
"I took on a lot of the outdoor work and helping my mom with cleaning around the house. Being there for dad if he needed anything," Bighorn recalled.
His father's health continued to deteriorate: by 2005 he was on dialysis at home, and by 2008 had broken his ankle and had difficulties getting out of bed. Both of Bighorn's siblings had left home by that time, leaving Bighorn and his mother to look after dad.
By June 2008, Bighorn had become his dad's full-time caregiver. He was just 24.
"In life we're given certain tests and difficulties, and you always need to find the good in everything," he told The Tyee.
"I had a wonderful relationship with both of my parents, and from this experience I've learned and gained several life skills in terms of time management and prioritizing what I needed to get done during the day, and it gave me a sense of responsibility."
But while there was some help available to his mother in terms of support groups and even a federal tax benefit, there was nothing available for Bighorn.
It's that lack of support for and awareness of youth caregivers that sparked a panel discussion by Action Canada in Vancouver last week as part of its "Public Dialogue on Challenges and Change in Canada's Education Systems."
"One of the things [youth caregivers] need is just an acknowledgement that this role is happening in families in Canada," said Grant Charles, an associate professor of social work at the University of British Columbia and a speaker on the panel.
"A lot of these kids don't need therapeutic services; they don't need anything that formal. What they need is a support process of some sort. That could be just a teacher or support groups."
What is a youth caregiver?
Youth caregivers are defined as anyone 25 years or younger who is one of the main caregivers (or the sole caregiver) for a family member experiencing illness, disability, or addiction, or for younger family members.
It's unknown how many young caregivers there are nationwide. The only study on youth caregiving in Canada is a three-year research project conducted by Charles and fellow school of social work associate professor Sheila Marshall and director Tim Stainton.
The first stage of the study was a survey of Grade 9 to 12 students in one Vancouver high school in 2009. Of the 700 to 800 of students who responded, 12 per cent identified as youth caregivers. That's similar to recent data out of England that found 10 per cent of youth are caregivers.
Charles says because his study is localized to one school in the province's Lower Mainland, it's difficult to draw national conclusions. He's hoping a question about youth caregivers in this year's McReary Adolescent Health Survey, which is given to 50,000 young Canadians, will produce more robust national data.
But the UBC study did produce interesting results: the percentage of male and female student caregivers was even, and no one socioeconomic status or nationality stood out as providing more or less care for their families.
When compared to their non-caregiving peers, Charles said there was no difference in their stress levels -- all youth experienced high levels of stress. But the reasons for their stress were different.
"Their peers were stressed because they were doing music lessons and sports and because their day was fully-booked that way. Young carers were stressed because of the responsibility of caring for an ill or hurting family member," he told The Tyee.
Young caregivers are also missing out on important social milestones in their lives, said Charles, including dating and moving away from the family and becoming more independent.
There were negative aspects for Bighorn. His dad developed gangrene on one of his legs, which Bighorn described as emotionally and psychologically scarring for him. He and his mother also neglected their own health, eating junk food, sleeping little, and smoking to relieve the stress. His mom was also between jobs, adding to pressure on the family.
"That was my coping mechanism -- it was either listen to music, be alone in my room, or smoking. They gave me a sense of relief," said Bighorn.
Charles says caregiving can negatively affect school performance, due to lack of sleep or missing classes to take care of family members. And while some young caregivers are open to talking about their experience, others are ashamed or afraid to talk.
"If you're young [and] caring because your mum or dad are both alcoholics or have a mental illness, lots of people feel stigma about those two conditions and they don't talk about it outside the family," said Charles.
"And sometimes there's a fear, depending on the circumstances of the family, that child protection is going to get involved and that the kids will be removed from the home."
Aboriginals overrepresented: former principal
Former principal of Vancouver's Grandview Elementary Caroline Krause, who also spoke on the Action Canada panel, believes one group is overrepresented in youth caregivers: Aboriginals.
"The percentage of young caregivers in an elementary school like Grandview I would think would be much higher, and the same in these rural and remote reserve communities. Families sometimes have no one else they can depend on: if they are sick, somebody has to help, and it quite often is the oldest child in the family, and I have seen that many, many times," said Krause, who is half Cherokee and a former member of the National Panel on First Nations Elementary and Secondary Education.
"The older child bringing the five year-old to school had to get the child up, get him breakfast, get him fed, take him to school, and take him home again."
Bighorn, who is Sioux, acknowledges a subtle expectation in his culture that one should take care of one's family members. But he says there isn't an outward pressure, and he never felt forced to care for his father.
"If it's expected of you and you're forced to do it, you're not going to do as great a job as a person who would feel called to do it and wants to do it, and we notice that with people who want to do it -- the care is a lot more substantial than someone who is forced to do it," said Bighorn.
"I wouldn't be able to live with myself if I left my mom to do that by herself, so I felt called to do it."
Who's taking action?
In addition to the survey of high school students, Charles and his colleagues interviewed 50 adults who had been young caregivers. Charles recalls some were reduced to tears, saying no one had ever asked them about their caregiving before.
"One of the things they need is just an acknowledgement that this role is happening in families in Canada. If we're talking 12 per cent, it's not an unusual experience. It could happen to any family," he said.
The third part of the study was interviewing child, youth and adult mental health workers, as well as child protection workers. In England, where knowledge of youth caregivers is much greater, Charles says anyone who comes into contact with children as part of their job are trained to ask if youth are caregivers.
But in British Columbia, the study found most weren't aware of young caregiving, and even if they were, were unlikely to do anything about it.
"Sometimes it was a lack of training on what to do, sometimes it was a lack of services, sometimes, with some of the adult mental health workers, their primary client was the adult with the mental health condition and they don't work with the family beyond that," he said.
The Cowichan Valley Family Caregivers Support Society, which has supported adult caregivers in the Cowichan Valley for about 20 years, did take note of young caregivers, however. Concerned with the number of youth they saw providing care, they started the Youth Caregivers Project in 2009, a three-year project dedicated to raising awareness and pressing governments to acknowledge and support youth caregivers.
Funded by Human Resources Development Canada and the Vancouver Foundation, the Youth Caregivers Project created a resource group of 15 caregiving and non-caregiving youth, including Bighorn. In their first year, they started a support group for young caregivers in the Duncan, B.C. area, and made a documentary film, Ending the Silence, in an effort to raise awareness.
"We've been presenting that film to various schools, social services agencies, community organizations, and we've made over 70 presentations [since 2010]," said Dan Vaillancourt, coordinator of the Youth Caregivers Project.
"[The resource team is] carrying the project forward by continuing to make presentations and to meet with some of the decision-makers that can hopefully change policy in Canada with regards to youth caregivers, so that they can be recognized as a legitimate group of people who deserve support."
No one on the Action Canada panel called for the end of youth caregiving because it could both drive youth caregivers underground, where they'd receive even less support, and also eliminate some of the positive aspects of caregiving like strengthening familial bonds.
Instead the panel called for supports for youth caregivers, like a safe place to talk, either in a support group or one-on-one counselling, family counselling, awareness and outreach in schools from teachers and administration, respite care, recreational activity support for youth caregivers, academic support, and financial support.
A taskforce of seven Action Canada fellowship members are working on spreading the word about youth caregivers through their own website Teenage Caregiving in Canada: Building Awareness for a Stronger Generation and are working on their own report on youth caregivers in Canada.
Vaillancourt, who was also a speaker on the panel, hopes the more recognition there is across the country, the more presence they'll have in front of provincial and federal governments.
"There's so little being done right now in comparison to other countries," he said.