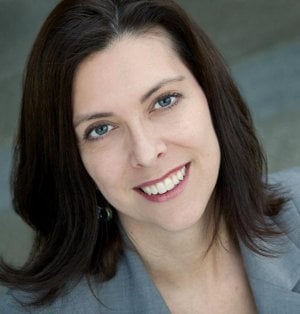 Just three years into her political career, BC Liberal Stephanie Cadieux took on her fourth cabinet portfolio earlier this month when Premier Clark appointed her to the controversial Children and Family Development portfolio.
Cadieux told The Tyee she is "excited" to work in a ministry that affects so many children and families in the province.
Replacing Mary McNeil, who announced her retirement from politics only a week before, Cadieux is the fifth politician to head the ministry in six years. With a provincial election just eight months away, there's no guarantee Cadieux will remain minister for long.
But while McNeil's retirement necessitated a replacement, social workers in the province are wary of more change, especially when they're struggling with the implementation of a new case management system. By appointing a less-experienced minister to the portfolio, social workers fear the worst is yet to come from Premier Clark's government.
"Any inexperienced minister would be a concern, because it is an extremely important ministry," says Carol Ross, chair of the BC Association of Social Workers' Child and Family Welfare Committee.
"It's about the welfare of children, and the impact on families across the province can be huge. So I'm hoping (Cadieux) has the wisdom to rely on her skillful staff and not attempt to make radical changes to the whole database problem."
Inheriting a messy ministry
Since its creation in 1996, MCFD has struggled. After a series of high profile deaths of children in government care in the early 2000s, an inquiry by Justice Ted Hughes produced what's commonly referred to as the Hughes Report in 2006 with 62 recommendations for improving care for vulnerable youth in B.C. These included the creation of the representative for children and youth, and stopping the "revolving door" of ministers -- 11 in 10 years.
The portfolio has changed hands five times since the report's release, but in 2010 then-minister Mary Polak told The Tyee she hoped the turnover stopped with her: "I know there's a reputation for ministers not wanting to be in this spot, but when (former premier Gordon Campbell) asked what I was interested in, I told him I wanted this ministry and I was very pleased when he decided to take me up on that," she said.
"(Former MCFD minister) Tom Christensen was a long serving minister; I hope I am."
But after high profile clashes with the Representative for Children and Youth Mary Ellen-Turpel LaFond, which peaked when Turpel LaFond successfully sued the government for access to cabinet files in 2010 to complete an audit on MCFD's Child in the Home of a Relative program, Pollak was replaced as minister of MCFD by McNeil in March 2011.
Compared to Pollak, McNeil brought stability to the ministry: "She went a long way to mending the relationship with the Representative's office, and when that's a positive working relationship it ripples down to be a benefit to social workers," says Ross.
But that stability was put to the test earlier this year when the ministry's transition to the new Integrated Case Management (ICM) system from its old Management Information System resulted in so many technical problems that social workers had to enter information into two different case management systems. If they worked for a Delegated Aboriginal Agency, which serve for aboriginal children and families in B.C., social workers had to use a third system, the Cowichan Tribes-designed Best Practices case management system, too.
One of McNeil's last acts as minister was to pledge another $12 million and 150 new auxiliary workers so social workers could spend more time working with families and kids and less time trying to decipher the complicated ICM system. But the issue is far from resolved.
"I can't stress enough that the problems with the (ICM) system have tipped workers and the system over the edge," Ross says.
"There are huge privacy issues and huge concerns about workload issues and stress levels for workers, and therefore they're unable to spend the time they want to spend and need to spend providing families with services."
From controversy to controversy
Cadieux is no stranger to cleaning up the messes of her predecessors, however. Appointed to the Ministry of Social Development less than a year ago, Cadieux became the fall person for the Community Living B.C. (CLBC) scandal despite the fact it happened under her predecessor, former minister Harry Bloy.
Although Bloy was demoted for his involvement, the revelation that CLBC managers would see hold back pay included in their normal salaries was widely interpreted by the media and public as a financial bonus for bad work. After just a few months as minister, Cadieux faced much criticism over a move that was apparently in the works long before she took the portfolio.
Cadieux's work with the ministry draws praise from some. Before she was elected in 2009, she worked with Spinal Cord Injury B.C. for eight years. A paraplegic herself, Cadieux was the main driver behind the creation of a successful peer support program for new spinal cord injury patients in the province.
It's the same compassion and practicality that former Spinal Cord Injury B.C. colleague Maureen Brownlee saw in Cadieux's work as minister of social development.
"Speaking personally, I think she did a tremendous job. Stephanie is really knowledgeable about the issues and she's a really competent manager," Brownlee told The Tyee. "She's really thoughtful and very strategic and decisive."
From her own perspective, Cadieux believes she left social development better off: "I was able to get out and talk to people and get a sense of what the depth of that problem was, along with the reviews that we had done, (and) I think we got a good go-forward plan," she says.
"We have been putting the steps in place over the year that we laid out and I believe that work is well underway and will continue."
In shifting jobs, Cadieux told The Tyee she is excited to be running a ministry now that can make a difference in the lives of children and families who live in circumstances that make them vulnerable. But as minister of social development her actions had an effect on vulnerable children, too.
When Opposition New Democratic Party member Jagrup Brar spent a month living on welfare in Vancouver's Downtown Eastside neighbourhood earlier this year, by the end of the month he had lost weight and was $9 in debt. Yet Cadieux denied there were issues with the province's social assistance levels.
"It's a careful balance we always have to find between what we are able to provide from a financial perspective and what taxpayers feel comfortable with, as well," she told The Vancouver Courier at the time.
Six months later Cadieux was announcing "modest changes" in social assistance that will come into effect next month. Some of the changes included covering dental care for children on social assistance and raising back-to-school bonuses to $100 from $84 for five to 11 year olds, and to $175 from $116 for children over 12.
MCFD in crisis: Young
For Tracey Young, it doesn't matter who holds the minister's position in MCFD. The social work advocate who quit MCFD in 2009 and now works as a psychiatric social worker says the Liberal government have been running the department like a business for over a decade, and the problems in the ministry will continue until they change their ways.
"The continuing problems of MCFD are very much related to the last decade of employee cuts, hiring freezes and ever-present re-organization and changed processes which have detracted from the core activities of MCFD, most importantly, a focus on protecting at-risk children and youth," she told the Tyee via email.
Young says MCFD is in an almost constant state of crisis, and that the current ICM issues are predictable because the ministry failed to consult its own employees before introducing the new system. She doesn't foresee appointing a new minister as bringing any change, positive or negative, to the situation.
"(Minister Cadieux) is neither responsible for the state of MCFD, nor will she likely have much to do with the crisis B.C.'s child welfare system will continue to experience until they make real improvements," she says.
"Making real change and improvements in the child welfare system of care is going to require the will of the B.C. government and a much more strategic action and investment plan for recruitment, health and safety and retention of frontline workers."
Ross says Premier Clark is running the risk of undoing a lot of good relationship building by appointing a relatively new minister to the portfolio, although McNeil was elected for the first time in 2009 as well. In addition to the fragile relationship with Turpel-LaFond, Ross says the B.C. Association of Social Workers has a good working relationship with Deputy Minister Stephen Brown.
"Our hope certainly is that there won't be any changes at (the deputy minister) level because that's a key position, especially when you're so close to an election. Any changes are going to have an impact on social work staff," she says.
But Cadieux says she has no plans to make big waves at her new ministry. Acknowledging the uncertain future of her role as minister, she told The Tyee she would be staying the course McNeil set for the ministry, including keeping Brown as deputy minister.
"I can totally understand from the perspective of individuals who work in the ministry how unsettling it is to get a new minister on a regular basis. I am certainly going to do everything I can as minister to maintain a steady hand over the ministry, following through on the plans laid out by (McNeil)," she says.
"My goal is just to constantly find ways to improve the way that we serve children and families in the province, and I think the way that we do that is collaboratively with our stakeholders."