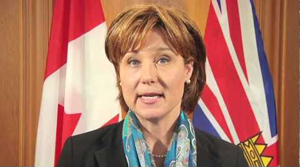 Eight months ago a British Columbia cabinet minister said it was too soon to consult the public on what might be in a trade agreement with the European Union. Now the premier says it's too late.
"No, we don't intend to do that," Christy Clark told NDP Leader Adrian Dix, when he asked during debate on her office's budget last week about consultations on the Comprehensive Economic and Trade Agreement.
The negotiations are between Canada and the EU, but provinces have been at the table as a deal would affect areas like energy, the environment, education, transportation and health that are largely matters of provincial jurisdiction.
"The discussions are, I'm advised, getting closer to the end," said Clark. "We don't intend to do any further consultation on it."
That's a very different answer than she gave a year ago in the same forum, when she said, "There will be, I'm told, consultation on this agreement. There will be many avenues for the public's input."
She later told The Tyee that the public was welcome to contact her about the agreement through the government's website.
Bell 'anticipated' consulting
Clark's answer last week also differs markedly from the one Jobs, Tourism and Innovation Minister Pat Bell gave The Tyee in Oct. 2011, when he said, "I'm anticipating we will still do that, it's just unclear what we're consulting on at this point."
Bell said at the time he had already consulted extensively with the Union of B.C. Municipalities on the agreement.
Municipal governments have expressed concerns about elements of the agreement that may make it more difficult for them to buy locally or to unprivatize any previously public services.
The B.C. government would likely embark on a wider public consultation if it looked likely the agreement with the EU would succeed, Bell said eight months ago.
Between the time when Bell said it was too early to consult, and last week when Clark said it was too late, there has been no solicitation of public views on the agreement.
Nor has any level of government laid out for the public what is being negotiated, citing confidentiality. Indeed, in April as federal ministers pushed the deal, Bell told The Tyee that a non-disclosure agreement prevented him from giving the province's positions on anything that might be up for discussion.
Reversal disappointing, says Dix
"The government seems to have backed down on its commitment to openness and consultation," said Dix in a phone interview. "That may not be surprising, but it's disappointing."
An agreement will likely raise costs for individuals, municipalities and the provincial government, he said. At the same time there appears to be little benefit to British Columbians, he said.
Leaks from the negotiations have suggested the EU is seeking to extend patent protections for pharmaceuticals by as much as five and a half years. One report suggested such a change could cost B.C. in the order of $250 million a year, he said.
"There's a lot at stake for the public health care system," he said. "I don't know how a Canadian government could negotiate that away for us, or why... If provinces don't take a strong position on this question in the final agreement we may find the interests of provinces and individual taxpayers left out of the equation."
During last week's debate, Clark said she and all other premiers have all written to the federal government expressing concern about the impact an agreement might have on the cost of pharmaceutical drugs if it moves ahead with changes to patent rules.
"We're at least pushing them to take some action," Dix said. "It shows our efforts at least caused the province to write a letter to the government, and that's a good thing."
Clark said during the debate she would look into releasing a copy of that letter to the opposition, but Dix said he's yet to receive it and will follow up with her office.
A spokesperson in Clark's office told The Tyee via email that letters went from Health Minister Michael de Jong's office, not the premier's.
A ministry spokesperson said he would look into whether the letter or letters could be released.