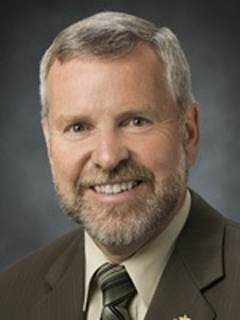 In a blow to Premier Christy Clark's leadership, Abbotsford South MLA John van Dongen has resigned from the BC Liberal Party and joined the BC Conservatives.
"I had hoped that there would have been renewal in my party and in government," van Dongen said in a speech to the legislature. "But in the past 12 months, that has not happened. Indeed, every week constituents question government actions and issues that I am not able to defend."
The move comes with two byelections underway and 14 months before the next general election. Polls have shown the Conservatives gaining on the Liberals, with both parties behind the NDP. The Conservatives are expected to be competitive in at least one of the byelections.
"What I believe people expect from political leadership are core values that include integrity and a genuine commitment to public service," said van Dongen. "When more and more decisions are being made for the wrong reasons, then you have an organization that is heading for failure."
He said that while he acknowledges his own flaws, he has always tried to conduct himself and serve his constituents with integrity. He criticized the $6 million the government spent on legal fees for the people convicted in the Basi-Virk trial and the recent collapse of a $35 million deal with Telus for the naming rights for BC Place.
"There have been more lapses in accountability and I expect more," he said.
John wasn't happy: Coleman
For 16 years van Dongen has served as an MLA and was a cabinet minister for eight of them. He has served as a backbencher after resigning in 2009 from solicitor general after his driving record, including losing his license over speeding tickets, became public.
Liberal house leader Rich Coleman said that while van Dongen had warned his caucus colleagues he was resigning from the party, he had not told them he planned to join the Conservatives. He said he was hurt that van Dongen questioned Liberal members' integrity. "I don't think it was fair for him to cast a shadow on a group of people," he said. "When you make those comments you're stepping way over."
Coleman responded by suggesting van Dongen's judgement was impaired by problems in his personal life.
"I think John's had some difficulties ever since he stepped out of cabinet," Coleman said. "I've been concerned about John as a friend for a long period of time. He's been struggling with his role in public life and what have you."
He declined to be specific, but said van Dongen switching parties may turn out to be to the Liberals' advantage. "Over the next few weeks we'll find out more things in and around this decision that will actually maybe drive the wedge the other way," he said.
Coleman said he doubts other Liberals will follow van Dongen, and that the timing could have been worse. "I'd rather it happen today than it would a year from now," he said. "We'll get busy, we'll find a new candidate in his particular riding and he'll lose to us in the next provincial election."
BC Rail questions
"I'm honestly not sure what Rich is talking about," van Dongen said.
He acknowledged that his marriage ended six years ago and that in the last year he entered a relationship with his constituency assistant Sherri Wacker.
He also said that some have raised concerns that she is paid more at $78,000 a year than other people in her position, but said she is the only employee in the office and that she does a good job and earns the pay. He said he set the salary before they entered a relationship.
A spokesperson for van Dongen provided an April 21, 2011 legal opinion saying it would be inappropriate to terminate Wacker's employment because of the relationship and might be contrary to the Human Right's Code.
His departure from the BC Liberals is largely the result of Premier Clark's leadership, he said. "It is significantly about the leader," he said. Early on he had concerns, he said. "I stated my views about my assessment of her leadership capacity, including dimensions that revolve around integrity, around competency to do the job and around commitment to public service."
The difficulty in getting details about the collapsed deal with Telus Corp. for naming rights of BC Place stadium was the last straw, he said. "I couldn't in good conscience continue to support the premier. I didn't have sufficient confidence in the integrity, the foundation of the party, to carry on."
He also said he continues to have questions about Clark's involvement in the BC Rail deal and about the $6 million that was spent on Dave Basi and Bobby Virk's legal bills, despite the fact they plead guilty, contrary to government policy.
He said he has hired Vancouver lawyer Roger Mcconchie to investigate the outstanding questions.
Conservative gain
Conservative leader John Cummins welcomed van Dongen in a press conference at the Hotel Grand Pacific.
"In the past year we've reshaped B.C. politics and are the fastest growing party in the province," he said. "John's joining us today is proof of that."
Cummins said the Conservatives have gained a great MLA who will be integral to their team. "I'm looking forward to working with John. He's a man of great passion, integrity and honesty."
He added, "He gives the BC Conservatives a crucial voice in the people's house and will hold this Liberal government to account."
Picking up van Dongen will hopefully give the Conservatives a boost in the byelections and help the party build to next year's election, he said. The party provides a good option for voters, he said. "Common sense voters need an option that offers both economic management and ethical government."
NDP house leader John Horgan said van Dongen's move represents a "seismic shift" in B.C. politics. "He started as a BC Liberal under Campbell, he stayed through the Campbell term as government, and chose today after 12 months under Christy Clark to head for the door. I think that speaks to a fundamental challenge with the current government."
It's disappointing that Coleman cast aspersions on van Dongen's personal life he said. "Christy Clark is the loser today. John van Dongen has clearly said to his constituents he's going to put them first and not the party line."
"I can't say it's a total surprise to be honest," said Kevin Falcon, the deputy premier and finance minister. "John's been indicating he's been upset about a few issues for a long time."
Falcon said he's worked with van Dongen for 10 years. "I like John, I respected John, I still do," he said. "That's obviously a decision he's made after some thought and he'll have to live with the consequences good or bad."
He doesn't expect more MLAs to follow van Dongen's lead, he said. "My sense is there would be no more. I'm not aware of anyone thinking along those lines."
People are leaving the Liberals in droves, said Cummins.
If he were having similar discussions with other Liberal MLAs he would not be able to say anything about it until the time comes, he said. "Just say I smiled and shrugged."
[Tags: Politics.]