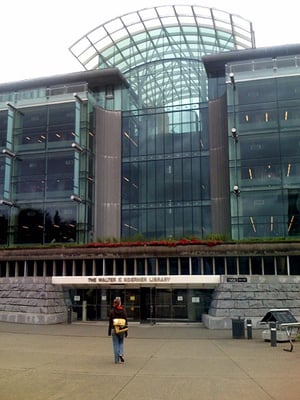 The government will look at how much public bodies pay for carbon offsets compared to what they actually cost as part of its review of the Pacific Carbon Trust, Environment Minister Terry Lake said in a recent interview.
"Over time, we want to make sure that whatever the public service is paying into it is kind of in balance with what they're buying those offsets for," said Lake.
Schools, health authorities and other public bodies are required by law to become carbon neutral by paying the Pacific Carbon Trust $25 for each tonne of greenhouse gasses they emit, regardless of what it costs the PCT to offset those emissions.
In 2010, that added up to $1.5 million for the University of British Columbia, $1.15 million for Vancouver Coastal Health and $663,998 for BC Housing. The Tyee published a full list in February.
While the PCT details on its website how many tonnes of offsets it buys from private companies that include Encana, Canfor, Timberwest and others, it does not say what it pays for them. Nor would a spokesperson for the agency provide that information, saying it can't for "competitive and contractual" reasons.
But the PCT appears to pay much less than $25 per tonne for the offsets it buys from the private sector to counter those public emissions.
PCT buying low, selling high
The PCT's service plan says it has a performance measure of paying less on average than $25 per tonne of offsets, and while it says it did that in fiscal 2010-2011 and forecasts doing so in the following four years, it doesn't list any actual average prices.
In a July 2011 article for The Tyee, Ben Parfitt estimated that the PCT paid just $5.70 per tonne of offsets from the Darkwoods forestry project, which made up more than half the offsets the agency purchased in 2010.
The PCT's summary financial statements provide further clues to what it's paying. In 2010-2011, the PCT paid $3.42 million under strategic acquisitions for "operating and administration," a line item that includes offsets. That figure is forecast to rise to $6.38 million in fiscal 2011-2012.
Over the same two fiscal years, the PCT reports $18.7 million for offset revenue. That is, it will have taken in roughly double from public bodies what it is spending on offsets.
By 2014-15 the line item that includes offset purchases (along with administration) will have grown to $12.4 million, while sales to the public sector are expected to hit $20 million.
Over the entire five years covered in the service plan, the PCT is projected to receive $78.7 million from public bodies for offsets, but will have spent just $43 million to match them.
Government considering options
As the chair of the PCT's board of directors, Chris Trumpy put it in his Jan. 9, 2012 letter to Finance Minister Kevin Falcon included in the service plan, "Looking forward, Pacific Carbon Trust expects to generate surplus operating revenue, which will increase the size of the net assets to 2014/15. The Board of Directors is working with the shareholder to identify potential uses for these funds."
As things stand, the PCT projects having net assets of nearly $38 million by 2014-2015.
The price the PCT pays for offsets goes up and down, said Environment Minister Lake. "I do know in most cases it's lower than the $25," he said. "When we started this we set it at $25, not knowing what the price of carbon would be, because of course it varies. That's why it's a market."
As part of the ongoing review of the PCT, the government will look at the difference between what the agency buys and sells offsets for, and if there's a gap will look at either using it to create a fund or lower the cost to public bodies, he said.
The amount public bodies pay the PCT for offsets should be compared to the market price in regular reviews since "you really don't know what it's going to be in the future," Lake said.
Public bodies do appear to be overpaying for carbon offsets, but that's not the PCT's biggest problem, said NDP environment critic Rob Fleming.
The BC Liberals need to explain whether there's a large operating overhead at the PCT or if it's banking money for other purposes, he said. "Either way, the fight against climate change in B.C. and other jurisdictions requires public support," and is therefore dependent on openness and transparency, he said. "The BC Liberals are failing that test and they risk losing public confidence."
Still, the main problem with the PCT is it is taking money from public bodies to fund projects in the private sector, leaving schools and hospitals cash starved for their own emissions-reducing projects, he said.