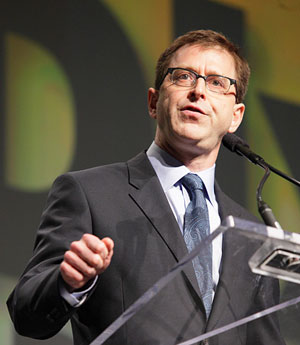 British Columbia has been active in negotiations towards a trade agreement between Canada and the European Union, but won't consult the public on it until things are further along, said Pat Bell, British Columbia's minister for jobs, tourism and innovation.
"I'm anticipating we will still do that, it's just unclear what we're consulting on at this point," said Bell.
B.C. New Democratic Party Leader Adrian Dix said that while Canadian negotiators have been secretive about their positions, they appear to be selling out the public interest with the B.C. government's eager participation.
Negotiators met in Ottawa last week for a ninth round of talks on the proposed Comprehensive Economic and Trade Agreement (CETA). While negotiations started a few years ago, in recent rounds, Canadian provinces, whose interests are affected, have been at the table.
"B.C. continues to be active at the table around the CETA agreement," said Bell. "There's a few key areas that are very important from our perspective. Certainly, our supply managed industries we're very sensitive about. That's the dairy industries, poultry industries, those sorts of industries."
Municipalities, as reported on The Tyee in July, have concerns, too. "The ability for municipalities to make sure they can protect their interests over what they have to tender out, and of course water is a huge one for us as well," said Bell.
Consultations promised
Last spring, Premier Christy Clark promised there would be public consultations on the CETA. Responding to a question from New Democratic Party Leader Adrian Dix during debate of the budget for her office, Clark said, "There will be, I'm told, consultation on this agreement. There will be many avenues for the public's input."
She later told The Tyee that people were welcome to contact her through the government's website regarding the CETA.
The NDP filed an FOI request with the premier's office for any and all records regarding consultations on the CETA, but received a response saying no such records were located despite a thorough search having been conducted.
Bell said he has consulted extensively with the Union of B.C. Municipalities (UBCM) on the agreement, and a wider public consultation is likely ahead if it looks like the agreement will succeed.
"[It's] unclear to us where the CETA agreements are going," he said. "Certainly lots of controversy going on in Europe, so lots of questions whether this will be completed or not. It's important for us to be at the table."
The minister's comments echo what Don White, the executive director of the trades initiative branch of the ministry, told a UBCM workshop at the end of September. "We're hoping this is the beginning of a dialogue," he said. "There are some difficult negotiations ahead. This is by no means an assured agreement."
White also told the meeting that Canada had been willing to go further than negotiators expected to allow European companies to bid on local government projects in Canadian municipalities.
Tyee reporter Colleen Kimmett asked White, "When you said the EU was surprised by Canada's ambitious procurement offer, are you saying Canada essentially offered more in terms of procurement than the EU was expecting to get?"
"I think that would be fair to say," said White.
B.C. position 'ambitious'
In June, Clark told The Tyee the province was still working out its positions as the eighth round of talks got underway and couldn't state them publicly.
Other accounts have suggested B.C. has strong positions and is pursuing them aggressively. In August, Postmedia quoted Jason Langrish, the executive director of the Canada Europe Roundtable for Business, saying, "B.C. has been the most ambitious of all the provinces in the CETA negotiations."
That former premier Gordon Campbell, known as a supporter of open markets and free trade, was going to be at the table would demonstrate to the Europeans that the provinces are committed to the CETA, Langrish said.
"What we have is a federal government that seems to want an agreement at all costs, selling out the interests of provincial governments and municipal governments," said B.C. NDP Leader Adrian Dix. European negotiators have let the public know much more about their positions than the Canadians have about theirs, he said.
The Huffington Post last week reported that a member of the European Parliament said the EU was likely to gain more than Canada will from the negotiations.
Public left in dark until too late: CUPE researcher
There's no way to know what the Canadian government is offering in the negotiations, or what B.C. has agreed to in its submissions to the federal government, said Blair Redlin, a researcher with the Canadian Union of Public Employees.
"Why is it Canadians shouldn't have some information about what we're offering up?" he asked.
The negotiations and any resulting agreement affect the interests of not just provinces and municipalities, but also school boards, hospital boards, universities and Crown corporations, he said. If the services under discussion include things like health care, water or the mail service, an agreement could have a huge effect, he said.
"This deal has the potential to dramatically reshape the policy landscape in Canada," he said. "I think it's fair and reasonable to tell us what they're preparing to offer."
Consulting after an agreement is reached, as B.C.'s Bell has said will happen, is insufficient, Redlin said. "One would think you would consult prior to concluding a deal," he said.
If they don't consult until after it's signed, they'll no doubt claim it can't be changed, he said. "That's not any meaningful consultation. That's a sales job."
From what's on the public record, Prime Minister Stephen Harper appears to have found a willing accomplice with the B.C. government, said Dix. They've been willing to take positions on prescription drug patents and government procurement that favour the Europeans, he said.
Dix characterized B.C. as "the most willing province to sell out municipal interests of any in the country" and said, "B.C.'s been driving for an agreement against the interests of British Columbia.... Clearly B.C. has put the interests of its ideologues ahead of protecting the public interest in B.C."
[Follow the link for more Tyee reporting on Politics.]