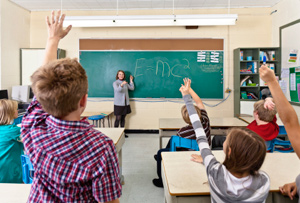 David Chudnovsky feels for the parents who wonder, "How good is my kid's school?"
"We in education often answer, 'The Fraser Institute sucks, and standardized testing doesn't tell you much about how the school's doing.' And that's true, we're right about both of those things, but we haven't answered [their] question," says Chudnovsky, a public education advocate and former New Democratic Party MLA.
Chudnovksy hopes to find a better answer through the Great Schools Project, a group of roughly 50 volunteers from a variety of backgrounds: academics, educators, statisticians, former politicians and parents, who have been meeting for the last year and a half to discuss a better way to measure school performance.
But with a wide variety of methods to choose from, and previous efforts to rate school performance marred by controversy and failure, picking the measurement that encompasses the diverse qualities of a "great" school won't be easy.
'We'll come up with suggestions'
The Great Schools Project consists of two committees: all 50 members are in the big committee, while the working committee, which meets more often, consists of seven members including Chudnovsky, former Simon Fraser University dean of education Paul Shaker, Canadian Centre for Policy Alternatives economist Iglika Ivanova, and Larry Kuehn from the BC Teachers Federation. The group has no official leader, though it was Chudnovsky's idea originally, and he recruited other friends and colleagues to join.
"We've made no conclusions yet; we're in the middle of a process, rather than at the end, but we've looked at a whole number of processes in some depth," Chudnovsky told The Tyee, adding they've narrowed the choices down to seven methods from 15.
Some examples include assessing inputs, examining what effect factors like cleanliness of the school and class size and composition have on academic outcomes; professional engagement, where academics and educators visit schools to watch how classes are run and offer mentorship and support for teachers to improve instruction; and broadening what we measure in students, moving beyond the literacy and numeracy measures of the Foundation Skills Assessment to include problem solving, democratic citizenship and individual responsibility in students, to name a few.
Most project volunteers are from the Lower Mainland, which Chudnovsky admits narrows the scope of the discussion; however, they aren't organized enough yet to reach across the province for involvement. He insists that the Great Schools Project is not about forcing methods onto schools, but fostering discussion among the greater public.
"Our sense is not that we will come up with answers for people to salute and then implement, our notion is that we'll come up with suggestions that then will become part of a discourse," he says.
Accreditation 'not perfect, but good': former deputy minister
The Fraser Institute isn't the only method of school evaluation B.C. has ever had. When Charles Ungerleider was deputy minister of education for the province under the NDP, the government was assessing schools through an accreditation process.
"In part teachers would say it's too onerous for the teachers that were involved, it was too time consuming, although under my watch we tried to address some of that and make it less onerous," says Ungerleider, now a professor of the sociology of education at the University of British Columbia.
Accreditation involves an external team visiting the school, meeting with teachers, parents, administrators, and students to discuss issues and areas of concern about the school. A report is then drawn up and recommendations made.
"I thought it was not a perfect process, but a good process because you had to do a lot of self-study before an external team came and visited you and made a comment or a series of comments about how well you were doing," Ungerleider told The Tyee, adding the BC Liberals ended the practice early in their first term.
Chudnovsky agrees with teachers, however, that accreditation took too long and rarely produced positive changes for the schools.
"There was nobody accountable for making sure that the recommendations were followed through, and there was no money or resources available to do whatever it was that the whole community came up with as a recommendation," he says.
Using measurements for change
Accountability is what Joanna Streetly wants. As a mother living in Tofino, Streetly doesn't have much choice of where she will send her daughter for secondary school.
"I live in a remote community, so unless I want to do correspondence or break the bank and send my child to a boarding school, I don't have a choice over what school she attends," she told The Tyee.
The only public school option for Streetly's daughter is Ucluelet Secondary School, which hasn't always received positive ratings from the Fraser Institute in the past. It wasn't included in the most recent secondary school report card.
Streetly says she doesn't put much stock in the Fraser Institute results, preferring to assess the atmosphere of a school herself instead. But she's still concerned about her daughter's future and frustrated the rankings aren't used to create positive change in the schools.
"I would like to see that a poor ranking would mean the province would sit up and take note that this school needs more funding, or needs to be more closely evaluated in terms of the atmosphere, the teachers," says Streetly.
Going public
Vancouver School Board chair Patti Bacchus says parents are facing more school choice today than ever before and it's creating a lot of stress for parents who worry about picking the best school for their child. But she encourages parents to be like Streetly and not put too much stock into school evaluations.
"Schools are very complex, they comprise a range of programs, a range of staff, a range of families. Every student is different: some thrive in one environment that might not in another; and I caution people from being too simplistic in thinking that you can look at one set of attributes and make a decision based on that," she says.
"I always tell parents to go visit the school, talk to the staff, talk to parents, think about your own child, what's going to work for your family. To think there's one set of indicators that will really give people a clear idea or a good way to look at it, I don't know if that's going to be helpful."
It's measurements like this that the Great Schools Project wants to avoid, and they're taking steps to enlist the public's help in achieving that goal. Next month is the official public launch of the project at SFU's Faculty of Education Summer Institute, happening July 14-16.
"The [institute] invites people much more widely than academics: they invite teachers and administrators and people from the education community, and people who are interested in education issues," says Chudnovsky.
"And we're doing an additional invite to people who've indicated an interest in the Great Schools Project and to people from the principals organization, and the parents, and the teachers, and the BCSTA."
The first in what they're hoping will be a series of events with education stakeholders and the public. Audience members will be given a chance to give their feedback on what the project has done so far.
One prime stakeholder that won't be in attendance, however, is the Ministry of Education. Chudnovsky says some project volunteers have made individual attempts to contact the ministry about the project, but nothing formal has been done yet.
"We've talked about that and there will come a point fairly soon where we'll want to talk to them, but that's not on the agenda quite yet," he told The Tyee.