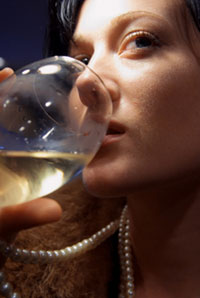 Underage drinkers wanting to buy alcohol in British Columbia are four times as likely to succeed at some private liquor stores than they are at the government's stores.
Overall, people selling liquor in the province comply with the requirement to ask anyone who appears under 25 years old for two pieces of identification just 29 per cent of the time, the general manager of the Liquor Control and Licensing Branch Karen Ayers told a workshop at the recent Union of British Columbia Municipalities convention in Whistler. Ayers is an assistant deputy minister in B.C.'s Ministry of Housing and Social Development, which is responsible for liquor control.
While the statistic Ayers cited caused some surprised chatter in the hallways at the Whistler meeting of mayors and councillors, it only tells part of the story.
A 2009 report shows not all types of liquor stores apply the identification rule as rigorously. The report is available on the ministry's website, but does not appear to have ever been widely reported.
"Provincial compliance generally improved between 2003 and 2008, although it remained low, especially for private liquor retail outlets," said the report of the 2008-2009 Liquor Retail Store Compliance Check Project, the latest available, prepared by policy analyst Janice Carlson. "The 2008-2009 results show a reversal of this trend."
Few checks at brewery stores
To conduct the test the government hired four agents on contract, all between 19 and 22 years old. "The agents were deliberately chosen because of their very youthful appearance," the report said.
They were taken around the province to conduct the checks, though the report says the majority were done in the Lower Mainland, on southern Vancouver Island, the Gulf Islands and in the Thompson-Okanagan.
At government liquor stores, clerks asked the agents for two pieces of identification 55 per cent of the time. That was down from 77 per cent in a previous check.
However, it was still enough to be twice as good as the record at licensee retail stores, which as the government's website says "are often referred to as private liquor stores or cold beer and wine stores." They may also sell coolers, cider and spirits.
Their compliance rate with the identification rule was 27 per cent.
Clerks at rural agency stores, private shops in places too small to warrant a government shop, checked two pieces of identification 22 per cent of the time.
And at other retail stores -- "these include VQA Wine Stores, Commercial and Land Based Wine Stores, Winery Stores, Independent Wine Stores, Tourist Wine Stores, and Brewery Stores" -- the rate was just 15 per cent.
At brewery stores, clerks failed to ask for even one piece of identification 91 per cent of the time.
Public interest concerns
Retailers who failed to check for identification were sent letters outlining their responsibilities, but were not fined or otherwise penalized.
In the report's words: "The reasons behind the... requirements and the policies that support them are public interest concerns about the effects of alcohol abuse on youth. Studies indicate that children are currently consuming larger amounts of alcohol, and at earlier ages, than before.
"Alcohol consumption by minors is associated with unwanted pregnancies, smoking, youth violence, poor school performance, youth suicide rates, and death and injury from driving accidents. It is also believed to have negative developmental impacts on the part of the brain responsible for higher-level thinking."
It's clear employees at government liquor stores are doing better than others at checking identification, said B.C. Government and Service Employees' Union communications officer Brian Gardiner. "Everyone can do more to improve, and I know our members are working hard at that."
A spokesperson for private liquor licensees said members of her organization didn't get the same information about the requirements that the government stores did.
"It wasn't really that clearly communicated," said Kim Haakstad, executive director of the Alliance of Beverage Licensees (ABLE). "The government stores are government stores, so they have lots of access to clear information from the government about what the government's expectations are."
Education effort
ABLE now distributes posters about the rules and reminds members regularly, including at the bottom of every email Haakstad sends, she said. "It's in every piece of communication we send out to the industry to make sure they're really clear on what those requirements are."
Licensees don't intentionally serve minors and understand the need for a minimum drinking age. "We know it can be dangerous in the wrong hands," she said. "In any industry there's some bad apples, but in our industry most are good responsible retailers."
Asked whether the profit motive might entice vendors to sell to underage customers, she said stiff penalties are a strong disincentive. A first offence can cost a $7,500 fine and/or a 10 to 14 day license suspension, she said. "The sale is peanuts compared to that."
"They've all been told already that they're not satisfactory, whether they're private or public stores," said the minister responsible, Rich Coleman, in a phone interview.
He said he couldn't account for the different compliance rate between private and public stores. "There's no really good reason why, unless it's the hours of operation or something," he said.
The government has made a couple of changes in the spring that will make it easier to enforce the rules, said Coleman, including making it legal to hire minors to test stores' compliance with identification check rules.
"Hiring of minors will commence in the new year, once we have developed policies and procedures to guide the program and adequately ensure the minors safety," a liquor branch spokesperson said in an emailed statement.
Under the previous rules, where young-looking people who were at least 19 years old were employed, the government couldn't penalize the outlets for selling to minors since they were, in fact, of age.
The government also made changes so it can licence rural agency, manufacturer and private wine stores, "and hold them to the same compliance and enforcement rules as other private liquor retail outlets."
At the time of the compliance check project there were 197 government stores, 660 licensee retail stores, 225 rural agency stores and 235 appointment stores, which includes things like independent wine stores or brewery stores.
There has been a moratorium on new private liquor stores for at least five years, said Coleman. "Why would you have more when you already have enough to serve your market?" If too many stores were allowed into the market, there would be more incentive for the less financially sustainable ones to break the rules, he said.