Two Calgarians and one Ontario aboriginal will help decide the economic future of coastal B.C. They've been appointed to assess one of the most controversial energy projects in the province's history.
Their recommendations could determine whether federal policymakers approve plans by Calgary-based Enbridge Inc. to build a pipeline from Alberta's oil sands to the west coast, and then ship fossil fuels on supertankers to Asia. The proposal carries huge environmental risks. It also revives a fiery economic debate.
How do you develop a pristine eco-system? Or do you develop it at all?
Green groups, First Nations and logging companies fought bitterly over these issues during the decades-long campaign to protect the coastal Great Bear Rainforest. A land-use agreement was finalized only last year. It suggested to a global audience that development, if done right, need not compete with conservation. Nearly $60 million in taxpayer money -- and another $60 million from private donors -- is committed towards that model.
Under Enbridge's current proposal, 220 supertankers laden with fossil fuels could sail right through the Great Bear Rainforest region each year. The provincial government has publicly declared its support for each project. Yet a fast-growing Enbridge opposition sees a large and complex business deal being undercut.
"When people gave their money to this region, there was the vision that they were contributing to protecting the area and developing an economy that had a light touch on the landscape," Merran Smith, a director with Tides Canada, told The Tyee. "I don't think anybody was envisioning that there would be oil supertankers going through the area."
Fossil fuels and sustainability?
Perhaps no group feels such disparity more than the Coastal First Nations. The alliance, which represents nine nations along B.C.'s north-central coast, is the main beneficiary of two regional endowment funds worth approximately $120 million.
The money came out of nearly a decade of land-use negotiations concerning the Great Bear Rainforest. The province and feds agreed to each contribute nearly $30 million for "sustainable" and "community-based" First Nations economic development. All taxpayer money is supposed to be spent by 2014. (That's only two years before Enbridge anticipates shipping its first crude oil to Asian markets.)
Government funding has thus far supported shellfish aquaculture, eco-tourism and alternative energy ventures, among others. It's unclear how many such projects would survive a major oil spill.
"So here's a federal and provincial investment, jointly of $60 million, which is being jeopardized," Coastal First Nations executive director Art Sterritt told The Tyee.
Even that is only half the money endowed to the region. A second Great Bear Rainforest investment currently worth $56 million came from private donors, most based in the United States. This "conservation fund" is intended to maintain the region's pristine eco-system in perpetuity.
Enbridge's pipeline proposal is still in early stages of federal review. Approval could leave the region's philanthropic investors scratching their heads. "It would certainly alter what people understood they were investing in," Tides Canada's Smith said.
'We need for you guys to resolve this'
During the mid-1990s, an environmental battle on B.C.'s remote north-central coast attracted international attention. Clear-cut logging threatened one of the last major tracts of temperate rainforest anywhere. Activists christened it the Great Bear Rainforest -- named in part after the Kermode Spirit Bear, an all-white subspecies particular to the region.
Articles appeared in major European and American newspapers, helping transform the struggle into a metaphor for the global loss of nature. International market wars raged unabated for years. Environmental groups attempted to convince consumers not to buy forest products derived from coastal British Columbia. Logging firms fought back, arguing their operations followed best practices, and besides, were entirely legal.
The climax came in 1999, when Greenpeace escorted representatives from Germany's papermaking and magazine publishing industries through threatened areas. Afterwards, the German delegation convened a meeting in Vancouver with activists, logging firms and provincial government officials.
"They basically said, 'We need for you guys to resolve this,'" remembered Patrick Armstrong, a land-use negotiator closely involved in the Great Bear Rainforest region. Affected parties -- including First Nations -- began a nearly decade-long planning process.
"Globally significant" is how Armstrong called the resulting land-use agreement, finalized only last year. "Groups of people and individuals and organizations that had been antagonists for some time were able to set aside their arguments and jointly craft a solution," he told The Tyee.
Can industry and greens be friends?
Not everyone felt the same way. The negotiating process created divisions over strategy and values within B.C.'s conservation movement. Some players felt way too much was given up -- others, that resources were diverted from less visible, but equally important campaigns.
For groups such as Greenpeace, the Sierra Club and ForestEthics, last year's land-use agreement was historic. They saw it as a game-changing compromise between ecological needs and economic growth. Provincial authorities formally banned logging in over five million acres along the north and central coast -- or one-third of the entire region.
Land-use designations allowed low-impact First Nations activities, tourism and mining within specified areas. Outside protected zones, timber firms were mandated to preserve 50 per cent of natural old-growth forest across the region -- an approach known as "lighter touch" logging -- with plans to increase that in coming years. And in theory, the agreement formalized a new working relationship between First Nations and government.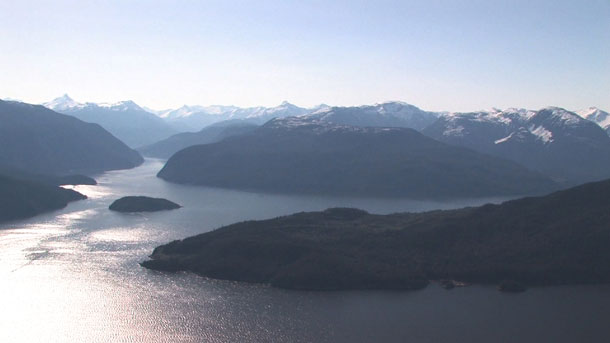 Serious issues remain. Grizzly bears, mountain goats, tailed frogs and others may still be at risk of extinction, for instance. Yet activist proponents envision the founding of a new "conservation economy." Even senior government officials appear to agree.
"[It's] a strong marriage that balances the needs of the environment with the need for sustainable jobs and a strong economic future for coastal communities," B.C. Premier Gordon Campbell announced last year.
'Pipelines will be needed': BC energy minister
Evidently, hundreds of supertankers carrying what has been referred to as the "world's dirtiest oil" also figure into the province's Great Bear Rainforest vision.
Enbridge, Canada's largest crude oil transporter, proposes to build a pipeline 1172 kilometres from the Alberta oil sands to coastal Kitimat. Mammoth ships would then navigate treacherous northern waters en route to ports in China and beyond (all passing within view of Hartley Bay, a tiny First Nations fishing village which The Tyee recently visited.)
The project -- named "Northern Gateway" -- is undergoing full federal environmental assessment. A three-person Joint Review Panel -- two from Calgary, and the other, an Ontario aboriginal -- just wrapped up preliminary public hearings in several northern B.C. towns. The panel will submit its recommendations to Canada's environment minister and elected Cabinet officials, who have ultimate authority over Northern Gateway's future.
Enbridge has a few things working in its favour. The pipeline firm currently pays two lobbyists to communicate directly with Ottawa policymakers about its proposal. It contributed $50,290 to B.C.'s ruling Liberal party between 2005 and 2009. It boasts a $100-million war chest donated by anonymous oil sands producers and Asian investors. And provincial policymakers are quite vocal about their support for the project.
"You don't totally turn away from something that is first of all an economic opportunity for the people who live in the province and the people of Canada," B.C.'s Energy Minister Bill Bennett wrote in an email to The Tyee.
"As B.C. is Canada's gateway to the pacific, we have to accept that ultimately pipelines will be needed as energy demand continues to grow overseas."