Armed with photos and ice-filled tubs of deformed fish from Lake Athabasca, a broad coalition of aboriginal communities, scientists, fishermen and local politicians asked the Canadian government yesterday to fund a comprehensive fish monitoring program on rivers and lakes downstream of the controversial oil/tar sands.
At the University of Alberta in a room packed with nearly 100 reporters and onlookers, David Schindler, one of the world's most celebrated water ecologists, explained that he had never seen so many deformed fish from one region in his long career as a freshwater scientist except on polluted rivers feeding the Great Lakes nearly 30 years ago.
In addition to photographs of deformed fish with large back tumors, reporters could also examine several ice-filled tubs displaying suckers with stomach abnormalities, burbot with snubbed faces and white fish with shortened tails and odd-looking lesions. All had been pulled from fishing nets on Lake Athabasca and the delta over the last two years
Given the regularity with which fisherman now catch deformed fish, Schindler suggested that a federally funded fish health study on the Athabasca River "should be a much higher priority [for Ottawa] than funding hockey rinks and new fighter jets." Aboriginal communities and leaders downstream of the oil sands have been calling for such studies for nearly a decade.
Of 27 whitefish, burbot and northern pike recently collected by Robert Grandjambe, a resident of Fort Chip, seven had deformities, lesions, curved spines and bulging eyes. No reliable data exists on the actual percentage of deformed fish being caught downstream from the oil sands. But it may range from two to 20 per cent, says Schindler.
'Public anxiety won't go away'
David Donald, a senior aquatic biologist with the federal government who has monitored fish health in the region for nearly 30 years, said in an email that a fish health assessment is now needed. "I think you need to do this kind of assessment, because there is sufficient public anxiety over this issue and it won't go away."
In fact two fishermen at the press conference, Robert Grandjambe and Raymond Ladouceur, said government authorities had ignored concerns about deformed fish for nearly 15 years.
In 2008 Grandjambe sent a frozen fish to an industry consultant group, the Vancouver-based Hatfield Group, only to be told 13 months later that it couldn't be analyzed. Several years ago, Ladouceur delivered 200 pounds of deformed pickerel to Fort McMurray, but Alberta officials failed to pick them up before the entire cargo rotted.
"It's time for a proper study," said Grandjambe, who catches fish for his dog-sled team. "There is so much distrust with government."
Ladouceur, who has been fishing commercially for 53 years on the lake and has lost eight family members to cancer, said, "I never saw deformed fish in my younger days. We've been trying to get some help to figure this out."
"We are human beings. Alberta Premier Ed Stelmach treats his dogs better. Sorry to say, but we need help."
Toxic brew identified by scientists
Many industrial sources now pollute the Athabasca River, including pulp mills, agricultural run-off, abandoned uranium mines and municipal waste. But two studies published in the prestigious Proceedings of the National Academy of Sciences (PNAS) have also shown that industrial air pollution and watershed destruction directly caused by the oil/tar sands has contaminated the river with heavy metals and petroleum compounds called polycyclic aromatic hydrocarbons (PAHs).
However, both Ottawa and the Alberta government, which are dependent on oil sand taxes and royalties, claim that all the pollution in the river is naturally occurring based on proprietary data collected by an industry-funded group.
Yet a 2009 study by David Schindler and Erin Kelly found that oil sands air pollution now blackens the snow with thousands of tonnes of bitumen particulates and PAHS during the winter within a 50 kilometre radius of the industry upgraders, resulting in an annual 5,000 barrel oil spill on the river during spring run-off.
Last month another study by Erin Kelly and David Schindler showed that air pollution and watershed destruction by the oil sands industry directly adds a rich brew of heavy metals including arsenic, thallium and mercury into the Athabasca river and at levels up to 30 times greater than permitted by pollution guidelines. Many heavy metals can increase the toxicity of PAHs.
Furthermore several studies have also found high levels of PAHs in six billion barrels of oil sands mining waste (enough to stretch to the moon and back 12 times) now stored in huge dams covering an area larger than the city of Vancouver.
PAH poisoning persists
Since the 1970s, scientists have taken a keen interest in PAHs, a vast body of often cancer-causing petroleum byproducts, while investigating the impact of oil spills on aquatic life. In the process, scientists have identified coking and smelting facilities as large emitters of PAHs and heavy metals.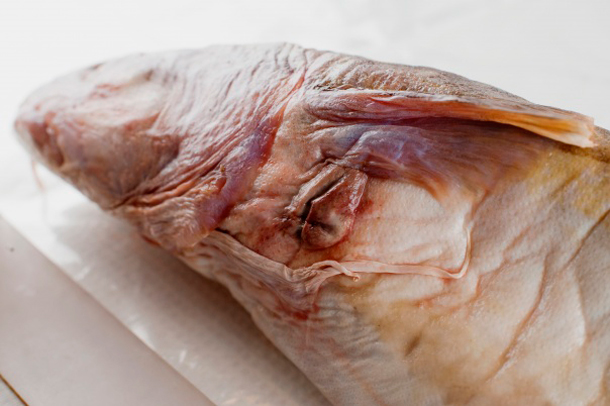 Fish can absorb PAHS from water and sediment via their gills, skin and stomach. Different PAHs can cause totally different diseases and deformities in different fish species, including cataracts, tumors of the skin and liver, weakened immune systems, deformities, bile duct cancers and heart troubles.
PAHs can persist and behave in unexpected ways. A 2003 high profile study in the journal Science found that weathered oil from 1989 Exxon Valdez oil spill, including PAHs, continued to poison and affect the lifespan of fish and sea otters at sublethal levels more than a decade later. Long term PAH exposure not only stunted the growth of young pink salmon embryos, for example, but decreased their lifespan by 50 per cent.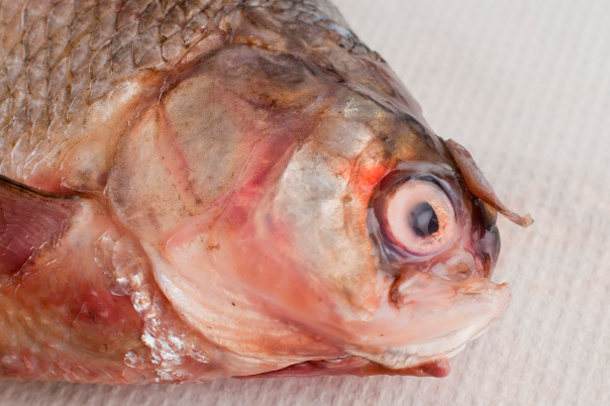 Several studies have confirmed that PAHs created by both natural and industrial oil sands activity can impact fish. Several experiments performed by Maria Colavecchia at Queen's University found that minnows and other fish exposed to oil sands mining waste sediment suffered from deformities, bleeding and skin diseases as well as reproductive difficulties.
Kitimat study zeroed in on PAHs
A model for stringent PAH monitoring can now be found in northern British Columbia. Several years ago the Haisla Nation in Kitimat, B.C., asked the U.S. National Oceanic and Atmospheric Administration and Alcan Primary Metal aluminum smelter to monitor PAH levels in Kitimat harbour, due to rising concerns about their food supply: salmon and shell fish. (At the time Environment Canada, once a leader in freshwater science, didn't have the expertise to do it, says Schindler.)
A comprehensive 2009 NOAA report found that elevated levels of PAHs in the sediment had indeed lowered disease resistance in salmon and increased DNA damage as well as liver lesions in flat fish. Alcan responded to the monitoring by developing a multi-million program to reduce PAH emissions released by its smelting process. The company has also begun to clean up hot spots of PAH contamination. As a result, liver and DNA damage in flatfish has steadily decreased in recent years.
Several U.S. studies also show dramatic declines in liver and bile duct cancer in cat fish after industry closed highly polluting coking facilities on Ohio rivers in the last two decades.
In 2007 Kevin Timoney, an independent Edmonton-based scientist, did a study for the Nunee Health Board that found elevated levels of PAHs, arsenic and mercury in sediment near the community of Fort Chip. The study reported that elevated reports of fish deformities "may be higher than expected, may be increasing, and may be related to declines in water quality." Timoney called for an environmental monitoring program "independent of control by vested interests."
To date, the Alberta government, which depends on oil sand revenue to run its daily business, has maintained that all pollution and PAHs in the river come from natural bitumen outcrops on the river and not from a $200-billion mining and coking project. It claims that the Regional Aquatic Monitoring Program, an industry-funded and industry-administered group, has never found any instance of pollution.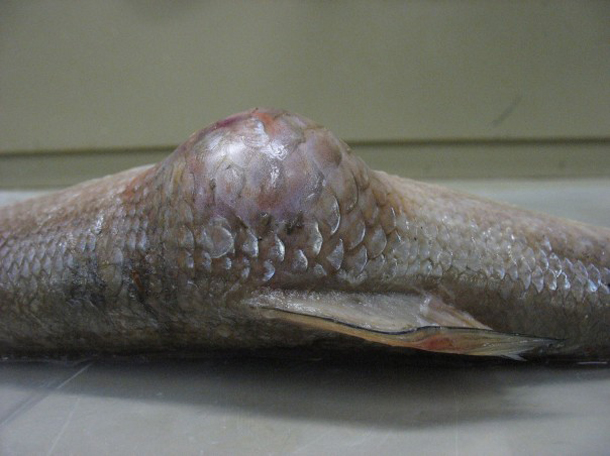 Although Alberta Environment agrees that PAHSs exist downstream from the oil sands, it's spokespeople say it is solely due "to the magnitude of the oily sand along the river banks through which the river has eroded naturally. PAH levels found in samples on other rivers in the area with absolutely no industrial oil sands activity have been found to be higher than samples taken downstream from oil sands developments. The sources in the area are natural."
Scientists send letter to PM
A 2004 technical review of RAMP by federal scientists concluded that industry's fish monitoring program "lacks a clear focus and a clear hypotheses regarding what it is trying to do... the project has suffered inconsistencies in study design, study area, sampling methods and quality control practices." It also made no reference to traditional knowledge on fish health in the river.
In addition to community groups, many scientists and individuals signed a letter to Prime Minister Stephen Harper asking for a long term fish monitoring program with an independent oversight committee for the lower Athabasca river, delta and Lake Athabasca. They included Jim Boucher, Chief of Fort McKay Nation, Dr. John O'Connor, health director of Fort McKay and Guy Boutiller, MLA for Fort McMurray-Wood Buffalo.