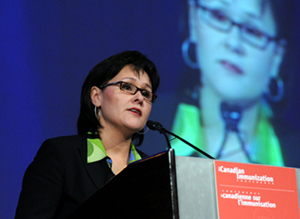 Condoms and clean needles. Two basic remedies that could help stop the HIV/AIDS epidemic dead in its tracks.
It's that simple, says Maxine Davis, executive director of the Dr. Peter AIDS Foundation and Canada's leading voice when it comes to AIDS treatment.
If only the government would listen.
At the 18th International AIDS Conference in Vienna last month, Davis and Canadian colleagues watched as their government, refusing to stand behind the Vienna Declaration, slipped from its respected leadership role in the global fight against the disease.
Catching up on Canadian news coverage in the early days of the conference, Davis came across a Winnipeg Free Press article quoting a Public Health Agency spokesperson saying that the declaration -- calling for the decriminalization of drug users to prevent the spread of AIDS -- is inconsistent with Canada's anti-drug use policy.
"That is HIV prevention policy rubbish. It is complete rubbish," she said of the Public Health Agency's statement.
The quote prompted Davis to confront Health Minister Leona Aglukkaq at a government of Canada reception hosted for Canadian delegates in the Austrian capital that evening.
"I decided to ask her was she supportive of clean needle distribution," she said.
So she asked. Aglukkaq squirmed.
Waiting for a response, Davis told Aglukkaq about former U.S. president Bill Clinton's support for clean needle distribution. At the 2008 AIDS Conference in Mexico, Clinton told the audience he did not support clean needle distribution when he was president and that he was sorry about that, because now he has changed his mind. His policy caused many people to suffer and die, Clinton acknowledged.
Now the Clinton Foundation is putting money toward funding for clean needles.
"He's really clear that clean needles are absolutely necessary if we're going to get a grip on the epidemic with injection drug users," she told Aglukkaq.
So, Davis pushed, how about it, Minister Aglukkaq?
But the minister, according to Davis, gave no clear answer. "She refused to confirm that the federal government would support clean needle distribution," Davis said. "That is like taking us backwards by years."
A call for leadership
Most frustrating for Davis was Minister Aglukkaq's position that clean needle provision is a provincial responsibility.
"We're looking for a national voice," Davis said. "And it's interesting that aboriginal communities in this country are particularly struggling with injection drug use. The minister, being aboriginal herself, has an unprecedented opportunity to be a leader -- to articulate and encourage the aboriginal community to embrace the use of clean needles as one of the ways of stemming the epidemic.
"I think this revelation that the government doesn't even support the provision of clean needles, to my mind, shows that we need to draw a line in the sand and say enough is enough," she told The Tyee in a phone call from her Austrian hotel room hours after the conference's end.
Refusing to join the week-long conversation about specific prevention strategies, the health minister instead announced Canada's donation of $88 million in partnership with the Gates Foundation for HIV/AIDS vaccine research.
"They waltzed into Vienna, made their grand announcement of $88 million, extolling how wonderful it was that Canada was contributing internationally to a global research initiative to find a vaccine," Davis said. "It was so stunning to me that they were aiming internationally while they were abandoning people with HIV/AIDS at home."
'Rage at the Canadian government'
For Maxine Davis and other leaders in the global fight against HIV/AIDS, the 2010 Conference saw the Canadian government's retreat from progressive research initiatives that seek to prevent, rather than just treat, HIV/AIDS affected individuals.
On July 29, a group of Canadian activists trashed the government of Canada's exhibit booth at the conference.
Davis missed the attack, but she was not surprised.
"I think it was a symptom of the level of anger amongst AIDS organizations around the federal government's lack of leadership on this," she said.
"Violence is certainly not going to solve this epidemic, and nobody endorses violence, but I have never been at a conference where Canadian booth property has been marred in any way, shape or form.
"I think it's reached a boiling point, a sense of rage at the Canadian government."
HIV rates rising steadily in Canada
With the conference over, Canadians working in the HIV/AIDS field returned home to a country where infection rates are rising steadily -- with no promise from the government to assess its anti-drug policy.
"For Canadian AIDS organizations, there is almost a sense of 'we're in it alone,'" Davis said. "Even international colleagues were commenting to us that it's so sad that Canada used to be the leader with progressive harm-reduction policies."
According to a May 2010 AIDS Committee of Toronto report, the number of people living with HIV and AIDS in Canada rose from roughly 57,000 in 2005 to 65,000 in 2008. And these numbers continue to rise, the report stated.
For Ron Rosenes, vice-chairman of the Canadian Treatment Action Council, the federal government's anti-drug use policies -- and failure to back the Vienna Declaration -- are troubling for the HIV/AIDS epidemic on Canadian soil.
The government's position will exacerbate a volatile HIV/AIDS epidemic, where prevention measures like safe injections sites are desperately needed, he said.
"It's unfortunate, because many of us believe that were it not for the fact that the Canadian government is opposed to supervised injection sites, we would have a few more in cities where it would make sense to have them," he added.
And it's in places like Saskatchewan -- Canada's most affected province, where the HIV/AIDS infection rate is four times it was in 2005 -- that the federal government should permit safe injection sites, Rosenes said.
According to a 2010 Saskatchewan ministry of health report, the prairies province has the highest rates in Canada, at twice the national average -- 20.8 cases per 100,000 versus Canada's average of 9.3 cases per 100,000 people.
And 75 per cent of Saskatchewan's new HIV cases are associated with injection drug use.
Saskatchewan nixed safe injection site
Saskatchewan ministry of health officials responded with a four-pronged HIV strategy in a 2010 report that underlines 'prevention and harm reduction' as necessary. The strategy highlights the need for "prevention and well-being centres with expanded access to needle exchange programs and other harm reduction measures to promote and encourage safe behaviours."
But Saskatchewan health officials silenced calls for provincial safe injection facilities at the 2010 National AIDS Conference in Saskatoon in May, stating that -- in line with federal anti-drug use policies -- HIV studies don't prove that safe-injections site are necessary.
The health officials' comments came months after the federal government tried to shut down InSite, Canada's only supervised safe injection site in Vancouver, which opened in 2003. The provincially run facility, located in Vancouver's Downtown Eastside, remained open after the B.C. Court of Appeal affirmed its right to exist.
"The Government of Canada... identifies people who use injection drugs as a key population at risk for HIV in Canada," Canada's Public Health Agency said in an email to The Tyee. But "the National Anti-Drug Strategy aims to prevent illicit drug use, treat those with illicit drug dependencies, and combat the production and distribution of illicit drugs," rather than supplying clean needles and safe injection sites.
"The government of Canada would rather build prisons and lock people up for illicit drug use than implement evidence-based prevention approaches that would actually reduce the amount of drug use as well as the onward transmission of the virus," Rosenes said.
'If this were cancer prevention'
For Davis, one of the most challenging policy issues around HIV/AIDS is getting treatment to injection drug users, due to the federal government's anti-drug use policies.
"They are so stuck in their anti-drug use policy that they're failing to respond to an epidemic in a leadership way," she said. "We have let this government go on and on and on with approaches to the HIV epidemic that are not based in scientific research."
"We would never let them get away with this in any other disease," she added. "If this were a cancer prevention tool that has been known for years to prevent cancer, I doubt very much that the federal government would be going on with this level of silliness," she added.
Asked whether she remains optimistic about the future of AIDS prevention and treatment in Canada, Davis expressed mixed emotions.
"There is a mixture of pride and despair," she said. "Pride that the work of Vancouver and British Columbia is so leading-edge -- Vancouver in particular has always been a rock star when it comes to leading initiatives. And despair that our federal government just doesn't get it."
"The provision of clean needles is about the security of person. It's about right to healthcare, to be free from the impact of an epidemic," Davis said.
"The good thing is, we're talking about a government that isn't a dictatorship," she added. "One day, if the Canadian public gets itself together, we can vote them out."