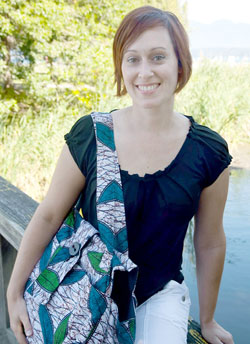 Megan Yarema is the Vancouver-based program manager for Canada Without Poverty, a not-for-profit charitable organization that promotes social security and fair wages for all Canadians.
Earlier this summer Yarema joined Rob Rainer, CEO of Canada Without Poverty, on a trip across southern British Columbia in an attempt to get a bead on the challenges faced by poverty organizations in that piece of the province. Along the way they met with groups in Kelowna, Nanaimo, Vancouver, Victoria and Nelson.
In an interview with The Tyee, Yarema said she was struck by how rocketing housing prices in many places -- even for mobile homes -- have extinguished the idea that "I'll move to the country and I'll save money." She noted that B.C. has had both the highest child poverty rate for seven years running and a minimum wage frozen at $8 since 2001, yet it can be difficult to see the human face of those damaging numbers because the majority affected are people with jobs and homes whose earnings sag below the living wage.
She said the knowledge she gained from her travels reinforced her conviction that Parliament must pass Bill C-545, which aims to end poverty in Canada, as well as Bill C-304, which frames a long overdue housing strategy for Canada.
Here is what else Yarema had to say about poverty in B.C.:
On why rural living is less and less affordable:
"The whole notion of 'I'll move to the country and I'll save money' really doesn't apply anymore. There is nowhere for transient people to go. We passed through places with a population of 500 where housing prices were $300,000 to $400,000 for a trailer home.
"In Nelson, communities are running out of affordable housing, and much of what is there has rat and bedbug problems. The housing council doesn't know if this should be a bylaw issue or a provincial B.C. housing responsibility. Vacation homes are contributing to the rising price of land.
The perception of poverty to the wider public generally speaking is homelessness but what we are really seeing are the working poor. Currently the child poverty rate is 9.1 per cent and over 50 per cent of those children are in working families."
On who she and Rainer dropped in on:
"We met a broad spectrum of people and organizations, from union and non-union campaigners to local food programs. We met with the Nelson Coalition Against Homelessness, The Advocacy Centre, Together Against Poverty Society (TAPS), a social planner from Nanaimo, TRAC in Vancouver, The Bridge Services in Kelowna, as well as the Women's Resource Centre, The Friendship Centre, and several food banks. We also visited The Community Council of greater Victoria, PEERS, and the B.C. Federation of Labour."
On how her trip has changed her perspective of poverty in B.C.:
"It really showed me that the high price of housing is not exclusive to Vancouver and that health and poverty are linked. People in remote communities pay much more to get to and from the hospitals despite the fact that they pay the same health-care premiums.
"I recognize now that there is a lack of contact between the different levels of government and different groups. People need to know about what's going on in Parliament. Bill C-545, for example, a bill to eliminate ... poverty introduced recently by Tony Martin with guidance of other organizations like CWP, legislates that poverty will become a priority in Canada and that municipal levels of government will play an important role. Libby Davies, the Vancouver East MP introduced Bill C-304 in 2009, which lays out a National Housing Strategy.
"We are in the process of defining what adequate housing will be within a human rights framework. We need to keep talking and working on common goals where possible at all levels of government.
On why the numbers don't begin to add up for B.C.'s poor:
"The lack of affordable housing, low welfare rates and child poverty are major concerns. B.C. doesn't have a poverty reduction strategy. Groups are fighting to be heard but nobody is listening.
"We see many people who are paying 60 to 80 per cent of their income on rent. And if families are making just over $21,000 dollars, they aren't eligible for social assistance programs. The Canada Child Tax Benefit provides help as does the Universal Child Care Benefit for each child under six, which is about $100 per month, but child daycare costs are around $800 per month or more and rent might be another $800, so it's not much help, especially for a single parent. We are trying to get the Universal Child Care Benefit raised.
"Many of the organizations haven't collaborated [with] the macro level. So we are going to continue to provide the information they may have missed. We offer resource exchange, promotion and support. Another big issue is the barriers that welfare forms themselves create, and the problems people have with applying for programs."
On whether there are programs in place seeing positive results in alleviating poverty:
"The Child Poverty Report Card by First Call, and Living Wage for Families are both important initiatives.
"The living wage calculation looks at families of four with two kids under 10. It takes into account factors related to cost of living. They find out what a three-bedroom apartment costs on average and how much a family of this size needs for food, shoes, transportation and a very small amount for [college courses]. The living wage for families is $18.17/hour in Vancouver. It's gone up a dollar since the previous study, which means the cost of living has gone up.
"The living wage calculator allows employers to figure out if they are in fact living wage employers, by allowing them to factor in benefits and sick days. The Federation of Labour has also started a Raise the Minimum Wage Campaign."
On how she got into poverty advocacy:
"It came from my sense of justice and curiosity. It starts from incomprehension that poverty was still such a problem. Was it lack of resources, or information? I was drawn to the international issues first because it seemed so different from Canada, which I discovered wasn't really true. I was working internationally, in Swaziland, and I soon realized we have the same issues with First Nations in Canada, some of whom have no running water. I was looking at social justice, I was looking at human rights, and I found it was all connected. If you look at the UN Declaration of Human Rights, the right to housing is listed, to be able to feed and clothe oneself.
"These are fundamental human rights and I think people aren't able to exercise their rights to the full extent. Poverty costs Canada [millions] of dollars every year. The Ontario association of food banks publishes The Cost of Poverty, which breaks this down."
On one particularly inspiring woman she met in her travels:
"I met one woman named Chrystal Ocean from Duncan. She is turning 60... , and she has written a book about women living in poverty called Policies of Exclusion, Poverty and Health that brings together stories of women living in poverty and she has a blog about living in poverty.
"... She's on a housing list for a new home and right now has trouble pulling groceries in a wagon up the hill. She can't get disability because she's afraid of disability forms -- they are totally intimidating to her due to her mental illness. She couldn't get social assistance because she had over $500 dollars in her bank account."
On what recommendations she would make to the province about reducing poverty:
"The B.C. government should implement a poverty reduction or elimination strategy that encourages municipal bylaws to allow alternative structures for housing, such as housing built in backyards. Another group fighting for this is the BC Poverty Reduction Coalition, who have been pushing the government to get on board."